Parenting OC magazine has partnered with Discovery Cube in Santa Ana to present the 10th Anniversary Edition of the Kids' Summer Opportunities Jamboree! The event will take place on Saturday, March 5, 2016 from 10 a.m. to 3:00 p.m. at the iconic Orange County family destination and is free to attend.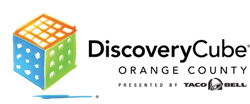 Discovery Cube, which expanded this past summer and doubled in size, adding the 10,000 square-foot Julianne Argyros Showcase Theater and other attractions, is the leading hands-on science center for families in Southern California.
The Jamboree event will take place in the Showcase Theater and feature over 60 exhibitors from:
day camps
overnight camps
sports leagues and clinics
outdoor adventures
horse and cattle ranches
surf and swim programs
science and technology camps
The popular family event is designed to help parents plan their kids' summer with one-on-one face time with camp director and program leaders.  Moms and dads can research and get all their questions answered. 
One of several family fun attractions at The Jamboree event is Parenting OC's "Cutest Kid Cover Contest". The contest, which has been held every year for the past 12 years, includes four age categories:
Baby (6 months to 2 years)
Tot (ages 3 to 5)
Kid (ages 6 to 9)
Tween (ages 10 to 13)
The winner in each category will be photographed at the event by internationally-celebrated cover photographer, Ana Brandt. Each winner will be featured on the cover of the magazine, which has won national awards for its covers. All nominees are photographed at the event, and will receive a keepsake cover just for entering.
Families attending the event will also be able to have fun with:
a Curious George meet and greet with photo opps
Jedi Knights
those oh-so-popular Frozen princesses
hands-on opportunities with slithery snakes, giant frogs, hairy tarantulas and an alligator from The Reptile Zoo
The Extreme Game Truck – In the parking lot, gamers can show their X-Box and Playstation skills in the Extreme Game Truck, a hybrid luxury limo-semi with mood lighting effects in the ceiling, 6 55-inch screens, surround sound and every major gaming console known to little mankind.
The family scavenger hunt – There'll be $3500 in prizes available to win by those who successfully complete the family scavenger hunt. Prizes include a week of summer camp (Camp James, Camp Galileo, Irvine Slammers Soccer), an OCSA class, $1,000 toward Smile Wide orthodontia and a two-year family pass to Discovery Cube. This event will be held on the exhibit floor.
Afterwards, families can head off for even more fun at the Cube. Free passes will be available to all children, ages 3 to 14, for admittance on the day of the Jamboree event. (Child must be accompanied by an adult.) The tickets (each valued at $12.95) can be downloaded from http://www.parentingoc.com.
The Discovery Cube is located at 2500 N. Main St., Santa Ana, CA, 92705. For more information, please visit http://www.parentingoc.com, or call 714-630-4510 x 6.
This is not a sponsored post. All opinions are 100% my own. Images and logos are property of Discovery Cube and Parenting OC.