Remy's Ratatouille Adventure will open summer 2020 in the France pavilion at Epcot and suddenly I want to fast forward to June! Disney Imagineers are busy at work, creating the immersive attraction that will bring guests on an adventure with Chef Remy through Gusteau's restaurant.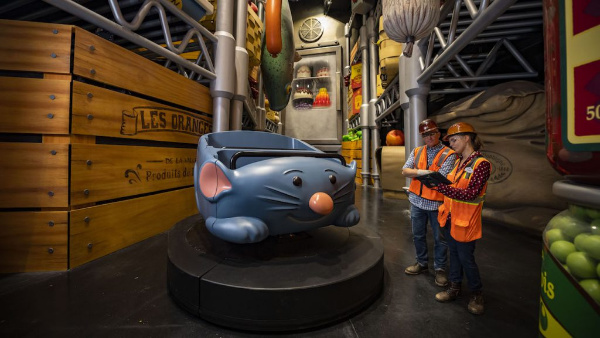 Remy's Ratatouille Adventure is an attraction based on Disney and Pixar's hit film, "Ratatouille," The family-friendly attraction will invite you to shrink down to the scale of a rat for a culinary adventure with Chef Remy.
You'll race across Gusteau's kitchen floor aboard special trackless ride vehicles, which you can see in the image at the top of this post – just released today – as Disney Imagineers work on bringing this attraction to life.
Remy's Ratatouille Adventure is one of several new experiences coming to Epcot as part of the park's major transformation which is already underway.
Image property of Disney Parks and used with permission.