Farrell's 5th Annual Splendiferously Superific Summer Spectacular Ice Cream Eating Challenge is almost here…and it's going to be as ridiculous as ever! Did you know that 100% of the net proceeds from this event benefit CHOC Children's and Make-A-Wish? How awesome is that? Do you see why I LOVE Farrell's?
Beginning Friday June 20 through Sunday July 13, Farrell's will be looking to qualify the fastest ice cream eaters to compete, head-to-head, at their Championship event, which will take place on Sunday July 20 in Downtown Brea. From June 20 through July 13, anyone with an appetite for fun and ice cream can walk into any of the seven California Farrell's locations during normal business hours and to try and qualify! In order to qualify as one of the fastest, and be placed into one of the categories, guests must eat a "qualifying sundae". Categories will include Men's, Women's, Kid's, Big and Small (one adult and one child), 4-Person Teams and Professionals. Amateur guests can qualify by eating a 3-scoop ice cream sundae as fast as they can. Professionals may qualify by eating a 6-scoop sundae called the Pig's Trough.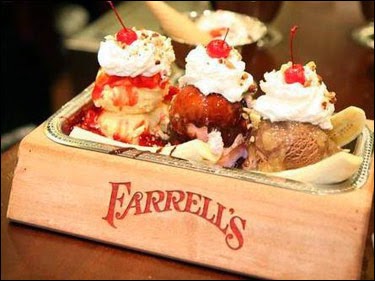 Professionals can qualify by eating one of these 6-scoop sundaes called the Pig Trough!
(Photo: courtesy of Farrell's)
All sundaes include chocolate, vanilla, and strawberry ice cream, hot fudge, pineapple and strawberry toppings and are then covered with Farrell's freshly made whipped cream. The cost for amateurs to attempt to qualify is $20, for all categories, and $40 for professionals. Each entrant will receive a limited edition event t-shirt, a $5 coupon for a future visit to Farrell's and the qualifying sundae. Remember: 100% of the net proceeds from this event benefit CHOC Children's and Make-A-Wish! 
Farrell's will invite the top qualifiers to their Championship event in Brea on July 20! Farrell's will actually close down Birch Street in Downtown Brea, in front of their Farrell's location. The Championship event is an all day family festival and will take place from 11am until 5pm. There will be lots of rides (courtesy of Carnival Services), games, prizes, raffles, food, booths, music, and more! 
How fun does last year's event look, especially when you've got Max rockin' the mic!
(Photo: courtesy of Farrell's)
This guy looks like he's still hungry!
(Photo: Courtesy of Farrell's)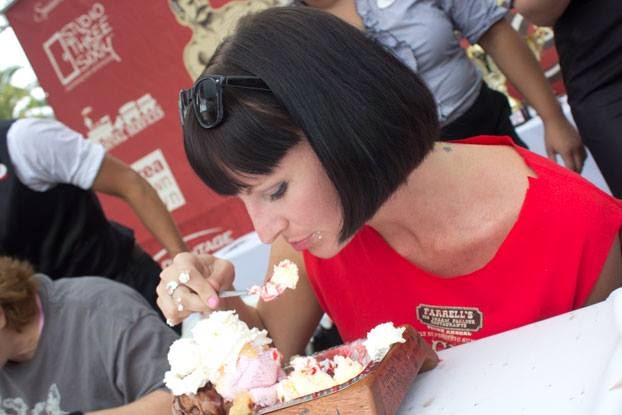 She's powering through it!
(Photo: courtesy of Farrell's)
At the Championship event, the Men, Women, Kids, and Big and Small categories all compete to be the first to finish a Farrell's famous Pig's Trough that has 6-scoops of ice cream and all the toppings. The 4-person team and each individual professional are going to attempt to finish a Farrell's Famous Zoo sundae, which is 30 scoops of ice cream with all the toppings.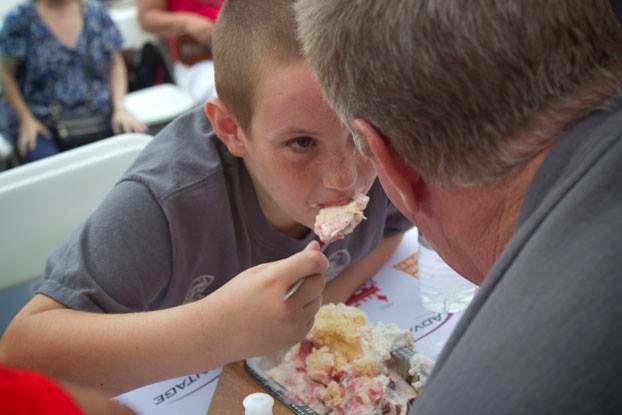 If you enter in the Big and Small category, you can use teamwork to win it all!
(Photo: courtesy of Farrell's!)
Yikes!
(Photo: courtesy of Farrell's)
Winners from each category will win a trophy and a year of free Farrell's ice cream. 1st place in the Professional category also wins $300, 2nd place wins $200 and 3rd place walks away with $100. 
One of last year's winners!
(Photo: Courtesy of Farrell's!)
Farrell's also has an option for those that just don't have the stomach to pound ice cream as fast as they can, but still want to participate in all the qualifying fun. During the qualifying period, June 20 to July 13, guests can get the event shirt, the ice cream "qualifying sundae' to eat, along with a $5 coupon, all for the same $20, but they just won't be timed. All YOU need to do is let your Farrell's server know. Qualifying Farrell's locations include Brea, Buena Park, Mission Viejo, Rancho Cucamonga, Riverside, Sacramento, and Santa Clarita. Complete details and rules can be found at Farrell's website, FarrellsUSA.com/Challenge.
So who wants to win a year of free ice cream? 
I think Emi and I are going to attempt to qualify for a category!
Don't worry..I'll post pictures, when we do attempt it!