I was invited to a special media event in order to share about my experience with you. All opinions are my own. 
I waited MONTHS for Knott's all-new HangTime to open and it finally is! We were so excited to be invited to attend the Preview Party and join in on the Grand Opening festivities.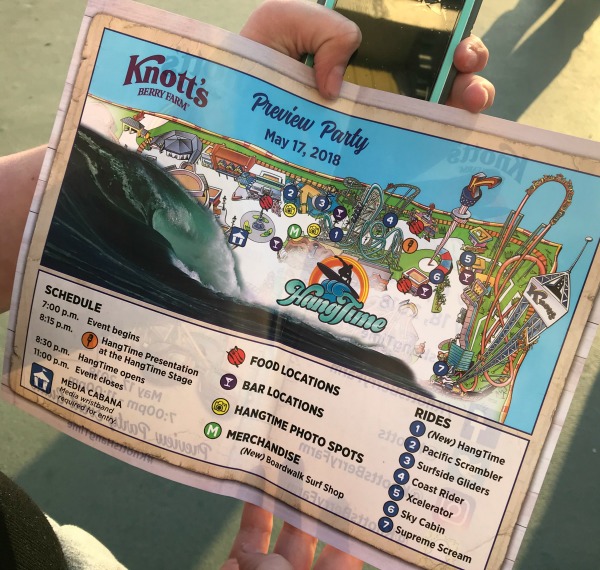 The party was held on Knott's Boardwalk area and was filled with themed food and treats, beachy entertainment, and a ceremony to welcome HangTime that included live music and even fireworks!
As I shared on the blog recently, HangTime is the only dive coaster on the West Coast and features gravity-defying inversions, mid-air suspensions and twisting dive tracks. Probably the scariest part, at least for me, is at the beginning when you go up a vertical lift hill into a 15-story 96-degree drop! Yikes! It's super gnarly! (in a good way.) It's the steepest drop in California. Confession: I may have closed my eyes during most of it! 
I was a combination of nervous and excited about attending the HangTime Preview Party because I knew the pressure would be on to go on it. I mean, I have to set a good example for my daughter, right? Well, I think I won "Parent of the Year" that night for rallying and going on it. By the way, it's extra beautiful when you go on it at night because all of the tracks are lit up with beautiful colors.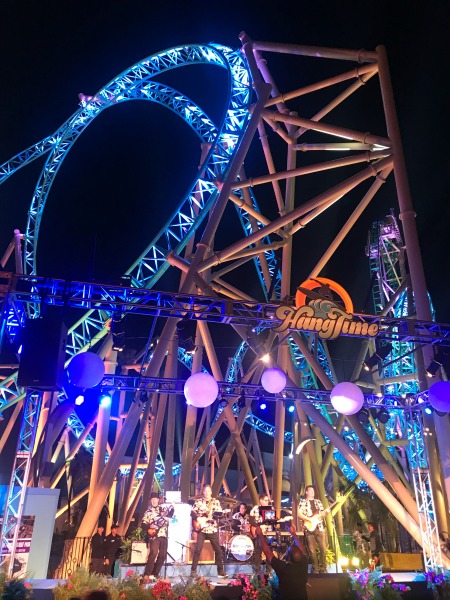 HangTime was amazing! My daughter was ready to go on it again and again after our first time. You're going to love it too! I think you'll also love our souvenir photo! Haha! (Photos from the attraction are available for purchase through Knott's FunPix.)
Watch my short video showing a little bit about our night out at the HangTime Preview Party:
HangTime is now open and if you haven't made your way over to check it out yet, I don't think you should wait any longer.
There's really never been a better time to grab one of Knott's Season Passes. I mean, it's affordable, they offer payment plans and there are no blackout dates. A Regular Season Pass includes unlimited admission in 2018 to Knott's Berry Farm with no blackout dates. A Gold Season Pass includes unlimited admission in 2018 to both Knott's Berry Farm and the newly expanded Knott's Soak City Waterpark with no blackout dates.For more info about Knott's Season Passes, go here.
Connect with Knott's on Facebook, Twitter, and Instagram. Join in the conversation on social using #KnottsHangTime to share about your experience riding it!