This is an Evite paid post. All opinions are my own. 
Ever since I first caught wind of A Bad Moms Christmas trailer, I've been giddy! It's like Christmas is coming early for me this year since it'll be in theaters on November 1, 2017!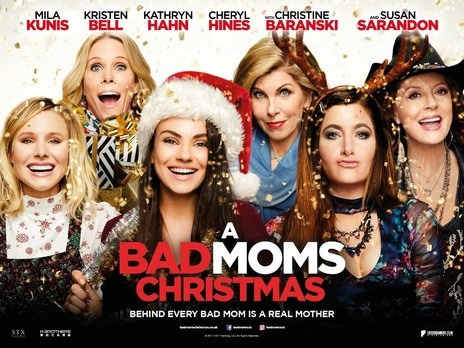 The first film, Bad Moms, gave me an excuse to let loose with the girls, but I must admit…. I haven't been out for any kind of "girl time" since then. I'm literally doing a happy dance right now because, come November 1st, I'll have an excuse to get out with the girls!


Can you tell I rarely get out? Before we go any further, if you haven't watched the trailer for "A Bad Moms Christmas" yet, please do:

Here's the story:
A Bad Moms Christmas follows 3 under-appreciated and over-burdened women as they rebel against the challenges and expectations of the Super Bowl for moms: Christmas. As if creating a more perfect holiday for their families wasn't hard enough, they have to do all of that while hosting and entertaining their own mothers. By the end of the journey, the moms will redefine how to make the holidays special for all and discover a closer relationship with their mothers.
I didn't hesitate to call up a bunch of my funnest (and maybe craziest) girlfriends to start planning the Baddest Moms Night Out EVER! It was so easy to plan it with Evite™, which make helps make getting together effortless and more memorable. In this case "memorable" is more like kick-ass! Excuse my French, I just think an epic movie like this requires a crazy-good Moms Night Out though! How perfect is this Evite™ invitation I chose to send all my friends?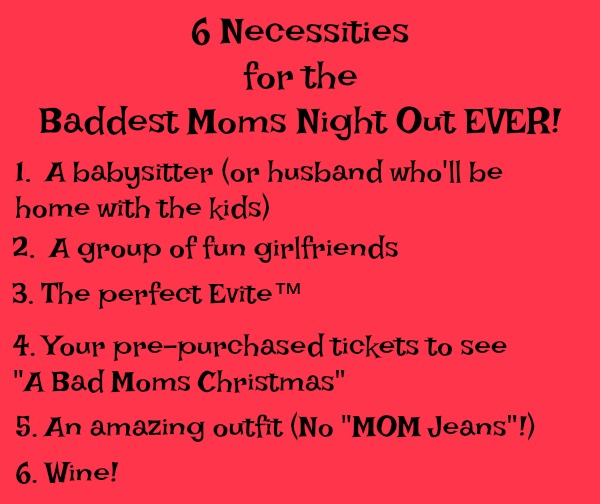 I put together a list of 6 Necessities for the Baddest Moms Night Out EVER! 
A babysitter (or hubby who'll be home with the kids ) – First, and foremost, you're not going to get anywhere without a sitter. Whether you have to hire one or you have a husband who will hang at home with the kids while you go out, find someone reliable and BOOK THEM NOW! Pay them double if you must (I'm referring to a sitter, not your hubby!)! Just make sure you don't miss out on this!
A group of fun girlfriends – Call them, email them, text them, do whatever you can to gather your "Mom Squad" and get them committed.
The perfect Evite™ – Have you seen the Evite™collection created especially for "A Bad Moms Christmas"? Evite™ is always the easiest way to bring friends and family together for any event. Which one of these is your fav?
Your pre-purchased tickets to see "A Bad Moms Christmas" – Gone are the days of standing in line for hours, or even camping out, before a blockbuster film opens in the theaters! It's so convenient to be able to purchase your show tickets online and have that peace of mind that you're already "in" for whichever show your aiming for. Then you can concentrate on pre-partying! (since that IS what a Bad Moms Night Out is all about!) You can pre-purchase your tickets to see "A Bad Moms Christmas, here.
An amazing outfit – It's time to either break out that killer outfit that's already in your closet or else time to go shopping for a new one that has "Bad Mom" written all over it! I'm not saying you have to go so far as to shave your legs for the occasion, although you may want to, but A Baddest Moms Night Out EVER is not the time to sport your "Mom Jeans", so leave those at home!
Wine! – Whether you're planning on having some libations and pre-partying at your home or going out to an establishment, you're going to need wine! And LOTS of it! If you're not a wine drinker, then substitute it for something else! For someone like me, a mom who rarely gets out of the house, the wine is a definite necessity!
I'm so excited for my upcoming night out with the girls, especially getting out to see "A Bad Moms Christmas"! Have you planned your fun night out yet? Halloween season is practically over and thus begins the other holiday season. Why not plan your own BAD MOMS NIGHT OUT with the girls and Evite and give yourselves the gift that keeps on giving? Find all of the fun designs for "A Bad Moms Christmas" on http://www.evite.com or even on the Evite app.
Enjoy before you give joy this holiday season! If being A "Bad Mom" is wrong, then baby I don't EVER wanna be right! Don't forget to grab your tickets today!
Some images and trailer are property of Evite and/or STX Entertainment and used with permission.