I received promotional items in exchange for this post. All opinions are my own. 
As a pet lover and pet owner, I always get excited for anything and everything pet-related! Whether it's a cute animal coffee mug, a contraption to help me better improve my selfie with my pet, or an animal film.  I literally melt for dogs, cats, horses, pigs, you name it! Animals are such kind and gentle creatures and if I could have an entire house and farm full of them, I know I'd be living my best life! 
Today I'm excited for the release of "A Dog's Way Home" in theaters everywhere! Watch this cute clip from the movie:

I teared up in a big way just watching that clip of the film. It definitely pulls on your heartstrings.
I've also already read the book with my daughter, which was a great read too. It's written by W. Bruce Cameron, who also wrote the screenplay and co-produced the film.
Here's a synopsis of A Dog's Way Home:
As a puppy, Bella finds her way into the arms of Lucas, a young man who gives her a good home. When Bella becomes separated from Lucas, she soon finds herself on an epic, 400-mile journey to reunite with her beloved owner. Along the way, the lost but spirited dog touches the lives of an orphaned mountain lion, a down-on-his-luck veteran and some friendly strangers who happen to cross her path.
One of the things my students get excited about in the classroom is art! Anytime they get to draw, color, paint, cut and/or glue, first graders are elated! I know this because it's almost impossible for them to hide their excitement and keep calm about art, and this makes me happy! During our morning meeting time this week, many of my students have shared how much they were looking forward to seeing "A Dog's Way Home". So, I set up an independent work station during our small groups and set out the book that the film was adapted from and let them create their own tiny pet portraits! How cute did this one turn out?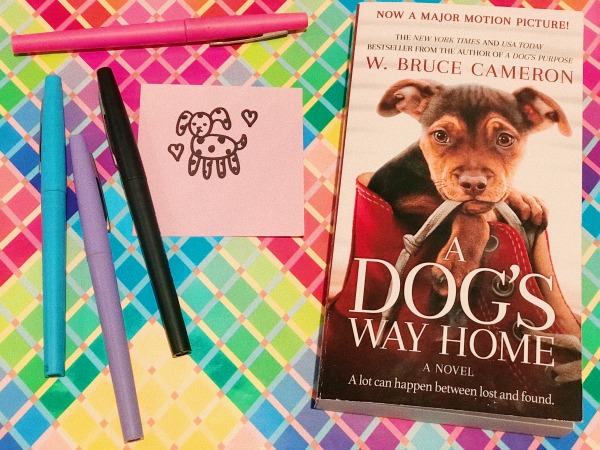 "A Dog's Way Home" is now playing in theaters. Purchase your tickets ahead of time here. You can share your own story about your dog's journey home by uploading photos, video and your story on Facebook, Twitter, or Instagram using #ADogsWayHome and #ShareMyDogStory. for a chance to be featured on their site too.