A Christmas Fantasy Parade is my favorite parade to watch at The Disneyland Resort. This year, Emi and I had the opportunity to be in the park on one of the days that ABC was filming for their Disney Parks Christmas Day Parade Show! It was so exciting to be able to see things that aren't normally in the regular Christmas Fantasy Parade.
It was also fun to see a bit of Cars Land over on The Disneyland Side!

Although we weren't able to sit in the area where all of the cameras were filming, we did secure a spot on the curb, right in front of

Plaza Inn

, which is where the floats and characters entered the filming area. This meant that almost all of them had time to look our way and wave prior to entering the main filming area on

Main Street, U.S.A.

! What a great spot to be seated!
This is one of my favorite pics. It's just something you never see at Disneyland…Sulley next to The Matterhorn!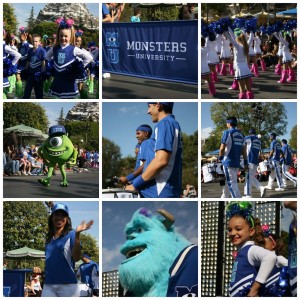 It was fun to see all of the little guest dancers that were invited to dance in the Monsters University part of the parade. You can tell how excited they were by their big smiles!
I always get excited for this part, which is the traditional opening of this parade. She's my favorite dancer in the parade!
More of my fav characters…mainly Wendy! (for obvious reasons)
Look at the giant balloon! So cute! Emi loves these elves because she thinks they know her own elf on the shelf!
So many smiley faces, so many great characters!
The First Lady of the North Pole!
I adore watching this parade and notice something new each time that we do. I love the music, I love the costumes, I love the dancing and I love how much it reminds me of childhood.
What's YOUR favorite part of a Christmas Fantasy Parade?