Dislcosure: This is a sponsored post. All opinions are 100% my own!
A few months ago when I was walking around "My Mall", The Shops at Mission Viejo, I noticed some changes going on in the area formerly known as "the Food Court". I got really excited when I saw signs posted indicating that some stylish changes were happening to the area, transforming it into a "Dining Pavilion"! I love anything stylish and I LOVED that it was getting the new, more grown-up name "Dining Pavilion", too!
This was just a rendering of how the space was intended to look but I swear I see myself sitting back there! (the one on her cell phone)
Renovations to the former food court began in August. Some of the features of the updated dining pavilion include a new layout, tile, furniture, and some new vendors, including a Starbucks!!! (coming soon) Meant to enhance the customer dining experience at the center, The Shops at Mission Viejo's upgraded Dining Pavilion includes a color palette of warm, brown, and wood tones, accented by mosaic tiles and neutral tones that complement the darker wood details. Fresh orange and lime-colored furniture play off of the wood tones, displaying a contemporary and clean style. In addition to new flooring and lighting, the Dining Pavilion also showcases a more open layout that improves the flow of traffic and visibility throughout the dining area. Additional highlights include high bar top counters and electronic charging stations designed so guests can work on their laptops or charge their phones while they eat. Other touches include communal tables big enough to accommodate large families or groups wanting to sit together, which is helpful for large parties or birthdays, common for the family-oriented Shops at Mission Viejo. The entire area now displays a clean, contemporary look to complement the Frank Lloyd Wright-inspired style of the mall's overall architecture.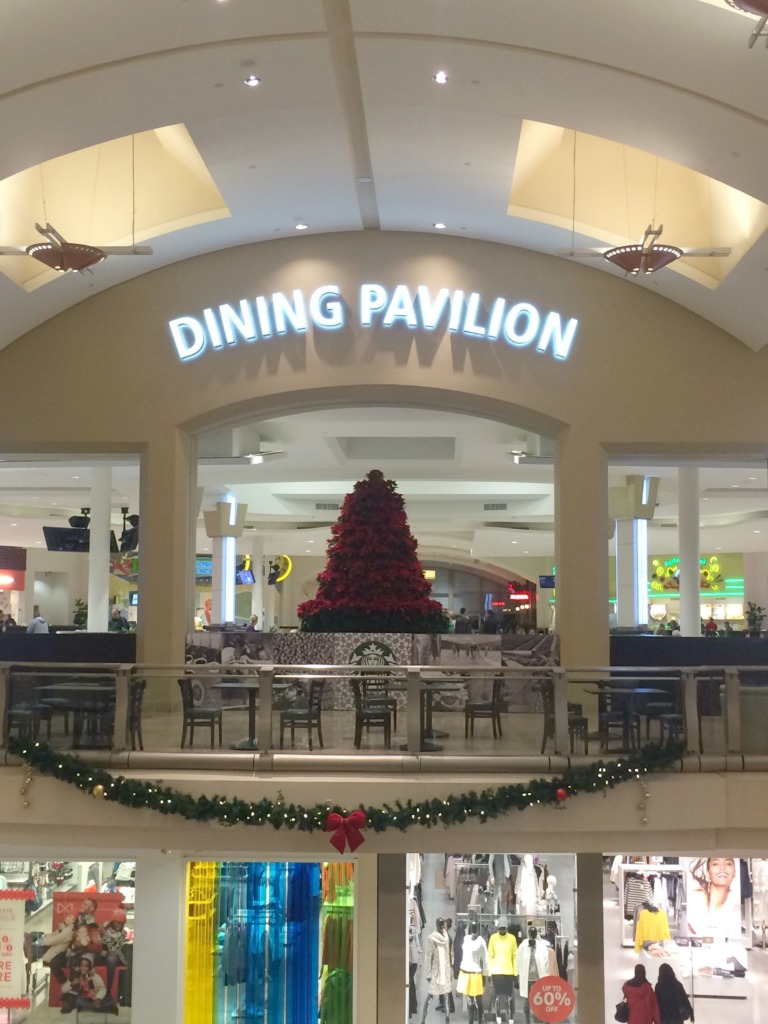 On Saturday, December 6, I attended the public Dining Pavilion Celebration to celebrate all of these wonderful changes.It was an all day event that featured festive holiday music including live entertainment, a face painter and a balloon artist. The first 250 guests at the event received swag bags filled with retailer goodies and food coupons. Giveaways were also held every hour during the event.  Mall shoppers enjoyed samples and special offers from Dining Pavilion eateries, which included Blaze Pizza, Charley's Grilled Subs, Great Khan's, Muscle Beach Lemonade & Hot Dogs, Panda Express, Paradise Bakery & Café, Rubios Baja Grill, Ruby Thai, Sarku Japan, and Smashburger.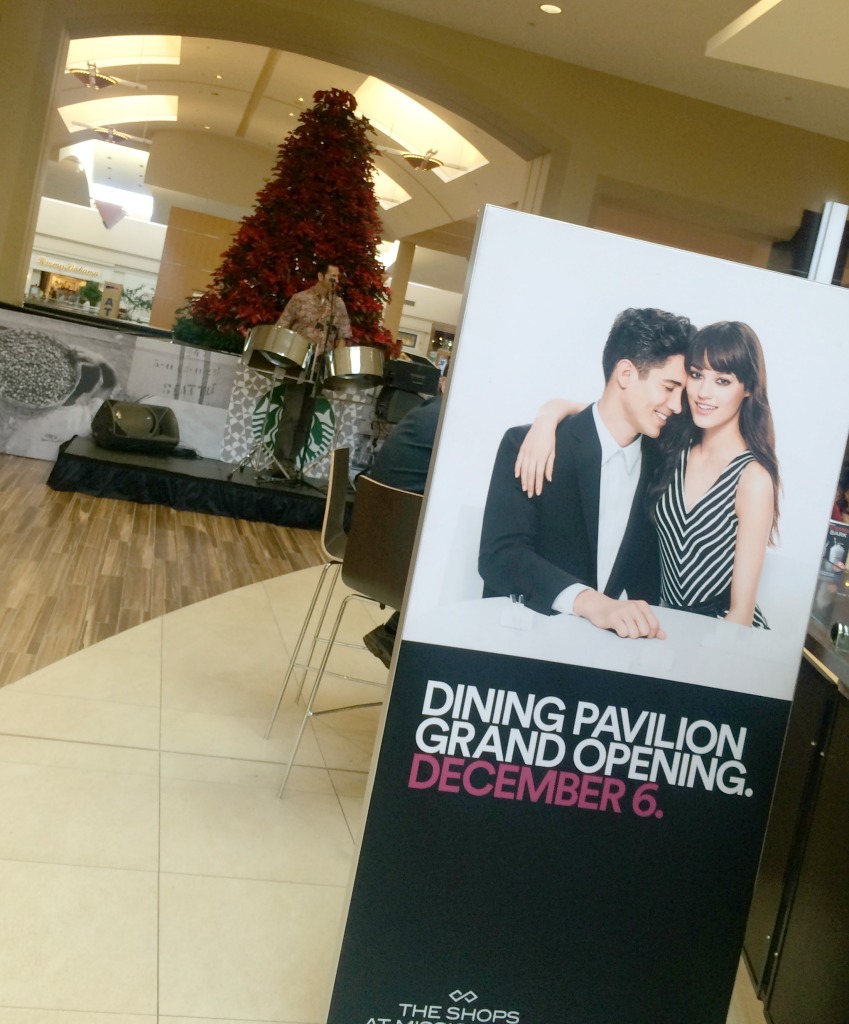 I really love the finished look of how the entire space turned out. I love how open and how bright it is with natural lighting coming from the ceiling area. The couches set up with a coffee table in between them allow for families to gather and have an intimate conversation while enjoying some food and drinks. The comfy chairs provide resting areas for dads who don't want to trek through the mall with their daughters who are on a shopping mission or even moms who are trying to grab a quick bite to eat while feeding their infants. The high bar top counters with barstools are welcoming for single shoppers or even a couple of girlfriends who are lunching in the middle of their day. It is just such a bright and cheery space now, more than it was before.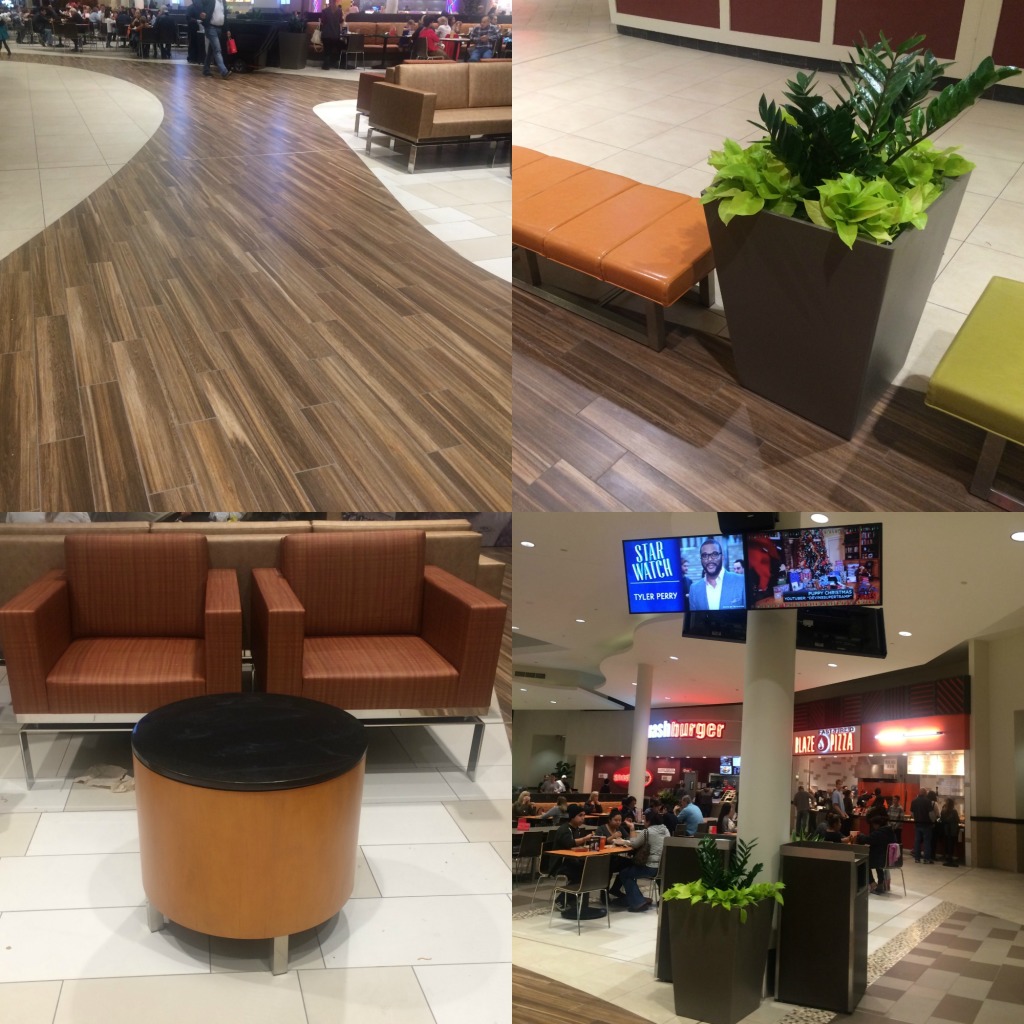 This is Emi's new favorite spot to read in the mall!
Now let's get back to the part where I mentioned a Starbucks coming soon though! Yep, it's all very excited as The Shops at Mission Viejo is preparing for 700 square-foot standalone Starbucks with café-like seating! It's set to join the center next year, on the upper level in the Dining Pavilion. I squealed in excitement when I saw the area where it's going to be! It was almost like "my mall" gave me the best Christmas present ever, putting this sign under the tree! I cannot wait for Spring 2015 now!
Connect with The Shops at Mission Viejo on Facebook, Twitter & Instagram too!