I partnered with Valvoline Instant Oil Change for this post.  All opinions are my own. 
October is Breast Cancer Awareness Month and I've already seen the color pink popping up everywhere. From pink ribbons to special pink products in stores to sporting teams wearing uniforms with something pink on them, so many are showing their support for a great cause.
Did you know this year, 252, 000 women will be diagnosed with Breast Cancer? That is a scary statistic, which is also why you need to make sure to do monthly self-examinations on your breasts and keep current on your mammograms. Speaking of…when's the last time you did a self breast examination? Also, are you current on your mammograms? 
I really appreciate brands that go the extra mile to support great causes , so when I had the opportunity to partner with Vavoline Instant Oil Change to share about their "Wipe Out Breast Cancer" campaign, I was "in".  VIOC is selling AutoTex PINK Wipers throughout October to support Breast Cancer Awareness Month, with proceeds going to National Breast Cancer Foundation.
Lucky for me, there's a Valvoline Instant Oil Change super close to my home. If you've never been to one before, it's a full service 15-minute drive thru oil change with no appointment needed. You basically stay in your car during the entire service. It's very easy for busy people and moms like me, especially if you have your kids in tow.
VIOC does much more than just oil changes though. They also perform many other services including:
tire rotations
belt replacements
fluid exchanges
battery services
air conditioning recharges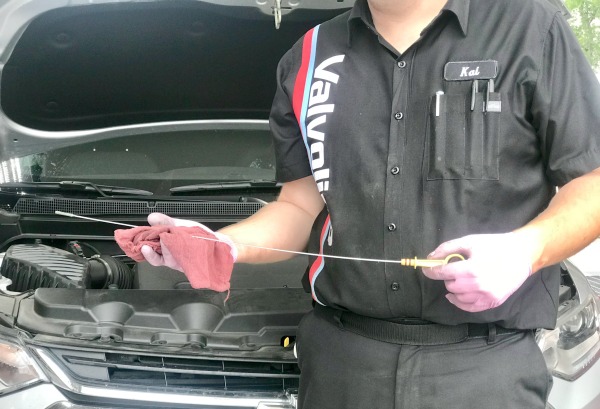 Save Money on Your Next Service at Valvoline Instant Oil Change
Right now, you can stop by your local VIOC, save money on a service by using the coupon  I've posted below and pick up a pair of full Pink Wipers or Black Wipers with a small pink ribbon to have installed on your vehicle, to show your support for Breast Cancer Awareness Month. The wiper blades fit 98% of cars, trucks and SUVs manufactured after 2003 and are available at participating VIOC locations. Check HERE if your local VIOC is participating in this promotion.
What's amazing about this campaign is that VIOC has raised over $86,500 for NBCF through this campaign to date. I'm excited to see the final dollar amount. This is obviously a cause that so many of us are passionate about, all for different reasons and personal connections. On October 19th, National Mammography Day, Valvoline Instant Oil Change is making a
double donation on all wipers sold that day. It's the perfect day to stop by.
Hey, this is a friendly reminder to schedule your mammogram and be pro-active with your own breast health. To learn more about VIOC's Breast Cancer Awareness Campaign please visit viocpink.com. 
Enter to Win Free Oil Changes for a Year
How cool would it be to win free oil changes for a year? Right now, after you stop by your local Valvoline Instant Oil Change location and purchase your own Pink Wipers, you can enter to win by uploading a photo of your vehicle with its new pink blades and telling why you "Pink'd Your Ride" at http://wshe.es/tIUjKeck.
Connect with Valvoline Instant Oil Change on Facebook and Twitter.
About Henley Enterprises
Henley Enterprises, Inc. founded in 1989, is the largest Valvoline Instant Oil Change
franchisee. Operating over 174 service centers across ten states including: California,
Delaware, Florida, Massachusetts, Maryland, New Hampshire, New Jersey,
Pennsylvania, Rhode Island, and Virginia