This shop has been compensated by Collective Bias, Inc. and its advertiser. All opinions are mine alone. #ScrubCloth #CollectiveBias 
Feeding my family a well-balanced meal is a priority for me, but it can also be a challenge. I often feel like I run out of creative meal ideas, especially ones that are quick and simple to prepare. As a mom, I think it's just natural for me to  be on the lookout for meals that will wow my family. I want to be able to answer with something exciting when I get the infamous question, "Mom, what's for dinner?". 
I make a lot of chicken dishes for dinners but wanted to prepare something a little different and new so I whipped up a batch of "Baked Crispy Chicken Tenders", using panko crispy bread crumbs.(Please see full recipe below.) These help give chicken tenders a crispier texture than just regular baked chicken. I don't like to fry a lot of foods, I prefer to oven-bake so using these bread crumb crumbs on chicken gives them a little extra "crunch" without having to fry them.
My trick is to brown up the panko bread crumbs with a little butter in the skillet before using them on the chicken. Let me just share that doing this, instead of using them straight out of the box on the chicken, makes the chicken extra yummy and is a definite kid pleaser! 
Let's Talk About Cleanup
My least favorite part of making dinner is the clean up! No one wants to stand at the sink and scrub the dishes after they've just spent all that time preparing a meal. (We'll talk about shared kitchen responsibility in a minute). I don't care how well you prep a pan or baking dish before using it, cleanup for this kind of a meal requires elbow grease.
Scotch-Brite® Scrubbing Dish Cloths are a new product and they seriously take all of the headache out of cleanup!  I found them at Walmart, on the "Paper and Cleaning" aisle and can't rant enough about them to you. 
First of all, they're cute and don't look like standard dish cloths. (I like to keep my kitchen stylish.) They're available in 3 colors: tan, coral, and navy and are priced just under $5.00 at Walmart for a 2-pack. (I bought mine for $4.98.) By still giving you the versatility of a dish cloth, Scotch-Brite® Scrubbing Dish Cloths make cleaning things, like stuck on messes from my chicken tenders dinner, far easier! They basically combine the best of a high quality dish cloth with the power of Scotch-Brite® scrubbing dots for a quicker and easier clean.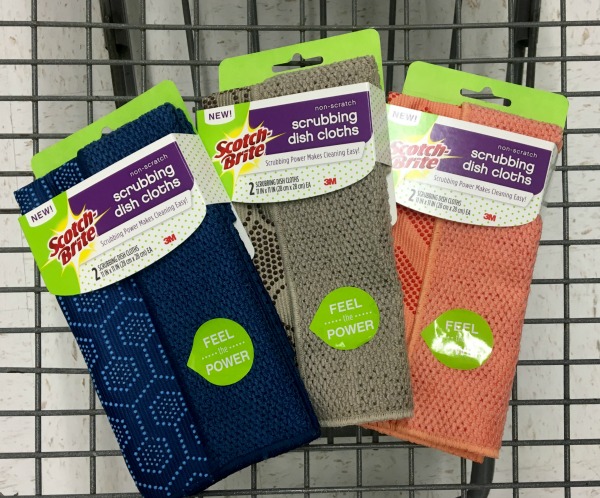 One of the things I like best about them is the fact that they will not scratch any surface! With non-scratch scrubbing power I can clean other areas in my kitchen, in addition to using it on the dishes, without worrying about damaging anything. Another one of my favorite things about them is how sturdy they are and the fact that you can wash and re-use them, which helps you stay "green" in the kitchen. Also, right now at Walmart, there's a $1 off instant redeemable coupon available on the product that you can redeem at the register when you check out! 
Shared Responsibility in the Kitchen
So let's get back to talking about shared responsibility in the kitchen. As I previously mentioned, I have no desire to stand in the kitchen scrubbing away, any more than necessary, especially after cooking dinner. It's always nice to get some help from other family members with the dishes. I think shared responsibility in the home is a good thing and it teaches your kids valuable life lessons. 
So, I printed up this cute little printable, framed it, and stuck it in a frame. (To print out your own copy, click here.) After dinner, I usually get asked, "What's for dessert?" I just point to the printable and wait for them to clue in with the clean up. So far, it's worked out pretty well. I'm more than happy to break out the dessert when the clean up is all done!
By stocking our kitchen with Scotch-Brite® Scrubbing Dish Cloths, I just made everyone's life easier! For more recipes and cleaning ideas, visit here.
Baked Crispy Chicken Tenders
(serves 2-3 people) 
Ingredients
2-4  bonelsss, skinless chicken breasts
3 eggs, beaten
milk
1 cup flour
2 cups panko breadcrumbs (I use the crispy, plain ones.)
dash of salt
dash of pepper
2 tablespoons butter
ketchup or other dipping sauce
Preparation
Preheat the oven to 425 degrees.
Spray baking dish or pan with cooking spray.
While oven is preheating, place butter in a skillet and turn the flame on low. Add panko breadcrumbs and brown them for about 5 minutes. Set aside in a bowl.
Prepare chicken by cutting up into "tenders". (My daughter prefers smaller pieces to pick up and dip in ketchup.)
Prepare breading station, using 3 bowls: one with flour, salt and pepper, one with eggs and a bit of milk beaten together, and one with the browned panko breadcrumbs.
Place each piece of chicken into flour bowl, coating completely, then shaking off extra flour before moving on. Next, place floured piece into egg bowl and cover completely. Before removing, shake off excess egg. Fnally, place chicken piece into panko breadcrumbs bowl and completely coat the chicken, even pushing breadcrumbs into the chicken. Place in baking dish.
When all chicken has been coated, place baking dish into oven and bake for about 15 minutes or until golden brown. Always be sure to check the inside of your chicken and/or its internal temperature.
Serve tenders with ketchup or your favorite dipping sauce