When my friend Melodi from Eat Drink OC called and invited me out for a night of fun at the newest location of Blue C Sushi in Newport Beach, I was quick to accept the invite! I LOVE sushi and I'd heard from a couple of other friends that I needed to check out Blue C.  They offer kaiten sushi which translates as "go around sushi". There's  a conveyor belt set up within reach of guests so they can then grab food to eatndirectly off of it at any time.
The decor of this place is so fun. The atmosphere is even more fun! When we walked in, I immediately spotted the magnetic wall. I KNEW it was somewhere I'd need to return with my daughter so she could draw pictures to put them on the magnetic wall. I'm guessing she'll also probably end up playing with the wall magnets.
How fun do these giant magnets look ? 
You can't help but become almost instantly mesmerized by the conveyor belt and the colors of the plates! Each one has a description of what's on the plate and its ingredients. There are even some plates with gluten-free and vegan options. The plates are color coded to tell you how each one is priced, which makes it very simple.
There's also an extensive menu of drinks, appetizers, and other items, such as hand-rolled sushi made to order and some of the chef's favorites. If you're curious about the freshness of the items on the conveyor belt, Blue C Sushi actually uses an electronic sensor system on the revolving plates to monitor how long they've been rotating. They take pride in serving the freshest sushi, so you'll never be served sushi that's been on there longer than 45 minutes.
This is about as fresh as you can get for sushi! (We named him Sebastian the Shrimp!)
The chefs' area in the center of the restaurant allows for the sushi chefs to monitor every table and interact with guests.  If you'd like them to walk you through the chef's offerings and specialty items, you can press the blue button. They'll also address any of your ordering needs at that time.
We had the best time chatting with "Joe" that night. He's one of Blue C's main sushi chefs and I loved that he greeted each of us with a little gift, our own personal blue ninja. Joe likes to keep these ninjas on hand for the younger visitors, but on this particular occasion we were the exception to the rule.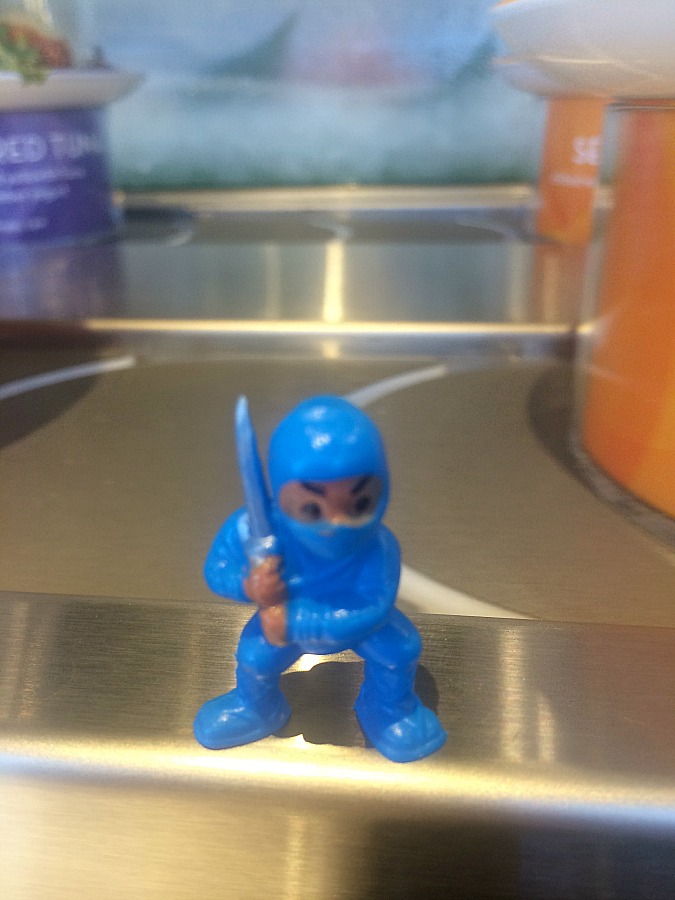 He might be tiny but my ninja means business! 
When we sat down at our table, I was immediately mesmerized by the conveyor belt and all of the food going by on it. Not only is there sushi on the conveyor belt, but I also spotted some fresh fruit, edamame and other appetizers, and even desserts pass by us!
Desserts passing me by on the conveyor belt! Come back, cupcake!  
Our server, Matt, was so much fun! I think you HAVE TO BE fun to work at Blue C! He got each of us started with a cocktail.
Mine was a beautiful blue one in a martini glass! 
Before I knew it, the eating began! All I know is we started with some Spicy Edamame and the rest was history!
We were so lucky to be able to try quite a few of Joe's own personal creations. He took so much time to describe each one that he'd made for us and even whipped up a few of his own personal favorites. The sushi was so fresh and I felt like I couldn't stop myself from gorging! I'm pretty sure I ate my weight in fish!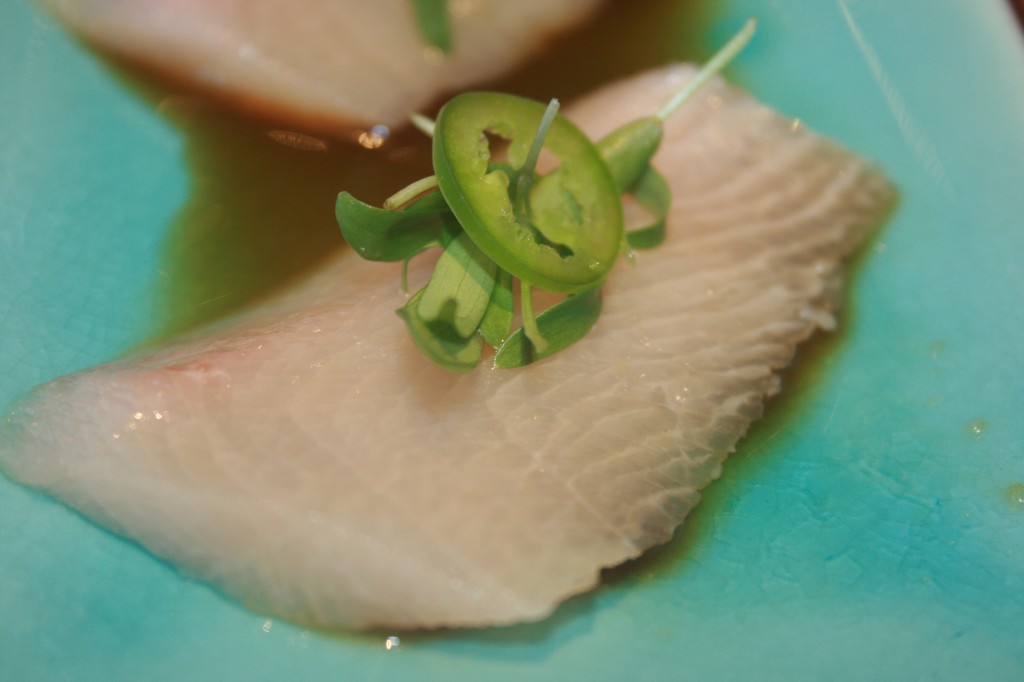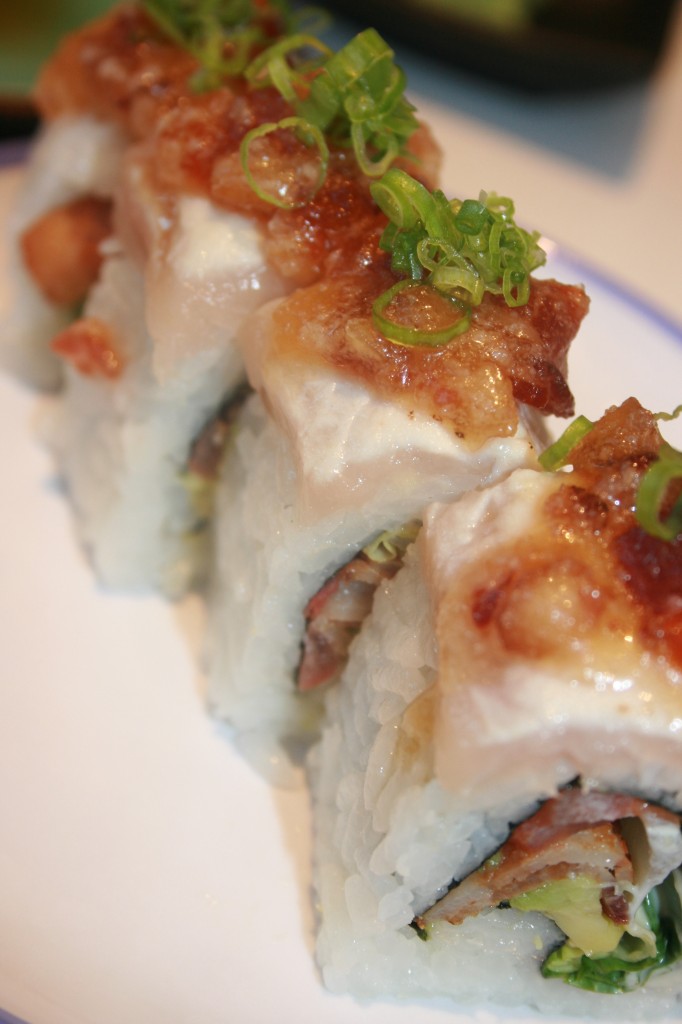 Joe came out and actually sat with us at our table for a little while. We chatted with him about his background in the food industry and he gave us a deeper insight into the history of Blue C Sushi. Not only is he great at what he does, he also seems very passionate about it. I think that's really important.
These clams were so delicious! Chef Joe made them especially for us! 
As if we weren't already stuffed, Joe insisted we also have dessert! Good thing I have a "dessert compartment" from when I was younger that always allows me to have room for it! Dessert arrived at our table, an incredible tempura brownie with ice cream and some shaved! Whoa! We were ready to eat it but first I stopped to take a selfie with Chef Joe!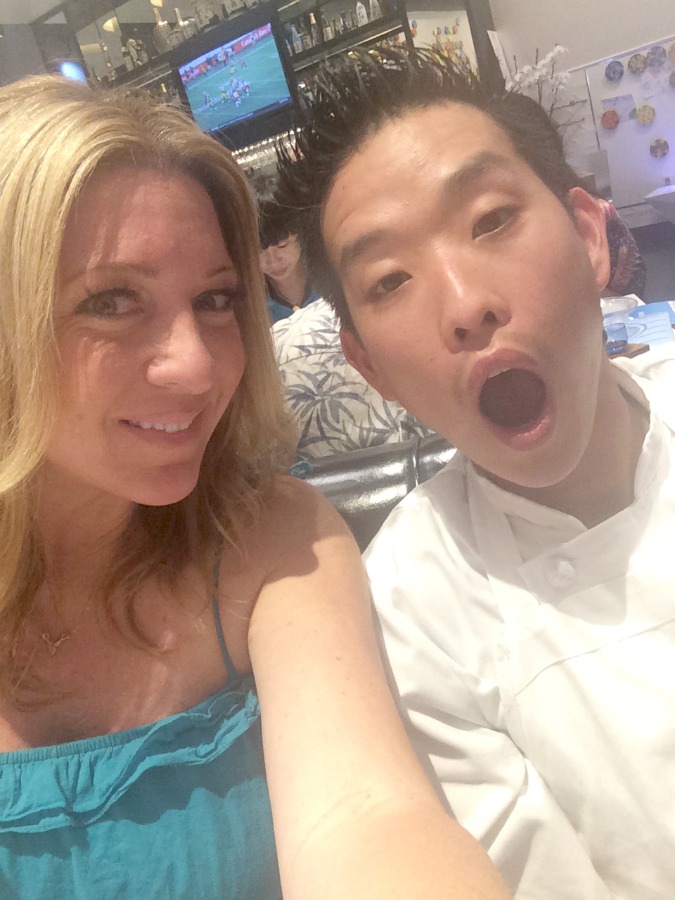 This tempura brownie was to die for! Seriously, you NEED to try one when you go there! 
The shaved ice was served with fresh fruit and topped with coconut milk! It was really yummy! 
We had such a great experience at Blue C Sushi! It was a lot of fun to really get to know the staff working that night and it felt like we had our own personal chef.  I would highly recommend it to anyone, especially families with kids.
If you end up going soon, could you please call and invite me though?  I'm totally ready to go back!
To locate a Blue C Sushi near you, click here! Connect with Blue C Sushi on Facebook, Twitter, and Instagram.