It's no secret that I am a huge fan of Boudin SF Bakery! Obviously, I love their famous Sourdough bread but I also love all of their delicious sandwiches, fresh salads and homemade soups! My daughter is also loves their kids menu.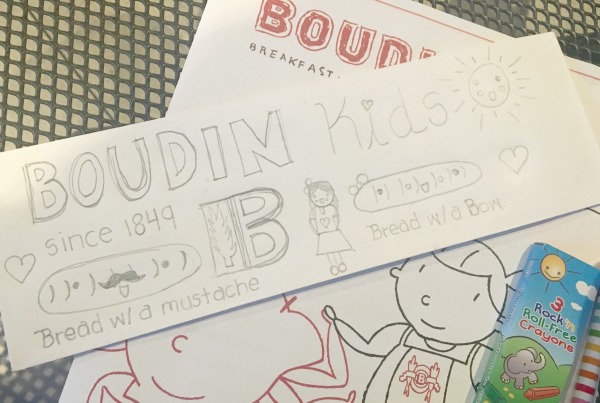 If you peeked at my Instagram recently, you may have noticed me posting pics of some of their latest Spring limited-time offerings a few weeks back. 
I was invited to a media tasting of the limited-time items at Boudin's Huntington Beach location. I never pass up a chance to try their new items, especially with Boudin's Corporate Chef Alan Skversky there to talk us through each one. He is so passionate about creating recipes that are trendy and healthy and that incorporate only the freshest ingredients in them. Starting March 23, Boudin gave all of us 4 more reasons to stop by and dine! First of all, they brought back a highly requested favorite, The Lemony Couscous! 
The Lemony Couscous is made with Israeli Couscous, garbanzo beans, diced cucumbers, grape tomatoes, Kalamata olives, roasted red bell pepper, feta cheese, and drizzled with creamy lemon dressing. It's absolutely delicious and they brought it back because so many people were asking for it. 
This Spring, Boudin added 3 new Limited-Time offerings to the menu and you're going to love all three! Each of the salads is made fresh-to-order and served with some of Boudin's freshly-baked sourdough bread. They are perfect for lunch or dinner and can be enjoyed in the restaurant or taken "to go". Check these out:
Bacon, Blue & Beets – This salad is made with spring mix, all natural chicken, red onion, roasted golden and red beets, green beans, Applewood smoked bacon, blue cheese, spiced walnuts and tossed in ranch dressing. 
Mango & Red Quinoa Salad – Made with crisp chiffonade romaine and spicy baby arugula lettuces, red quinoa, refreshing mango, red grapes, red onion, almonds and goat cheese, all tossed in house-made mango citrus vinaigrette. You have the option to add chicken for $2.29. 
Forbidden Rice & Chicken Sesame Salad – This salad is made with baby spinach, black rice, all natural chicken, Granny Smith apples, garbanzo beans, pickled red onion, goat cheese and house-made sesame dressing.
The timing of these additions to the menu, couldn't be more perfect for me! I was just starting to get myself on a better daily routine and these delicious seasonal salads just made my own personal "Get Ready for Summer" meal plan even easier! These refreshing Spring salads are available at all 9 Boudin SF Southern California locations. To find a location nearest you, click here. 
This is not a sponsored post. I was invited to a menu tasting in order to facilitate this review. All opinions are 100% my own.