i was invited to a media tasting in order to facilitate this post. All opinions are my own. 
Recently I've find myself asking "Does it spark joy?" about everything!  In the case of Knott's Boysenberry Festival, I already know it SPARKS JOY! This year marks the 5th anniversary of this amazing annual offering, just one of Knott's "Seasons of Fun".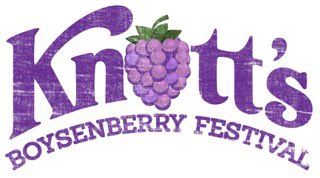 The Knott's Boysenberry Festival is an annual foodi-nspired event that celebrates the park's historic roots by highlighting the little berry that started it all, the boysenberry. This year's newly-expanded festival will feature over 75 unique boysenberry-inspired creations crafted by the Knott's culinary team.
Guests will have the opportunity to indulge in a tantalizing line up of dishes ranging from savory foods with a boysenberry twist to one-of-a-kind specialty desserts and drinks that can only be found at Knott's Berry Farm during this time of the year. In addition to the numerous food and drink offerings, the Knott's Boysenberry Festival offers a wide selection of local crafters, live music, musical stage shows and fun activities for guests of all ages to enjoy.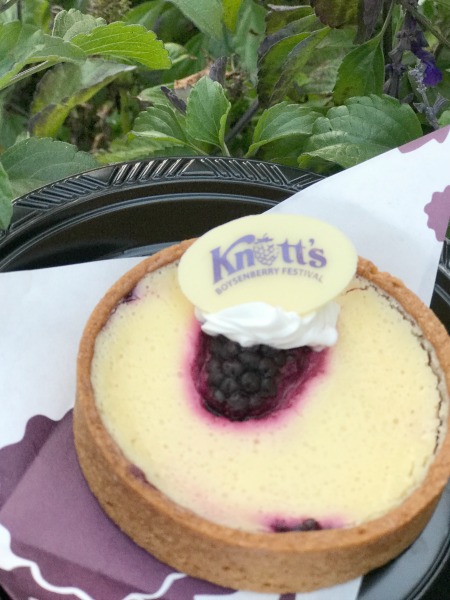 This year's Boysenberry Festival runs 31 days starting March 29, operating daily through April 28, 2019. This year's lineup will introduce several new food items including:
Flavorful boysenberry dry rubbed flank steak topped with boysenberry cream cheese
Sweet and tangy boysenberry jerk chicken wings
Hearty boysenberry chili in a fresh-baked boysenberry sourdough bread bowl
Tender boysenberry pot roast served over rich and creamy boysenberry mashed
potatoes
Grilled boysenberry BBQ chicken skewers served with a zesty boysenberry aioli dipping
sauce
Boysenberry glazed salmon served on mixed greens and topped with a boysenberry vinaigrette
Spicy boysenberry habanero baked mac and cheese
Boysenberry jambalaya prepared with chicken, boysenberry sausage and bell peppers served with white rice
Boysenberry pulled pork tostada topped with creamy coleslaw and boysenberry drizzle
Boysenberry-lemon hummus served with pita bread
Grilled boysenberry sausage on a freshly baked roll topped with boysenberry ketchup, relish, and mustard
Boysenberry elote, a grilled corn on the cob smothered in fresh boysenberry butter,
mayo and topped off with cotija cheese
Fresh-baked boysenberry waffles served with sweet maple boysenberry cream cheese syrup
Boysenberry cinnamon sugar tortilla crisps served with creamy boysenberry ice cream
Knott's Boysenberry Tasting Cards
A great way to indulge the new boysenberry food items during the festival is by purchasing a
Boysenberry tasting card. Priced at just $35 (that's a great deal!), the card offers 8 tastings from a selection of the following 14 boysenberry-inspired dishes:
NEW! Boysenberry Chili in a Boysenberry Sourdough Bread Bowl (Sutter's Stand)
NEW! Boysenberry and Lemon Hummus with Pita Bread (Sutter's Stand)
NEW! Boysenberry Dry Rubbed Flank Steak with a Boysenberry Cream Cheese Topping (Sutter's Stand)
Boysenberry Elote (Ghost Town Bank Stand)
NEW! Boysenberry Jerk Chicken Wings (Spur's Chophouse Outdoor Stand)
Boysenberry Sausage in a Bun (Wilderness Dance Hall)
NEW! Boysenberry BBQ Chicken Skewers with a Boysenberry Aioli (Wilderness Dance Hall)
NEW! Boysenberry Pot Roast over Boysenberry Mashed Potatoes (Inside Spurs Chophouse)
NEW! Boysenberry Glazed Salmon over mixed Greens and topped with a Boysenberry Vinaigrette (Inside Spurs Chophouse)
NEW! Boysenberry Habanero Baked Mac and Cheese (Wagon Wheel Pizza)
NEW! Boysenberry Jambalaya with Chicken and Sausage (Wagon Wheel Pizza)
NEW! Boysenberry Pulled Pork Tostada (Wagon Wheel Pizza)
NEW! Boysenberry Waffle with Maple Boysenberry Cream Cheese Syrup (Ghost Town Bakery)
NEW! Boysenberry Cinnamon Sugar Flour Tortilla Chips with Boysenberry Ice Cream (Ghost Town Bakery)
A variety of signature boysenberry items will also be available for purchase a la carte. Tasting cards are available at Knotts.com or at the park.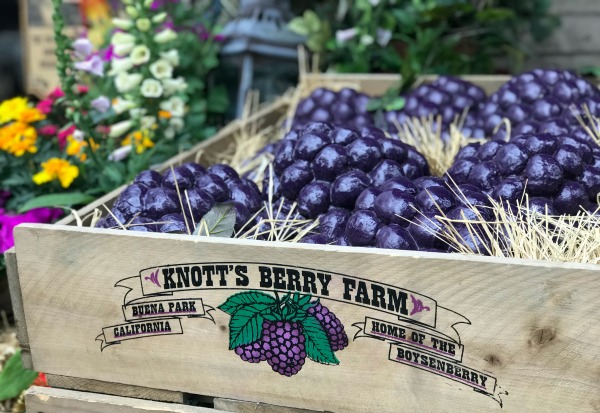 Boysenberry Festival Merchandise
Guest can also take home a taste of the boysenberry festival with limited edition merchandise
found throughout the park. This year's new merchandise includes a selection of event apparel, plus new packaged food items perfect for take-home souvenirs like the boysenberry peanut, cashew and pecan brittle, boysenberry hand-dipped chocolate-covered turtles, graham crackers and honeycomb. Unique boysenberry inspired artisan products will also be available at the Boysenberry Festival Craft Fair which features 30 local craft vendors.
The Knott's Berry Market (located in the Marketplace outside the Park) also features signature boysenberry items like the delicious boysenberry BBQ sauce or the classic jams and preserves.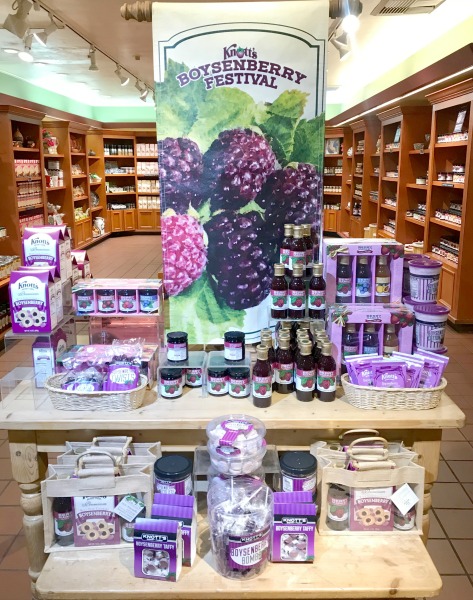 Special Boysenberry Festival Entertainment
Knott's Boysenberry Festival offers endless entertainment options for the festival goer:
"Tied Up in Knott's!" – a tribute art show dedicated to the rich history of Knott's Berry Farm. Over 30 artists will be contributing 50 pieces of art to the show, which pays homage to Knott's Berry Farm's past, present and future in various mediums including: oil paintings, illustrations and digital mixed media. These original pieces will be hung on display at the Wilderness Dance Hall during the duration of the Boysenberry Festival.
Snoopy's Boysenberry Jamboree! – Guests are invited to join Snoopy, Charlie
Brown and the entire Peanuts Gang in a musical stage show that will have
families dancing along at the Calico Mine Stage.
Old Time Melodrama – Knott's pays tribute to its past at the Legendary Bird Cage
Theatre with a special presentation of the musical comedy melodrama with a
surprising boysenberry twist!
Krazy Kirk and the Hillbillies – A group of krazy talented performers will have
guests toe tappin', vine dancin' and knee-slappin' to a comedic country music
show at the Wagon Camp stage.
Musical Performances – Various musical duos playing Country and Bluegrass
tunes will take the stage at Fireman's stage.
Old MacDonald Petting Zoo – Young ones and young at heart are invited to cozy
up to the cutest critters on the farm including horses, sheep, goats and other
furry friends. Old MacDonald's farm pays tribute to one of the farm's original
attractions.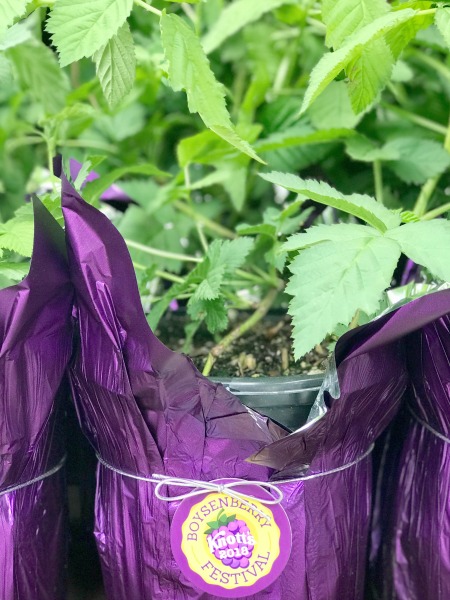 The Knott's Berry Farm Boysenberry Festival is included with admission to Knott's Berry Farm. Additional costs apply for food tasting experiences within the event. Knott's will have extended hours on select days March 29 – April 28, allowing guests extra time to take advantage of all of the limitedt-ime offerings.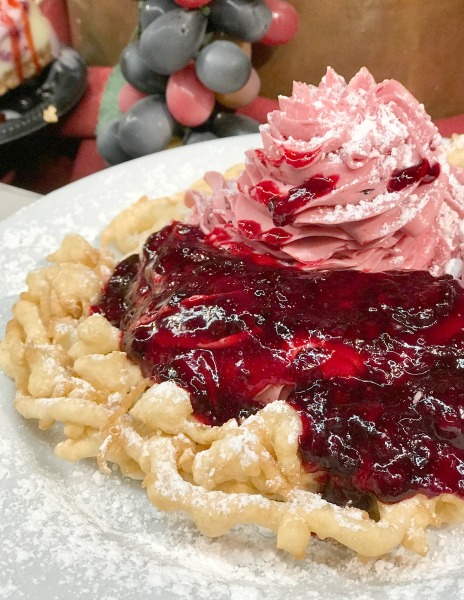 The best way to savor every day of the Knott's Boysenberry Festival and all of the other Seasons of Fun is with a 2019 Season Pass. A Regular Season Pass includes unlimited admission in 2019 to Knott's Berry Farm with no blackout dates, and a Gold Season Pass includes unlimited admission in 2019 to both Knott's Berry Farm and Knott's Soak City Waterpark with no blackout dates. Regular passes are just $98 or five easy payments of $15.50 after an initial payment and Gold Passes are $118 or five easy payments of just $18.50 after an initial payment. These offers end April 28, 2019. Applicable taxes and fees apply. Payment plans are only available at knotts.com.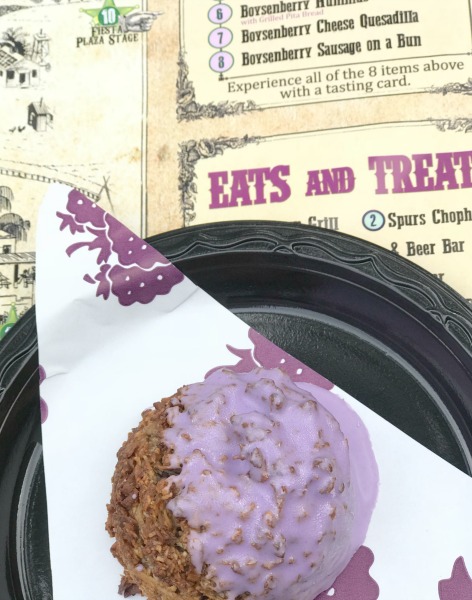 For more information about Knott's Berry Farm please visit knotts.com or download the Knott's Berry Farm app for your smart phone. Join the conversation using #BoysenberryFestival on social.