BRIO Tuscan Grille locations at Irvine Spectrum Center in Irvine and Victoria Gardens in Rancho Cucamonga are saying "cheers" to pasta in honor of National Pasta Month in October.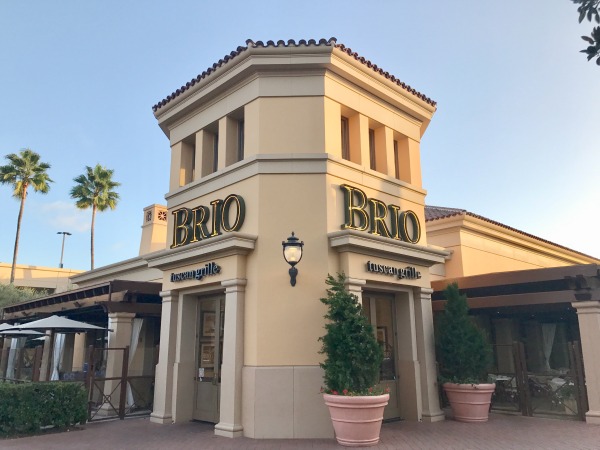 Guests dining at BRIO can enjoy two-course pasta lunch and dinner combos, available Tuesday, Oct. 3–Sunday, Oct. 29. BRIO is pleased to celebrate tis time-honored guest favorite with a select pasta dish, paired with a choice of soup or salad. Prices for the lunch combos start at $14.95; prices for the dinner combos start at $17.95.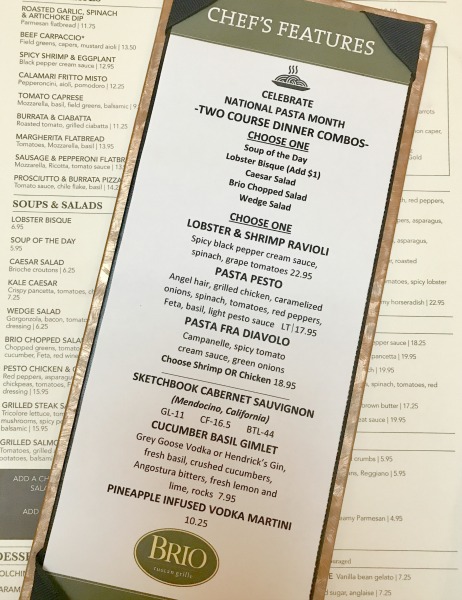 Guests can choose one of the following pasta dishes:
Lobster and Shrimp Ravioli with spicy black pepper cream, spinach, and grape tomatoes ($15.95 at lunch and $22.95 at dinner)
Pasta Pesto with Chicken (light item) featuring angel hair, grilled chicken, caramelized onions, spinach, tomatoes, red peppers, Feta, and light pesto ($14.95 at lunch and $17.95 at dinner) (can be made gluten free upon request)
Pasta Fra Diavolo, with a choice of chicken or shrimp, featuring spicy tomato cream sauce, and campanelle pasta ($14.95 at lunch and $18.95 at dinner) (can be made gluten free upon request)
Guests also have the choice of one of the following to start off their meal:
Soup of the Day
Lobster Bisque (Add $1)
BRIO Chopped Salad
Caesar Salad
Wedge Salad
The perfect way to complete a two-course pasta combo is with BRIO's delicious new dessert, which will be introduced Tuesday, Oct. 10: The Salted Caramel Cookie Sundae is served warm, with vanilla bean gelato, caramel sauce, and spicy candied pecans ($6.95)
Also starting Oct. 10, in the spirit of the fall season, BRIO will offer two seasonal cocktails:
Apple Crisp Cooler -Captain Morgan Spiced Rum, apple juice, Apple Pucker liqueur, apple butter, apple wedge, cinnamon sugar rim ($8.50)
Caramel Apple Cider Appletini Captain Morgan Spiced Rum, apple cider, lemon juice, simple syrup, apple slice, caramel and cinnamon sugar rim ($7.95)
We had the opportunity to dine in at the BRIO location in Irvine and try some of the dishes from this special menu and it was a delicious meal. In addition to our 2-course dinner combos for Pasta Month, we decided to try the  were a couple of other items we ordered. I definitely couldn't resist starting off with the Roasted Garlic, Spinach &  Artichoke Dip, which is served with Parmesan flatbread. This appetizer is a fabulous one to share with your party. 
We also had to order dessert. Since we dined the week before the Salted Caramel Cookie Sundae was available, we opted for the Warm Chocolate Cake served with Vanilla Gelato. It was quite decadent.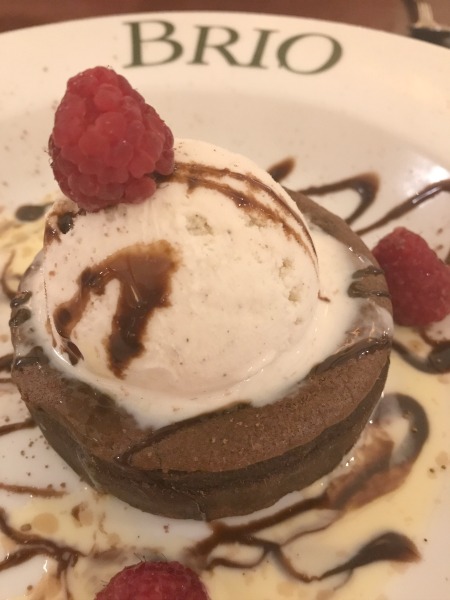 For a list of locations or to make a reservation at BRIO, which can be made online, visit http://www.brioitalian.com.