Last spring, we traveled to Walt Disney World, for the Disney Social Media Moms Celebration, and stayed at Disney's Yacht Club Resort.
It was our first time there and we were delighted to enjoy the accommodations at such a wonderful location. The hotel has such a beautiful location on the water and the property boasts nautical decor throughout. 
One of the first memories our family made on our visit was when we arrived at Disney's Yacht Club Resort was when we entered into the hotel's lobby and were greeted by "Captain Al". 
If you've been there in recent years, I'll bet you've probably met him too. He's a very special Cast Member who stands front and center to greet you. Captain Al is one of those people you meet and just know within minutes of talking to them that you want to chat with them more than just a morning "hello". He wears a very handsome nautical suit and captain's hat and resembled the nautical Mickey in our hotel room a little bit.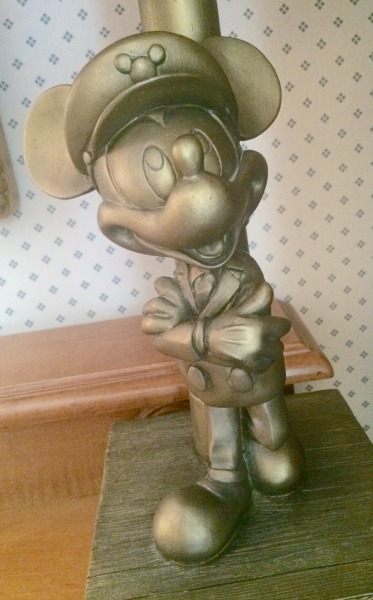 Al's knowledge about the entire Walt Disney World Resort is amazing. He'll tell you anything you want to know about it and help you get to where you're going, What you'll notice most about him, is that he isn't in any hurry to get you a quick answer and send you on your way. He would spend all day helping you if that's what it took. You don't often find people with that type of work ethic nowadays. 
Something else I adored about "Captain Al" were his old school values. He told us right off that bat that he didn't have a cell phone or use a computer. He believes that if people want to see him or talk to him will, they should do it the old-fashioned way…by regular (snail) mail or by actually calling him on the phone to talk. I couldn't help but cling onto his every word because he reminded me A LOT of my own grandparents, who also held those same values. I'll totally admit I love technology. I love the convenience of having everything in the palm of my hand (via iphone) , but Al was right when he talked about things getting lost in translation. 
How often do young people think that older people don't know what they're talking about? Here's a man, not even trying to preach about anything specific, and yet his simple message spoke loud and clear to us. Be present. Be authentic. Unplug whenever possible. Not only did he talk about these things, he lives by his own motto every single day! Can you see why we adore him?
When the day arrived and it was time for us to depart from the Disney's Yacht Club Resort, Captain Al insisted on carrying our bags out for us and refused to take a tip. We were sad to leave but happy to have visited and made such special memories together as a family. We were also happy that we got to meet such a Magical Cast Member such as Captain Al. I just hope we get to return one day and meet up with him again!