This post was sponsored by Charmin as part of an Influencer Activation for Influence Central. All opinions are 100% my own. 
I don't get it? It seems like every time I turn around (to go potty), the toilet paper holder is empty! There's no possible way that it can always be my turn to change the roll..but it is! I think I've discovered what a big part of the problem is…the rolls I've been using are too small and they run out super quickly. (Another part of the problem involves the rest of my family being lazy!) 
Well, I think I've found a solution! Charmin® Essentials are here to help! Just look at the size of their rolls! They're huge!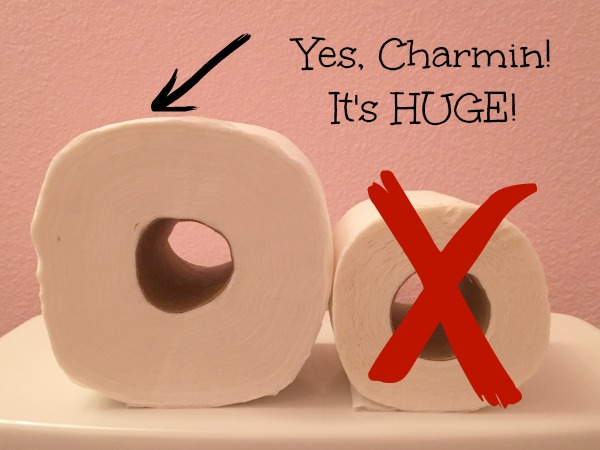 I'm not saying that having bigger rolls of toilet paper in my bathrooms is going to motivate my family more to help replace them when they run out, but it's going to make my job as "toilet paper roll changer" much less demanding! Hehe!
What are these Charmin® products I speak of? Charmin® Essentials Soft and Charmin® Essentials Strong are two new products that were designed to provide shoppers, like me, with more of what they want in their toilet paper at a comparable price to the product they currently use. The Charmin Essentials Soft provides Charmin-­like softness at an Angel Soft®- like price while while Charmin Essentials Strong provides a big Charmin roll at a Scott® 1000- like price!
No matter which of the two you try first, I'm pretty sure you're going to love it! These quality products are available at a comparable price to the leading bargain brands, so you, your family, and your budget don't have to compromise! The "budget" part of that is a high priority for me, as the one in the family in charge of handling the finances. (Yes, I do that, too!) 
Now you can participate in the #CharminEssentials TP swap! Have you heard about it yet? Charmin is inviting shoppers to upgrade their Angel Soft® for Charmin Essentials Soft and Scott® 1000 for Charmin Essentials Strong. All you have to do to participate is simply Tweet their TP swap out request to @Charmin using the hashtag #CharminEssentials and #Promotion, and Charmin will send you a free roll. For more information about it and to read the terms and conditions of this program, go here.
To learn more about Charmin Essentials Soft, go here and to learn more about Charmin Essentials Strong, go here.
You can also connect with Charmin on Facebook and Twitter.
Angel Soft® is a registered trademark of Georgia-Pacific Consumer Productions LP
Scott® 1000 is a registered trademark of Kimberly-Clark Worldwide, Inc.