Tempo Urban Kitchen in Brea was the place to be the night I was invited to join an eclectic group of local foodies, for a special media menu tasting. The unique eatery, owned by Restaurateur Jorge Cueva, serves up Modern American Cuisine with an urban twist, that's completely unique from anything else I've ever experienced.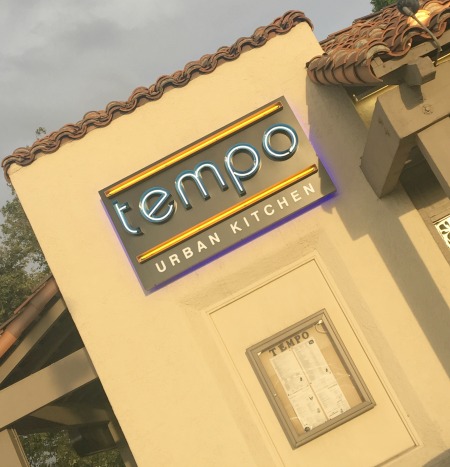 The Brea location is run by Head Chef Chris Tzorin. If Chris' face looks familiar to you, it may be because he's appeared on the Food Network several times, most recently winning on Guy Fieri's show "Guy's Groceries"! 
Chris says "Food is his therapy", but he isn't referring to eating it, himself. He puts an immeasurable amount of passion into creating innovative culinary dishes in his kitchen and seems to gage his own success by others' satisfaction and enjoyment of his food.  If you have the chance to hang out with Chris, you'll pick up on his frequent mentions of his children, Armani and "Little Chris", and the immense love he has for them.
He's one of the proudest dads you'll meet and he attributes his drive and success in the industry to how much his children have motivated him to strive for his dreams. 
On the evening of my great culinary adventure at Tempo Urban Kitchen, guests were treated to a meal collaboratively created by not 1 but 3 well-know chefs. Joining Chef Chris were also Chef Charly Urban and Chef Salvador Carrillo. The dishes they each prepared for us that night could be described as "campestre" or "farm-to-table" creations, incorporating the freshest ingredients and boldest combinations of flavors. 
Before the food even started to roll out, we were served these amazing handcrafted Mango Serrano-Infused Margaritas with Tajin on the rims. They were so smooth, mine didn't last very long. Tempo has an extensive bar and I definitely recommend you visit it at some point, for some drinks and even happy hour one day during the week. 
The first dish of the night was a delicious Grilled Octopus with house-made Chipotle Aioli, plated on a wooden plank, and served on a bed of micro-greens. The tender pieces of octopus were so delightful and tender and it was obvious that the room was been filled with seafood lovers because it got really quiet during this course.
Next, we were served a "Deconstructed Korean Taco". This Asian-inspired dish was made with the most tender, pork belly I've ever tried. It was seared just enough to have a slightly crispy top and the soy-lime and Serrano flavors enhanced it even more. It practically melted on its own in my mouth. The plate was beautifully garnished with a real mango roll, which I devoured in about a second.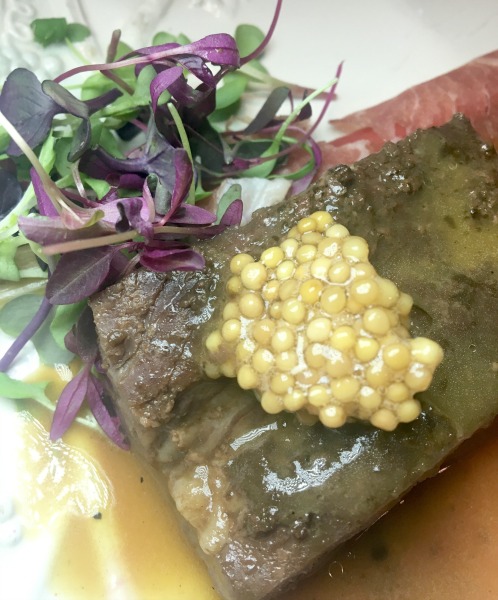 The third course in our meal was a Slow-Cooked Short Rib topped with Vegan Caviar. (aka Mustard Seeds). The plate was so colorfully garnished with beet sauce and prosciutto. I definitely enjoy beef and this dish was outstanding!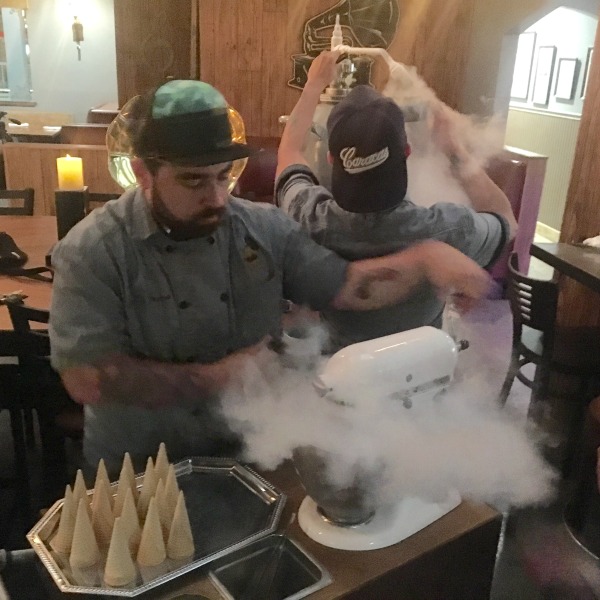 After dinner, all 3 chefs created something extra special for our dessert. They utilized giant KitchenAid mixers. We waited as patiently as we possibly could while they combined fresh ingredients in the bowl. Then they wow-ed us as they brought out the Liquid Nitrogen and turned the mixture into fresh, delicious ice cream! I loved it! 
We were each served a generous scoop of ice cream served on a delicious waffle cone. I felt like a kid in a candy store. It was the perfect ending to our meal! I loved the subliminal message in the backround too. "La Familia es Todo!" (Family is everything!) As a guest at Tempo Urban Kitchen that evening, I was definitely made to feel like part of their family! 
Tempo Urban Kitchen is located at:
1060 E Imperial Hwy
Brea, CA 92821
You should connect with Tempo Urban Kitchen on Facebook, Twitter, and Instagram.
I was invited to a media dinner as a guest of Tempo Urban Kitchen in order to write about my experience. All opinions are 100% my own.