Cherries are one of those fruits that I could sit and eat for hours! Having a bowl full of cherries in my lap, literally makes me happy! I'd never considered doing much more with cherries than just eating them as is.  Whole Foods Market, is currently celebrating their 5th Annual Cherry Fest and I was invited to create a recipe for an in-store event they were having.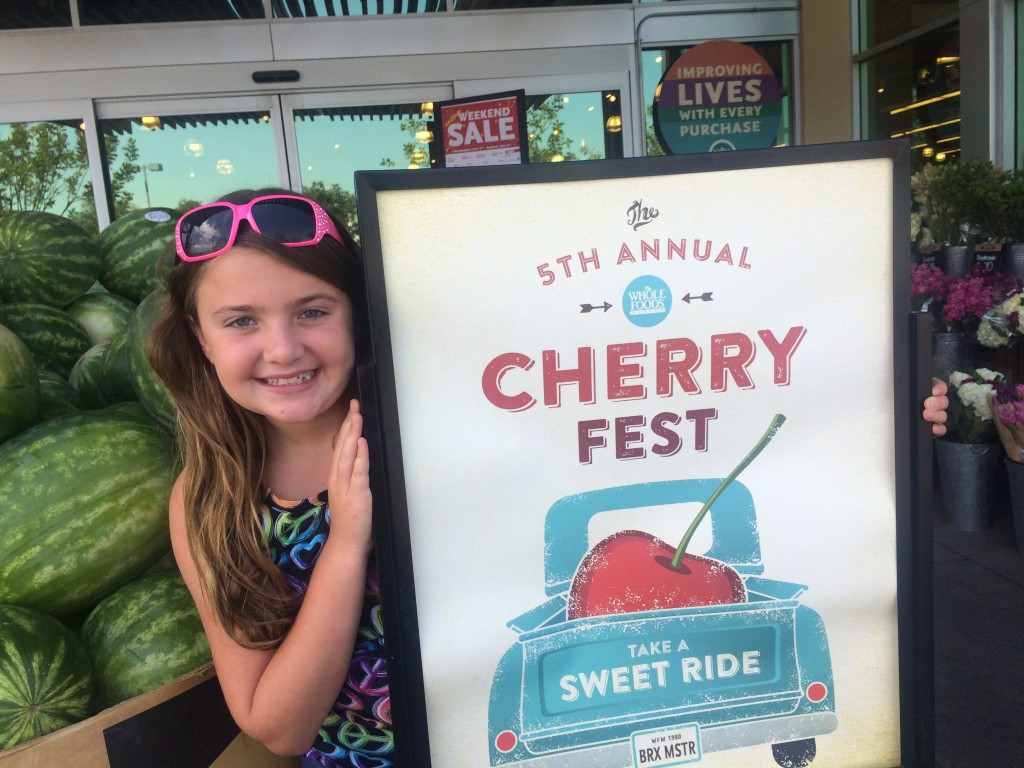 Shopping in Whole Foods makes me feel like a kid in a candy store! I literally walk around with my mouth gaping open in awe! I LOVE that Whole Foods Market supports and promotes local farms and I feel content knowing that my produce is fresh from the farm to my table. They had such beautiful cherries in the produce section that I couldn't wait to get them home and use them in my Summertime Salad with fresh Cherries recipe!
Let me take a minute to talk about the dressing I used for the salad. It's a recipe that's been passed down among girlfriends for about 9 years now. Originally, one of my good friends served this dressing on a salad at my baby shower (my baby is currently 9 years old). I swear EVERYONE at that shower was asking her for the recipe! (including me) I cannot even count how many times I've made this dressing. I honestly think I serve it on almost every occasion possible AND everyone always loves it and asks for the recipe. My girlfriends and I call it "the dressing" and everyone in our circle of friends knows exactly what someone is talking about if you use those words! It's just the kind of dressing you can use on most salads, so I'm using it on this one today. I think it's going to become your new "secret weapon" too! Ok, here comes the recipe….
Ingredients for the Secret Weapon dressing:
1 teaspoon salt
1 teaspoon pepper
4 tablespoons sugar
4 tablespoons white wine vinegar
½ cup good quality olive oil
2 tablespoons parsley, finely chopped
Ingredients for the Salad:
5 oz. of Baby Arugula
1 lb. cherries, pitted and sliced
4 ears of corn, cooked and cut off the cob (after it's cooled)
2 avocados, chopped
1 cup of crumbled feta cheese
Directions:
For the dressing, finely chop the parsley and add to a dressing container of your choice, mixing in all of the other ingredients to the container. Dressing can be made a day ahead of time and stored in the refrigerator but will need to return to room temp prior to serving. Shake dressing well prior to serving. I usually double the recipe for the dressing when I make it, just so I have extra, in case I make more salad at the party. (Everyone will want more, trust me!)
For the salad, place baby arugula, corn, avocado, feta cheese crumbles, and fresh cherries in a bowl and toss with dressing. If desired, sprinkle some extra feta cheese crumbles on top. (I promise, no one will object to this)
So…tell me what you think? Are you ready to go and make my Summertime Salad now or what?
Did I mention their cherries are going to be on sale tomorrow for $1.99 a pound?!!!
You NEED to go buy some and make something yummy too! 
I just have ONE MORE thing to share…a giveaway! Everyone loves giveaways, right? In honor of Whole Foods Market and their Cherry Fest, they've given me one $50 Whole Foods gift card to give away to one of my lucky readers! Enter below on the Rafflecopter! Good Luck everyone!
Disclosure: This is a sponsored post. I was provided with a Whole Foods gift card as compensation for creating my recipe. All opinions are my own. Some images provided to me by Whole Foods.