This is a sponsored post in collaboration with Evite. All opinions are 100% my own. #Evite #BeOurGuest #BeThere #ad
The countdown is on until the release of Disney's live action feature film "Beauty and the Beast" in theaters nationwide on March 17 in IMAX & 3D! I cannot wait for this movie.
As a huge lover of the original animated version of "Beauty and the Beast", released in 1991, I am excited to see how this live version compares to the original. How can you not be excited for this adaption of everyone's favorite Disney Classic?
I'm also excited to see it because I'm a huge Emma Watson fan. Not only is she a talented actress, her voice is amazing too! Have you watched the "Beauty and the Beast" Official Trailer yet? (Be sure to grab a tissue.)

Just in time for the film's release, Evite has created a special Be Our Guest – Beauty and the Beast custom category of invitations that Disney fans are going to love! There are 10 invitations in the category to choose from, suitable for different events like Girls' Movie Night Out, Dinner Party, Awards Party, Birthday for Kids, etc. How fun is that? Here are some of the designs.
My favorite invitation from this Evite collection is the
Girls' Movie Night Out
 design and I'm planning mine already so I can use it. My plan is to invite several of my closest girlfriends over, along with their kids, and host a Beauty and the Beast potluck dinner, prior to going out all together to see the film in the theater. I love that Evite allows you to include a list, when you send one of their invitations, so each of your friends can choose something to bring your party. Evite makes party planning so much easier especially access on my phone via the app. To view the entire collection of Beauty and the Beast invitations, go
here
.
In honor of Disney's newest "Beauty and the Beast" film and one of my favorite characters from the animated version, I decorated a Beauty and the Beast-Inspired "Chip" cup. I love Chip! He just holds a special place in my heart. The mug is perfect for cocoa or coffee and is pretty durable. It was very simple to do and is something you can easily recreate on your own.
Here are the supplies you'll need to make your own:
a plain, white ceramic mug
fine and regular tip permanent markers (oil-based, paint markers work best)
paper towels
baby wipes
Directions for decorating your mug:
Make sure your mug has been washed and is completely dry.
Find an inspirational picture of Chip's face to use as a guide.
Start by coloring the rim of the mug with yellow (or gold) and use a black marker to create the "chip" at the top.
Making sure the handle of the cup is centered as the nose, and start with black, drawing his face, including eyes, eyebrows, and mouth. Color in the eyes with blue and draw on cheeks with pink. *If you make a mistake, immediately wipe off your error with a baby wipe and dry the area with a paper towel before re-drawing.
After you've drawn the face, use yellow (or gold) to color the handle. (a.k.a. the nose)
Allow the mug to dry for a few hours.
Before using the mug for anything, it needs to be baked in the oven. Start by placing the mug, on a cookie sheet, in a cool oven.
With the mug already inside the oven, turn the oven on to 350 degrees and bake for 30 minutes.
Turn off the oven and allow the mug to completely cool down inside the oven. This will prevent cracks.
Note: The mug is best if washed by hand.
Although "Beauty and the Beast" opens in theaters everywhere on 3/17 in IMAX & 3D, you can now purchase your tickets on pre-sale by clicking here. I already purchased tickets for all of my friends who are coming to my potluck party because I plan on being there on opening night! Have you gotten your tickets yet?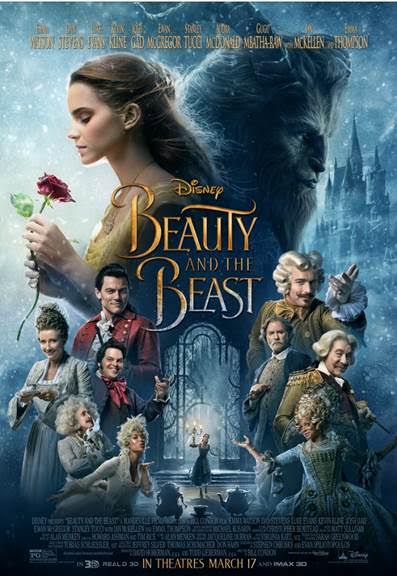 Don't forget to follow Disney's "Beauty and the Beast" on Facebook, Twitter, and Instagram for the latest movie news! Connect with Evite on Facebook, Pinterest, and Instagram, too.


Some images, logos and trailer are property of Evite and/or Disney.