We received media entry in order to share about our experience. All opinions are my own. 
Our family loves to go on new adventures and experience all there is to do here in Southern California. We recently took a drive down south for the day to visit SeaWorld San Diego. It's just about an hour drive from Orange County, where we reside.
I love the fact that you have so many options of things to do at SeaWorld. Not only do they offer a large selection of educational exhibits and shows in the park but there are also a bunch of thrilling attractions to check out. (Manta, the attraction, is a must!)
On our visit, which included tweens, we found that there's something for everyone in your family to enjoy in the park and on this visit, we were invited to an extra special experience.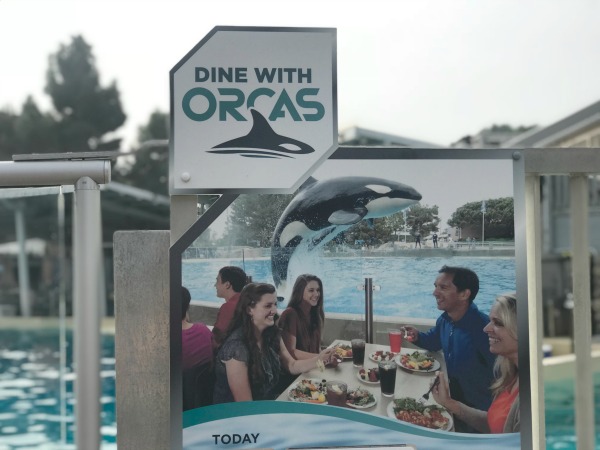 "Dine With Orcas®" is a special ticketed event is an hour long experience where guests get to enjoy a delicious chef-crafted meal, on a private poolside patio, next to Orca whales. It's an immersive and memorable family dining experience that allows you to discover what makes killer whales so unique from a presentation given by SeaWorld's behaviorists.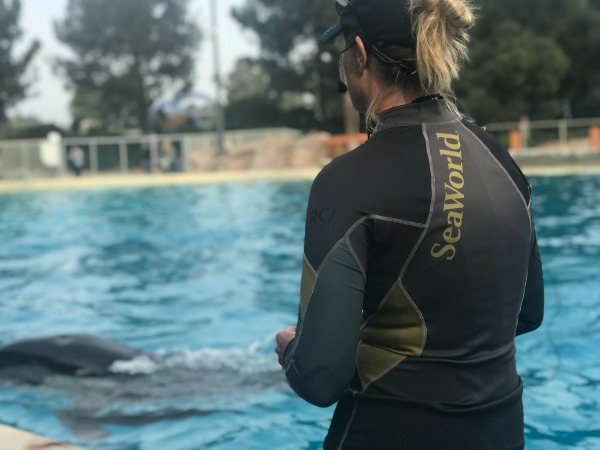 The meal is set up buffet-style, with gourmet offerings for both adults and children. I was elated to have so many wonderful food choices. The culinary team at SeaWorld goes above and beyond with the food. The menu can change seasonally and we got to try the Fall/Winter menu which includes:
Oven Roasted Turkey – Gravy, Cornbread Stuffing, Cranberry Aioli
Grown Up Mac and Cheese Bar – With Bacon, Chives & Parmesan Cheese
Pork Spare Ribs  with a Chipotle BBQ Sauce
Sustainable Salmon  made with Lemon Dill Butter Sauce & Tomatoes
Chicken Tikka  with Curry Sauce
Creamy Polenta with Roasted Corn and Feta
Oven Roasted Fingerling Potatoes
Local Fall & Winter Vegetables
Charcuterie Display – Salami, Local and Imported Cheeses, Cornichons, Grain Mustard, Breads
Crisp Romaine Caesar – Croutons, Traditional Dressing & Aged Parmesan
Greek Kale Salad – Romaine, Kalamata Olives, Pickled Red Onion, Pepperoncini, Tomato, Feta, tossed in a Red Wine Oregano Vinaigrette
Asparagus with a Pomegranate Orange Vinaigrette
The Kids Menu offerings include:
Chicken Nuggets with organic ketchup
Sweet Peas & Carrots
Cavatappi Pasta
Meatball Marinara
There was also a Dessert Bar that featured:
An Ultimate Homemade Cheesecake Display
Fresh Local Fruit
Flourless Chocolate Bouchons
Chocolate Covered Shamu Shortbreads
Vanilla Cupcakes
Flan
Chocolate Pudding
Mini Donut Holes
Dine With Orcas® dining experience features menu items that are sustainable, organic and locally sourced. From fresh California salad greens to locally-grown vegetables, in-season produce is selected straight from regional farmers to ensure that guests are getting the freshest produce available.
There is something fascinating about getting to sit up-close to the Orcas and having the opportunity to learn more about them. What beautiful animals! Our family enjoyed this experience immensely and I'd say it's a definite "must-do" to add to your day at SeaWorld San Diego.
Dine With Orcas is open 7 days a week. and advance reservations are highly recommended, because some seatings tend to sell out quickly. However, if space is available, "day of" reservations can be made at the ticket booths or Guest Services just inside the park.Book now; this is an exclusive, up close, experience you won't want to miss!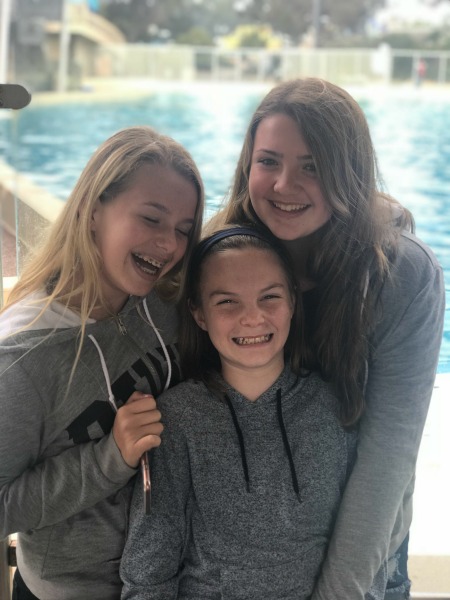 Here are a couple of "Know Before You Go" tips for you:
I suggest recommend arriving 15-30 minutes prior to your time to get in line. This may you have the best chance of getting a table closest to the window.
You can get $5 off the price of an adult ticket for "Dine With Orcas" when you purchase yours online here before your visit.
The price of your meal includes non-alcoholic drink options. However, beer and wine are available for purchase as well. 
Gratuity is not included in the price of your meal so remember to bring cash tip your server. (Ours worked so hard)
Have you visited SeaWorld San Diego before? If so, share your favorite memory with me in the comments!
For more information about the Dine With Orcas Dining Experience or to plan your own visit to the park, please visit https://seaworld.com/san-diego/.
Connect with SeaWorld San Diego on Facebook and Instagram.