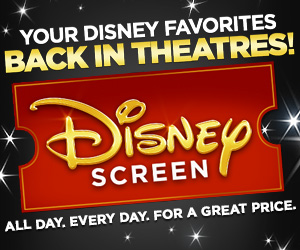 Disney Screen is coming to Cinemark Theatres! If you've never heard of Disney Screen, it's an extra fun way to watch many of your favorite classic Disney films on the big screen! Starting Friday, July 31st, 6 select Cinemark Theatres across the U.S. will begin to feature 4 classic films each week.  With a different theme for the movies each week, the theaters will run the films daily at 10:30 a.m., 1:15 p.m., 4:00 p.m., and 7:00 p.m. for an entire week! So basically it's Disney films all day, every day! Oh and did I mention that the films are also accompanied with a short film? I LOVE classic Disney movies AND short films! What a great thing to do in summer with your family!
Here's a sneak peak of what Disney Screen is all about: 
Take a look at all of the fun films they'll be showing starting July 31st!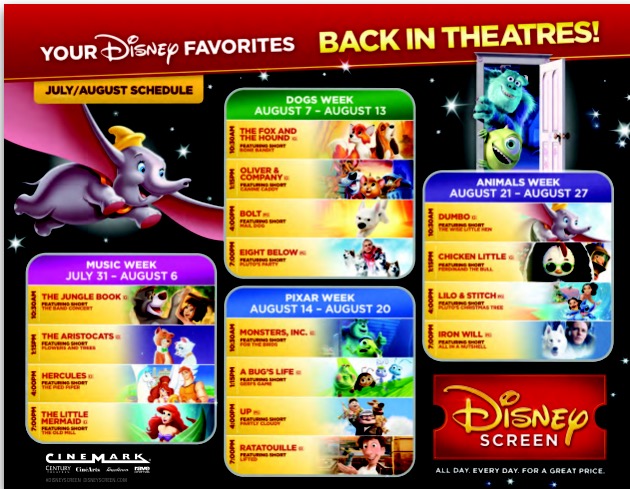 Disney Screen admission is offered to guests as 4 different pass options, each at a great price! Each pass offers unlimited viewing for that time period.
Here are the passes you can choose from:
Daily ($5) -When you purchase any Disney Screen showtime, you are granted full day access to see all four Disney Screen movies on that same day.
Weekly ($10) – This pass grants you unlimited admission for 7 days.
Monthly ($20) – This pass grants you unlimited admission for 1 month.
Quarterly ($40) – This pass grants you unlimited admission for 3 months.
Please note: One pass admits one person.
Passes for Disney Screen can be purchased at the box office.
This summer, Disney Screen is offered at 6 theatres across the U.S., as it's being tested out. The California Locations that are hosting the Disney Screen are Century Huntington Beach & XD and Century 25 Union City & XD. Here is a list of all 6 theatres.
I'm so excited to live so close by the one in Huntington Beach! I'm also excited to be able to give away 2 family 4-packs of passes to my readers!
Each prize pack will include 4 tickets and each ticket is valid for one free admission. The Disney passes are available in theatres which means you can just exchange it for a Disney Screen ticket when you arrive at the theatre! So cool, right? I'll be picking two different winners to enjoy the passes with their families!  All you have to do is enter my giveaway is leave a comment below telling me your favorite Disney movie AND your best email address in case you're one of the winners! The contest will be open until Tuesday, August 4, 2015 at 11:59 p.m. I will draw two (2) winners using the Random Number Generator and notify them by email. I will also be mailing the tickets to the winnners' homes. Must be a U.S. resident to enter and 18 years of age or older.  Good luck everyone!
This is not a sponsored post. Images property of Disney Films and Cinemark Theatres.