This is not a sponsored post. All opinions are 100% my own. 
Guests at the Disneyland Resort can, once again, enjoy special seasonal experiences this fall, inspired by Día de los Muertos, at both Disney California Adventure Park and Disneyland Park. The festivities and displays, now available through November 4, are a celebration honoring loved ones who have passed and honoring familial bonds that last forever. 
At Disney California Adventure Plaza de la Familia returns for a limited-time festivity. The area, located at the Paradise Gardens area of the park, celebrates Disney•Pixar's Academy Award®-winning film "Coco" and the everlasting bonds of family.
Guests visiting Plaza de la Familia will enjoy an immersive celebration that includes:
Live entertainment with storytelling
folklórico dancers and mariachi musicians
delicious Mexican fare
and interactive experiences such as the new craft where guests make colorful masks like
the ones seen in the "Coco" film.
A Musical Celebration of Coco – This festive show by the entertaining Storytellers of Plaza de la Familia celebrates the popular songs from the film "Coco", including the Oscar®-winning Best Original Song "Remember Me". As the lead storyteller Mateo recounts Miguel's fantastical journey into the Land of the Dead, guests are immersed in the story of "Coco." New this year, Miguel appears as a whimsical, hand-animated dimensional figure, joining a musical gathering that brings together a lively troupe of singers and Folklórico dancers dressed in beautiful costumes accompanied by the Grammy® Award-winning Mariachi Divas. A Musical Celebration is performed several times daily.
At the Paradise Gardens Bandstand, guests will enjoy an uplifting and moving family celebration featuring beloved Mariachi music and traditional songs that touch the hearts of all.
The World of Coco, an evocative art exhibit, allows guests to rediscover their favorite characters and settings from the film "Coco." The immersive exhibition features framed imagery that showcases the depth of imagination that went into creating the Land of the Living and Land of the Dead.
Guests also will encounter a three-dimensional "ofrenda" inspired by the remembrance altar seen in "Coco." In the film, Miguel, the 12-year-old lead character, builds an "ofrenda" in honor of his idol, the legendary late musician Ernesto de la Cruz. "Ofrendas" traditionally are created by friends and family members to honor relatives or loved ones who have passed away.
Guests are invited to take commemorative photos in front of the iconic Mexican "Árbol de la Vida", or Tree of Life. The Tree of Life at Plaza de la Familia celebrates the everlasting bonds of family and friends. Guests will be able to add a remembrance note on the Memory Wall to honor the many loved ones who have been − and will forever be − part of their lives.
Guests visiting Plaza de la Familia can design their own paper "alebrije" (spirit guide) mask as part of a new craft activity.
Mexican Food Menu: The Mexican menu at Paradise Garden Grill features delicious offerings such as the traditional Día de los Muertos Pan de Muerto, Mole Verde con Pollo, a scrumptious Pan Dulce Conchita and a special "Coco" cake.
More Día de los Muertos in Cars Land
Guests who cruise into Cars Land will find that Ramone, one of the citizens of Cars Land, also pays tribute to Día de los Muertos at Ramone's House of Body Art. Ramone celebrates this time when families gather to remember their loved ones with a traditional "ofrenda" display honoring the gone, but not forgotten, Doc Hudson.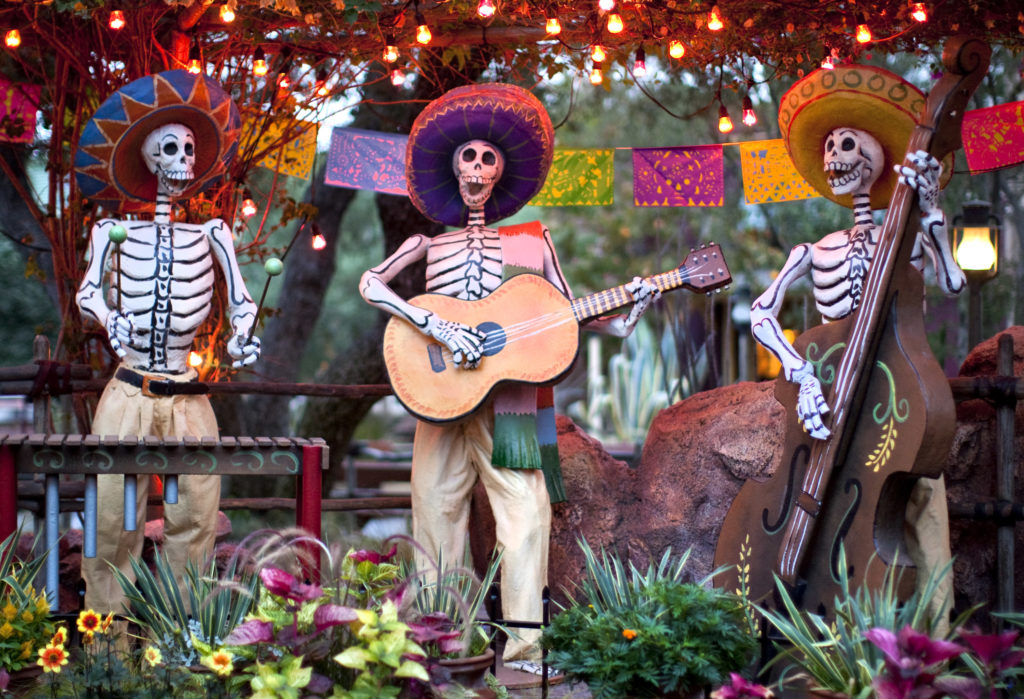 At Disneyland Park
Disneyland Park continues to offer its traditional Día de los Muertos display at Zócalo Park in
Frontierland. This immersive setting features marigolds and papel picado, along with a traditional "ofrenda," sugar skulls known as "cavaleras" and an iconic figure of La Catrina. Nearby Rancho del Zócalo Restaurante offers delicious Mexican cuisine for lunch and dinner.
For more information about these special festivities and more, please visit Disneyland.com.
Some images and logos are property of the Disneyland Resort and used with permission.