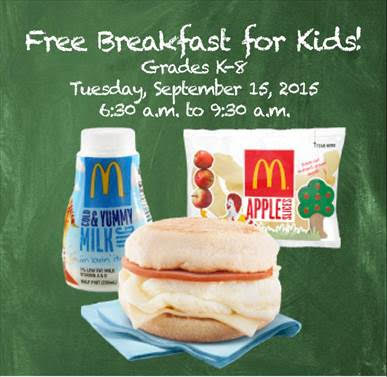 As a parent, I understand the importance of breakfast for my daughter, first hand and always make sure my daughter has something to eat before walking out the door to school. I'm also a teacher and see it from a different angle too. Children who eat breakfast perform better in the classroom and have better concentration and problem-solving skills. Sometimes, busy morning schedules don't leave a lot of time for breakfast, which can be a challenge on some days.
As students settle into their first days of school, participating McDonald's restaurants throughout Southern California are helping get their year off to a great start….with a FREE breakfast. On Tuesday, Sept. 15, participating Southern California McDonald's restaurants will offer free breakfast to kindergarten through eighth grade students. The restaurants will offer the breakfast from 6:30-9:30 a.m. Students younger than 13 yrs. of age are required to be accompanied by an adult when visiting a participating McDonald's restaurant.
During this time, students can enjoy any breakfast sandwich, apple slices or Yoplait Go-Gurt low-fat strawberry yogurt, and milk! So awesome!