This shop has been compensated by Collective Bias, Inc. and its advertiser. All opinions are mine alone. #LoveTheseCleanPaws #CollectiveBias
A couple of years ago, our family adopted two cats from a local animal shelter. Although the adoption process was lengthy and thorough and required a lot of patience, I can honestly say it was one of the best bonding experiences we've been through together as a family.
From the moment we brought home our cats, a momma and her kitten, we vowed to shower them with love and cuddles and pamper them as much as possible.
After such a rough start to their lives, our cats deserve to be spoiled. "Lucy" and "Lilly Belle" have filled our hearts and taken over our home. The sky's the limit at our house for these two. They have special food, a hand-decorated water dish, pretty homemade blankets to lay on, a plethora of toys, and of course, only the finest kitty litter for their box: Fresh Step® Clean Paws™ Multi-Cat Scented Litter with the power of Febreze™! It works so well for us and is formulated for homes like ours that have more than 1 cat.Because it's formulated with a special blend of larger particles, Fresh Step® Clean Paws™ is designed to stick less to your cat's fur and stay in the box, which is a win-win. (Click on the image below to shop for this amazing product.)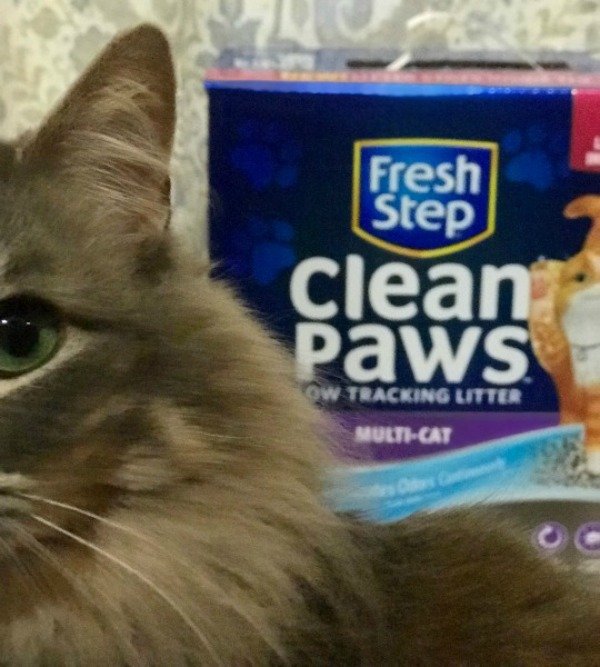 I'd never want my cats to be embarrassed and have others know they were just doing their business in the litter box! Some things are just better when they're kept private!
I purchased my Fresh Step® Clean Paws™ litter at Target in the Pet Food & Supplies area. Can't you tell by the red shopping cart? Be sure to be on the lookout for a Cartwheel offer running from 4/1-4/7 to find even greater savings on this game changing product.
I adore watching my daughter interact with our cats. She has such a special bond with them, especially the younger one. Prior to their adoption, she begged for a pet and now that we have them, I like to involve her in helping out with some of their daily pampering.
Teaching her to be a responsible pet owner is something I feel is important. I think it also helps her to see that there's more to life than just her own needs.
I created a "Kitty Accountability Chart" to help track my daughter's daily cat-related responsibilities. She helps out with feeding them, making sure they have fresh water each day, brushing them, and making sure they get their exercise. (I handle the litter box myself, which is so much easier with Fresh Step® Clean Paws™.)
The chart is a great tool to have posted somewhere visible and I also use it as an incentive to earn extra screen time. Download your own printable copy of my "Kitty Accountability Chart" for free here.
Are you a cat owner? Do you have anything special you do to pamper your cats or other pets? I'd love to hear about it. Please share with me in the comments.
Febreze and the Febreze Freshness logo are registered trademarks of The Procter & Gamble Company, Cincinnati, Ohio used under license by The Clorox Pet Products Company. © 2018 The Clorox Company.