poqetDONUTS, the first doughnut shop in Orange County to offer custom doughnuts alongside signature gourmet creations, will have its Grand Opening on Saturday, November 14th at 9 a.m.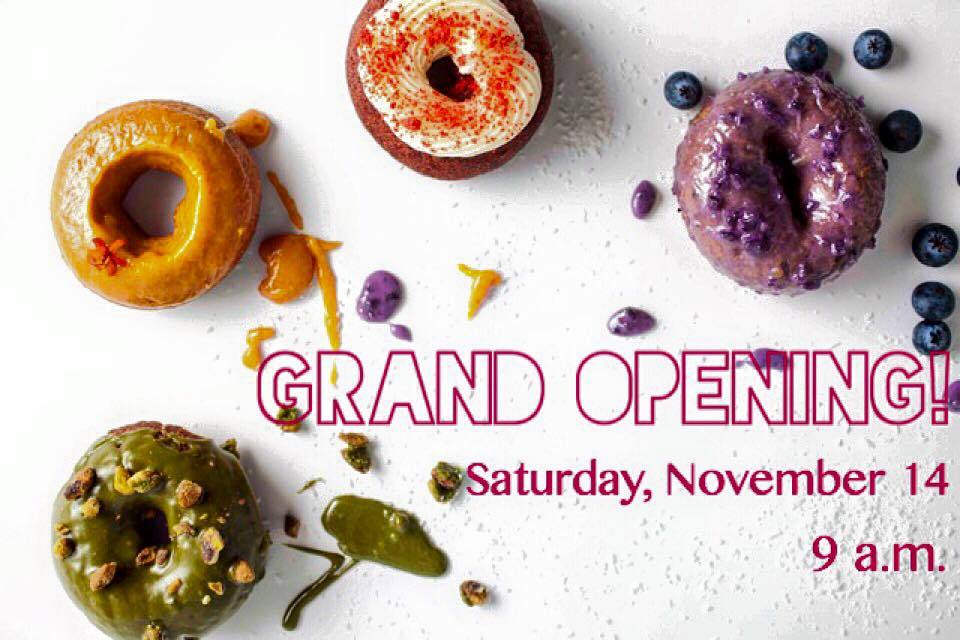 The first 100 guests in line that morning will have the opportunity to enjoy a complimentary doughnut from poqetDONUTS' unique signature flavors, including Avocado, Burnt Pistachio, Blueberry, Pumpkin Spice, Tiramisu, Nutella, Green Tea, and Butter Salt. In addition, 10% of the day's sales from 9 a.m. to 4 p.m. will be donated to The Irvine Public Schools Foundation, a non-profit organization that provides financial support and enrichment programs for the students of the 33 schools in the Irvine Unified School District.
The name poqet, pronounced "pocket," is derived from a folklore story of two best friends who met on a park bench daily to share doughnuts, which were kept in their pockets. The story of these "pocket donut" friends is placed on the wall inside the shop to provide a simple explanation of the name's origins to guests. 
Signature doughnuts will change seasonally and currently include:
Avocado – Green is the new black.
Maple Bacon – The main reason we are not vegetarians.
Campfire – Let's roast some marshmallows and party S'more!
PB & noJ – Peanut Butter makes everything Peanut Better.
Cookies & Cream – These are like people – the good stuff is on the inside.
Strawberry Fields Forever – If you are what you eat, get ready to be delicious.
Pumpkin Spice – One more excuse to have pumpkin-flavored everything.
Nutella – Spread love as thick as you would Nutella.
Tiramisu – This authentic Italian inspired recipe will have you saying, "Ciao Bella!"
Burnt Pistachio – The reason everyone should own a blow torch.
Lemon Meringue – When life hands you lemons, make lemon meringue.
Cherry Red Velvet – Life is too short to say no to Red Velvet, especially if it's glazed with cherries!
Blueberry – You can't buy love but, you can buy doughnuts, and that's kind of the same thing.
Black & White – I want someone to look at me the way I look at black & white cake.
Vanilla Latte – Life is better buzzed.
Green Tea – I love you so Matcha!
Butter Salt – Abs are cool, but have you had our butter salt doughnuts?
Vegan – Strawberry, Blueberry, and other options available select days
Production of doughnuts is overseen by a team with more than 30 years of doughnut-making experience. At poqetDONUTS, the culinary team creates custards, fillings, glazes and batters with the great ingredients to ensure that her doughnuts maintain a level of quality that one would expect in a gourmet shop.
poqetDONUTS is located at:
17655 Harvard Avenue, Unit B (at Main)
Irvine, California
949.932.0800
After the Grand Opening on November 14th, store hours will be as follows:
Sunday through Thursday, 6 a.m. to 4 p.m.
Friday and Saturday 6 a.m. to 7 p.m.
Visit poqetDONUTS on Facebook and Twitter.
This is not a sponsored post. All images are property of poqetDONUTS.