We recently stayed the weekend at the all-new Great Wolf Lodge Southern California! We had so much fun together as a family, taking full advantage of the indoor waterpark and checking out all of the other attractions they offer. There's a lot to do at this one stop destination vacation. 
For me personally, one of the most challenging parts about vacationing is the food. It's sometimes difficult to find very many healthy options when you're staying at a resort. I mean, of course you're on vacation to enjoy and endulge but sometimes eating junkfood for an entire trip just becomes too much. Well, I was completely surprised, in a good way, by the dining options at Great Wolf Lodge! The amount thought and planning that goes on behind the scenes of Great Wolf Lodge with the Executive Chefs is something that I'm excited to tell others about! 
During our stay at the resort, I was invited to "lunch and learn" with Great Wolf Lodge's Executive Chefs, Chris Hammond and Russ Meeks.. A majority of the people in attendance were moms like me. We all have concerns about the food that goes into our children's bodies, especially while on vacation. Many moms are not only trying to find the healthiest food choices possible, but also have to worry about challenges such as specific dietary restrictions and food allergies, as relating to their children. 
We lunched on a beautiful, fresh salad, some amazing tomato gazpacho, and a delicious wild mushroom risotto. What I learned that afternoon is that every bit of produce included in the lunch we were served, had been sourced from growers within a 30 mile range of the resort.
It's a very farm-to-table sort of approach they're trying for at the resort eateries, whenever possible. The Great Wolf Lodge culinary team is doing this at every one of their locations. We learned that one of the resort's long-term goals is to include a "Great Wolf Garden" at each location, to grown fruits and vegetables right on site. 
Listening to Chefs Chris and Russ talk about how committed they and the entire culinary team behind the 13 resorts are to providing Great Wolf guests with healthy, real food, as opposed to entire menus of fried foods and junk.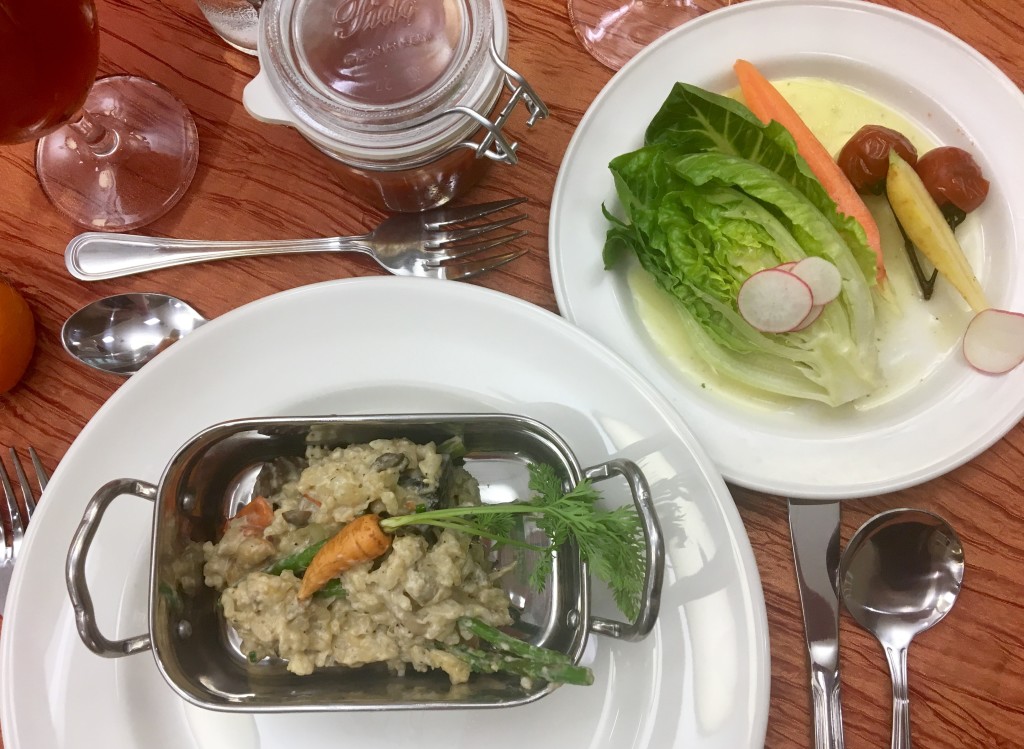 I love eating not-so-healthy foods from time to time but what Great Wolf offers is completely different and allows the freedom to make the choice. Don't get me wrong, I love desserts, hamburgers, fries, and pizza, too. You'll find all of the above when you stay at Great Wolf.
We don't ever want someone to not be included in a meal because of their allergy. We welcome and embrace it! – Great Wolf Lodge Executive Chef, Chris Hammock
Here are a couple of other facts I learned, relating to food choices at Great Wolf Lodge: 
Great Wolf Lodge does not use or serve peanut or tree nut products, but some of their products may be manufactured in facilities that also process nuts.
All fryers at Great Wolf are gluten-free, meaning that anything deep fried is safe for someone with that dietary restriction. 
The resort always encourages guests to speak to the chef if they have allergy or dietary needs. You will be amazed at how much they care and want to help you out! 
Here are dining options you'll find at Great Wolf Lodge Southern California: 
The Loose Moose Family Kitchen – This buffet eatery is open for breakfast and dinner. Breakfast offerings include farm fresh eggs, apple wood smoked bacon, signature wolf waffles, and organic yogurts, granolas, fresh fruits and berries. Dinners include a fare of entrées inspired by world cuisine. Along with fresh market salads and fish and seafood from sustainable markets, you'll find a simply fabulous variety of desserts. 
Lodge Wood Fired Grill – Sit down dining is offered here for lunch and dinner. The menu includes premium, wood fired steaks, freshly caught seafood and lodge smoked ribs. Start your meal with unique family shareables and crisp market salads and vegetables. Children can choose from kid-friendly favorites like mac 'n cheese, wings with dips and mouthwatering burgers. Top it all off with a delectable selection of fun, two-dollar desserts and Tiki-inspired cocktails.
Grizzly Jack's Bar and Grill – Located in the Raccoon Lagoon outdoor pool area, and is typically open Memorial Day weekend to Labor Day weekend, weather permitting. (I recommend checking with a Pack Member to find out the exact hours of operation during your stay) Here you can sip a creative cocktail, perfectly paired with a memorable mouthful, made from the freshest, local ingredients you can imagine. From chili lime shrimp to mini Cuban sliders, seared ahi tuna tacos and even oysters on the half shell, regionally motivated cuisine and seasonal selections light up the inspired menu at this open outdoor oasis.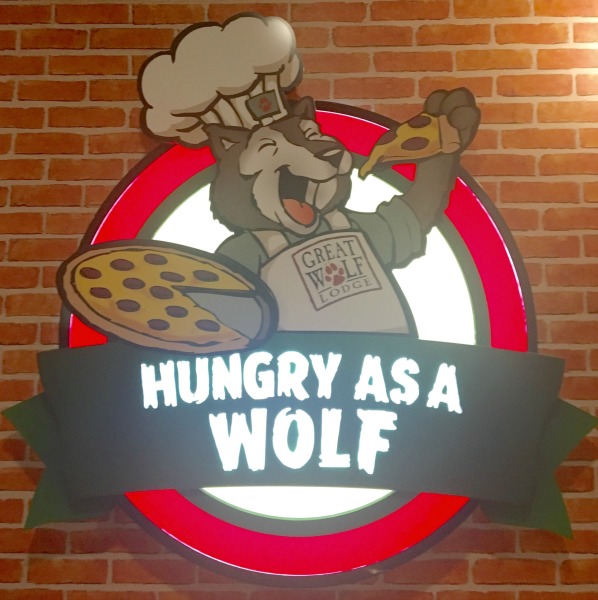 Hungry As a Wolf – This is where you can grab a pizza to go from lunchtime to the wee hours of the night. You'll find Brooklyn style, hand-stretched pizza, savory Italian and meatball Parmesan sandwiches, garlic cheese bread and freshly made salads fill the menu. Meal time a snap with call-ahead ordering and easy pick-up. Guests can dine-in, take food up to their suite, or even bring it into the waterpark. 
Buckets Incredible Craveables – This eatery is located right inside the waterpark.Here, you'll find a full menu of mouthwatering premium burgers, hearty sandwiches and fresh salads and vegetables. And who can resist our signature Tipping Bucket? It's a family-sized treat layered with ice cream, brownies, cookies, candy, chocolate sauce and whipped cream! 
Dunkin' Donuts – Located in the Grand Lobby, this is everyone's favorite place to grab coffee (and other goodies) in the morning. *Note: they're open all day though. In addition to sandwiches, bagels, classic donuts and Munchkins donut holes, you'll find that your favorite beverages and baked goods accompany the DDSMART Menu, with a host of healthier alternatives. 
Bear Paws Sweets & Eats –  Here you'll find freshly brewed coffees, espressos, mochas and lattes. Select something seriously satisfying from a menu of fresh-baked pastries and cupcakes, luscious ice cream and dreamily delectable lodge-crafted fudge. Indulge in nutritious and delicious hand-dipped caramel apples, chocolate strawberries and fresh fruit.
As you can see, there are a ton of choices when you spend your vacation at Great Wolf Lodge. There's literally something for everyone to choose from. I am content knowing that the culinary team behind the scenes strives to make the experience level as high as possible for their guests!
Connect with Great Wolf Lodge Southern California on Facebook, Twitter, and Instagram.
I was invited as a guest of Great Wolf Lodge Southern Calfiornia to attend a the Grand Opening Weekend Celebration in order to write this review. All opinions are 100% my own.