I was invited to spend a day in the park with my family guests of Universal Studios Hollywood. All opinions are my own. 
I get excited about all things holiday-related, so when our family was invited to spend a day out at Universal Studios Hollywood to experience their take on the holidays, I couldn't wait. As you walk up to the front of the park, you can see that the whimsical spirit of the holidays has transformed it into a winter wonderland, bringing merriment and cheer to all who visit from now through Sunday, December 29, 2019 and it's included in the price of your park ticket.
Celebrate Grinchmas in Who-ville
I was most excited to stop by Who-ville for Grinchmas™ first. I grew up loving Dr. Seuss books and one of my favorites to read as a child was "How The Grinch Stole Christmas". Well, I was amazed when I first walked into the area and spotted the giant, the topsy-turvy "Wholiday" tree! Oh my goodness! It's so beautiful.
Twisting and turning over 55 feet in height, the tree is adorned with hundreds of ornaments and thousands of white and multi-colored LED lights, which are choreographed to music, when it's lit up.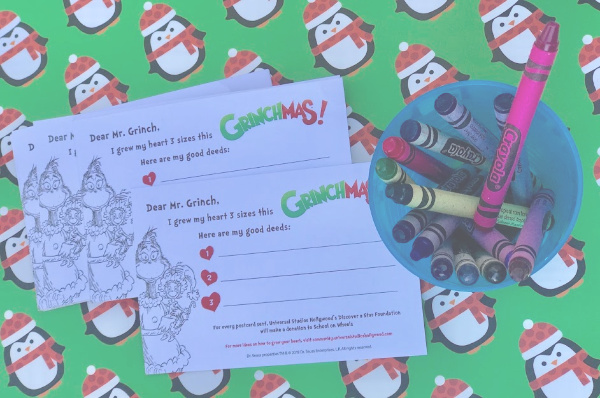 In Who-ville, there's an area set up for guests to write a letter to Mr. Grinch. You can "grow your heart 3 sizes" by writing to him & sharing about 3 good deeds you've done recently.  After you finish your postcard, you can drop it into the Who-ville Post Box, too! For every postcard sent, Universal Studios Hollywood's Discover a Star Foundation will make a donation to School on Wheels.
If you're hungry while you're visiting Who-ville, you'll find plenty of Who-bilicious treats and Wholiday confections. I couldn't resist taking a few of them home, too. How cute are these Grinch cotton candy bags and this giant Grinch donut?
While you're in Who-ville, you can meet and take a photo with The Grinch, himself. Just across the way from him, you can also visit "Max" and get a picture taken with Who-ville's favorite furry friend!

Once nightfall hits, you can attend one of the nightly "Wholiday" tree lightings. (weather permitting) I especially loved the finale, which was accompanied by a snowfall flurry, bringing the story to life! It's a really special experience and will definitely get you in the holiday spirit!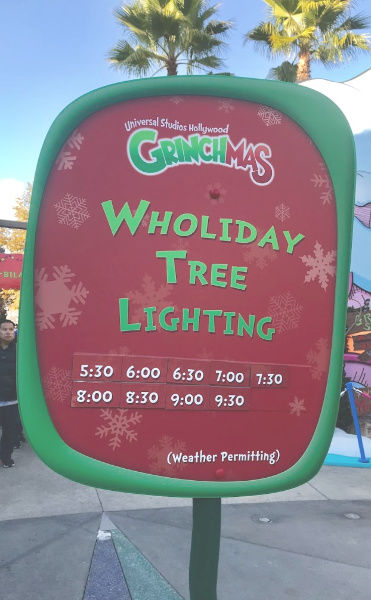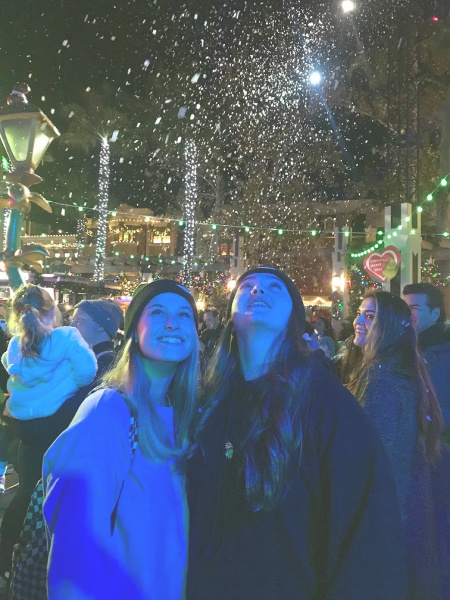 Christmas in The Wizarding World of Harry Potter
As night falls on Hogsmeade village, "The Magic of Christmas at Hogwarts™ Castle" illuminates Hogwarts™ School of Witchcraft and Wizardry with colorful imagery and impressive dimensional animations that dance across Hogwarts castle in tandem to a musical arrangement from the Harry Potter movies.
"Christmas in The Wizarding World of Harry Potter" adds holiday warmth and cheer to this beloved land as the quaint town of Hogsmeade village is enchanted with seasonal décor uniquely themed to each of the individual storefronts and a dazzling light projection spectacular brings the iconic Hogwarts™ castle to life. Enjoy musical performances from the a cappella Frog Choir, comprised of Hogwarts students and their giant throaty frogs, entertain guests with their harmonized holiday themed songs and fill the land with holiday cheer. Holiday-themed fare and hot Butterbeer further complement the overall experience.
Other Merriment in the Park 
Spirited holiday décor and festive whimsy is also present throughout the theme park, bringing a crew of very merry and mischievous Minions to "Despicable Me Minion Mayhem" and "Super Silly Fun Land" to gleefully spread Christmas cheer to visitors of all ages.
Know Before You Go
Grab a park map as you enter the front gate. Inside you'll find attraction and showtime information, food choices and locations and
I highly recommend dressing in layers for your visit, as Southern California weather often goes from cool to warm (or hot) this time of year, but then back to cool by nightfall. You'll want to bring along a jacket if you're planning to stay for Who-ville Tree Lighting and Hogwarts
If you're planning to watch one of the Who-liday Tree LIghtings or the nighttime spectacular at Hogwarts, get there early for best spots.
Consider purchasing your tickets online before your visit to save time waiting in line at the ticket booth. You can save some money this way, too!
If you're looking for a sit down meal, check out the restaurants located in Universal CityWalk, which is adjacent to the park, and call ahead in the morning to book a reservation that day. It was so easy for us to leave the park to go eat and then return afterwards, as it's a very short walk.
Holiday Offerings in Universal CityWalk
Universal CityWalk's spectacular 40-foot tall Christmas tree will once again glisten with 200,000 LED icicles choreographed to the lights and sounds of the season as the magic of the holidays comes to life in the "5 Towers" outdoor plaza along with a slate of free concert performances and an eclectic ensemble of talented street performers.
CityWalk's iconic, dancing water fountain with over 230 individual power jets will continue to mesmerize guests when it projects streams of choreographed water into the air complemented by red and green LED lights and an array of holiday-themed music.
Holiday Gift Idea: a 2020 Universal Studios Season Pass
With so much to see and do at Universal Studios Hollywood, the California Neighbor Pass makes the perfect holiday gift, providing guests with the opportunity to experience 175 days of fun for $149 when purchased online. For more information about passes and to see all of the ones they offer, please visit http://www.UniversalStudiosHollywood.com for more details. Blackout dates and restrictions apply.