I was provided with accommodations in exchange for my review. All opinions are my own.
Do you ever feel like you need to get away from the "hustle and bustle" of your hectic everyday life? I'll admit I often feel that way. So, when I received the invitation for our family to visit Hofsas House Hotel in Carmel, California, I was ecstatic!
"Carmel-by-the-Sea, this charming, seaside town's full name, is located on the Monterey Peninsula in Northern California. The drive from Los Angeles is about 6 hours, so we had the opportunity to take in some beautiful scenery on our drive up north. Just thinking back on our stay there makes me miss it and I truly long to go back there sometime in the near future. I absolutely fell i love with Hofsas House Hotel. 
Hofsas House is the cutest place to stay! It's painted pink, which is my absolute favorite color, and the Bavarian-inspired theme and decor of this family-run boutique inn were what reeled me in immediately. I also loved all of the beautiful landscaping around the premises, especially the flowers.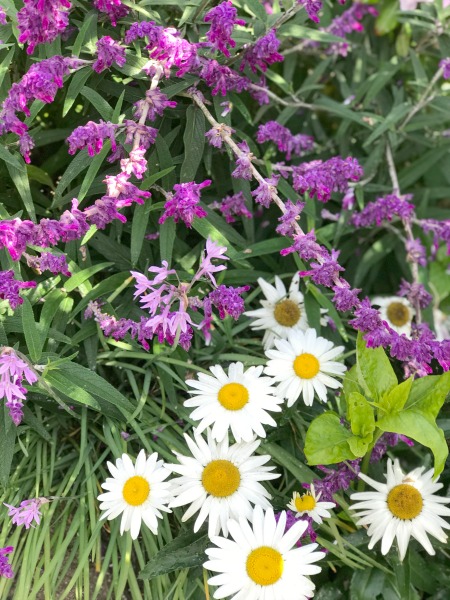 Guests can book a stay in any of the 38 spacious, one-of-a-kind rooms at Hofsas House. Guest rooms include amenities such as fireplaces, private balconies, wet bars, kitchens, and patios and free WiFi. The shower/tubs have been upgraded nicely and you're going to love the complimentary toiletries like shampoo,, body wash, makeup remover wipes and body lotion.

I think one of my favorite things are the pink Dutch doors in every room. They allow the ocean air into your room and make for a great photo opportunity. Don't you agree? 
(Please note: room amenities vary per location on the property) Hofsas House also offers large suites, which are perfect for newlyweds or larger families. The hotel also features a swimming pool and dry saunas. 
If you're a dog owner, or even a dog lover, you'll be so excited to know Hofsas House is DOG FRIENDLY! Oh my goodness! Although we currently don't have a dog, it's great to know that when we do, we'll be welcome to bring ours with us to stay. Also, if you aren't a "dog person" please know that only certain rooms are reserved for guests bringing their pets, so there are plenty of rooms which haven't had canines stay in them. 
This year, Hofsas House is celebrating seven decades of European hospitality. Guests will admire all of the personal touches around the property, including the beautiful welcome mural, on the wall in the driveway. This mural was painted by artist Maxine Albro, when she was commissioned to paint it back in the 1960's by Hofsas House founder, Donna Hofsas,
There are several other personal touches to discover around the property too. Another artist and photographer by the name of Fred, created the mosaic coats of arms which can be seen on the front of the hotel. Their Latin words translate into English as "Leisure with dignity", These words described our stay there perfectly.
Our Accommodations
The room we stayed was a Deluxe Suite. This spacious 2-room, 2-bathroom (bathtub/shower with vanity area) suite included a king bed in one room and a sitting area furnished with either two day beds in the other room, as well as a wood-burning fireplace.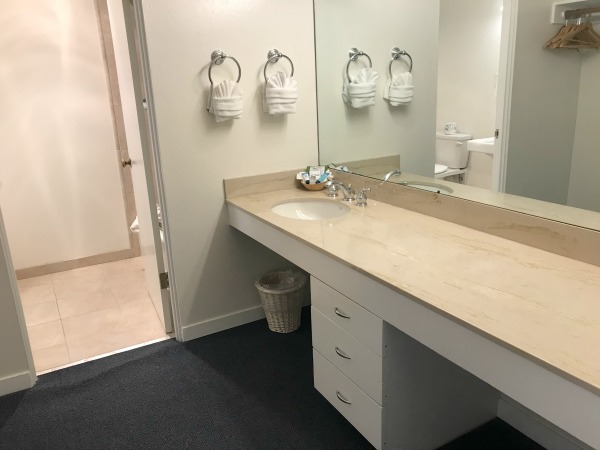 The wet bar area features a microwave, mini fridge, coffee maker and sink. The private balcony overlooks the Carmel pines, and has a private outdoor barbeque. *For a nominal fee, you can add another rollaway bed to make way for another person. 
Part of the Hofsas House hospitality is their daily continental breakfast, which is complimentary. Guests can stop by the office each morning and pick up French Roast coffee, tea, juice, fruit and fresh pastries, delivered from a local bakery. 
You have the option of sitting in the hotel's lobby to enjoy your breakfast or taking it back to your room. (Trays, mugs, and baskets are provided for carrying out.)  With such a beautiful ocean view from our balcony, we opted to enjoy ours out there. It was a wonderful way to start our day together.
Let's Talk a Little Bit About the Town of Carmel 
Since we'd never visited Carmel before, I didn't know where anything was. Luckily Hofsas House is located within walking distance to anything you could possibly want to do in Carmel. It's just a short walk to shops and restaurants and shops and art galleries.
It's also not very far from the beach, which is a must-visit on your trip. I loved being able to park our car there and not have to even think about driving anywhere until we checked out. Carmel is the kind of town where your kid will be so happy, she'll skip down the sidewalk!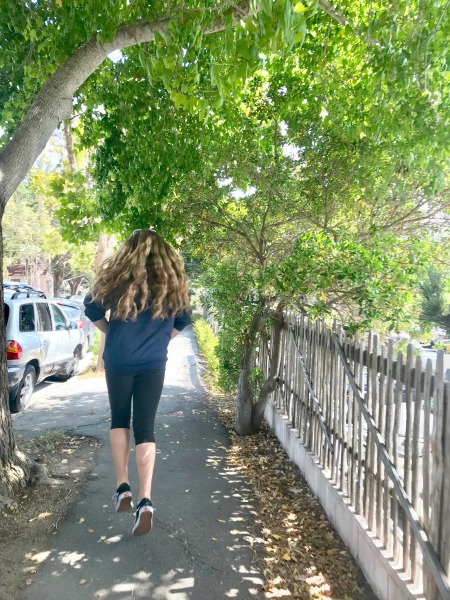 Hofsas House is just minutes away from Monterey, Pebble Beach, Big Sur and Pacific Grove. I did enjoy parking our car and just walking everywhere for 2 days, It's also convenient to be that close to other points of interest and be able to reach them with just a short drive.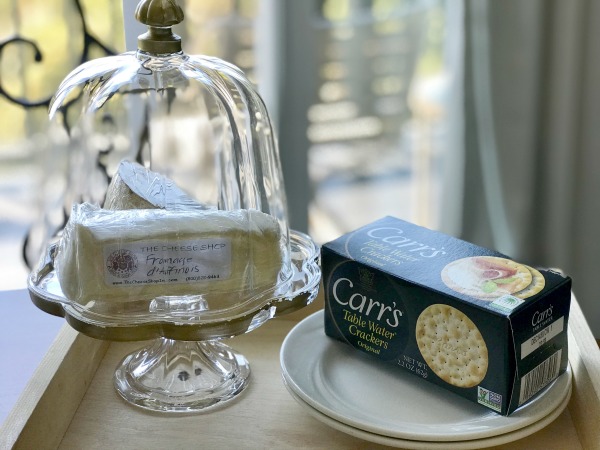 Sitting on our balcony at dusk enjoying some wine and cheese, taking in the beautiful ocean view and cotton candy sunset was amazing and just what I needed!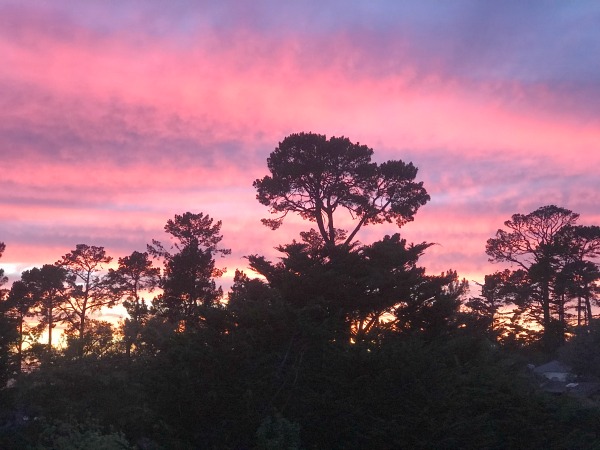 In addition to a variety of guest rooms to book at Hofsas House Hotel, they also offer special add-on packages to enhance your stay. To learn more about this charming property, please visit their website here. 
A very special thank you to Hofsas House for their hospitality. It was such a treat to stay there and we hope to be back soon.