This is not a sponsored post. All opinions are 100% my own. 
"Bambi," celebrates its 75th anniversary this year and joined the Walt Disney Signature Collection on Digital HD and Disney Movies Anywhere. It's also now available on Blu-ray™, DVD and On-Demand as well. 
The Collection release includes a variety of new bonus material, including recordings of Walt Disney discussing the challenges and triumphs during the production of "Bambi;" deleted scenes and characters; stories and effects that "Bambi" had on the Studio, other films and artists; and much, much more.Additionally, the Digital HD release includes an exclusive, heartfelt feature on the incredible artist, Tyrus Wong, who inspired the film's soft watercolor backgrounds and beautiful palette.
Take a peek:

Designed to bring together visionaries across industries and diverse audiences to celebrate the power of storytelling, it is only fitting that the Tribeca Film Festival serves as the setting for this year's announcement of upcoming additions to the Walt Disney Signature Collection. This collection includes groundbreaking films created or inspired by the imagination and legacy of Walt Disney, one of the great visionaries of the 20th century. This summer, "Bambi" will take its place in the collection alongside three other great achievements in storytelling, "Snow White and the Seven Dwarfs," "Beauty and the Beast" and "Pinocchio."
As a fun family activity, Disney has released these "How to Draw" character activity sheets. You can print them out and draw Bambi and Thumper, just like an actual Disney animator. The step-by-step illustrated instructions are so simple to follow along with to create your own animations.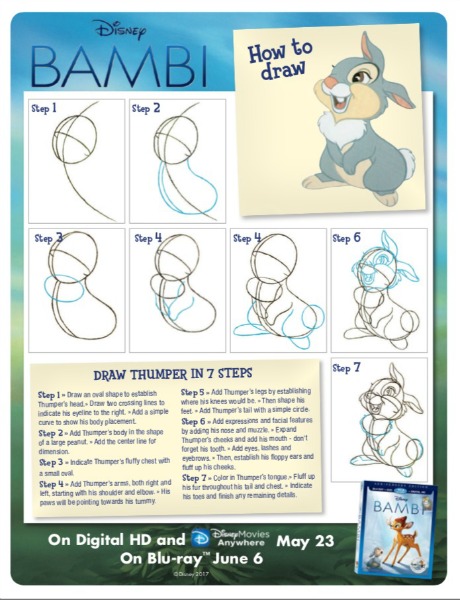 Did you know….?
"Bambi" was released in 1942 during World War II and took over five years to make due to its exquisite hand-drawn artwork and attention to detail. Beloved by generations, "Bambi" holds the No. 3 spot on the American Film Institute's "10 Top 10," honoring the 10 greatest animated films of all time. The timeless tale features an adorable young deer named Bambi who explores the wonders and challenges of the woods with his playful pal Thumper, the lovable skunk Flower, and wise Friend Owl – and ultimately fulfills his destiny as prince of the forest.
For more information about this Disney classic, visit the official site here.
Images, clips, and activity sheets are property of Walt Disney Animation Studios.