As soon as we had dates for a stay at Great Wolf Lodge's newest location in Southern California for the official Grand Opening weekend,my daughter immediately went online to their site to research all of the things she wanted to do during our "staycation" there.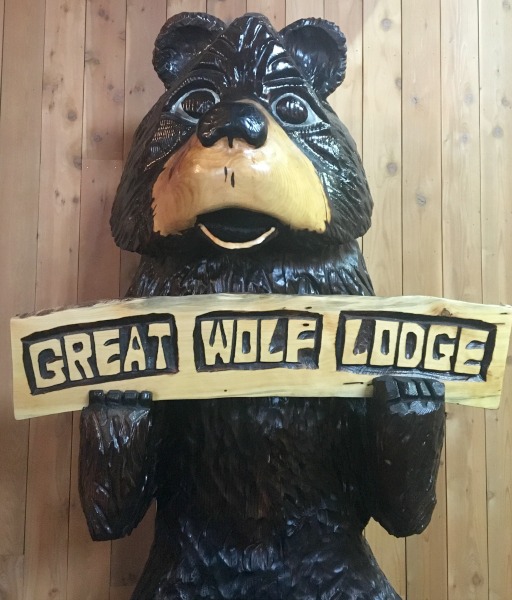 She let me know all about her hopes and expectations, and specifically challenged me to a biggie: to ride the Howlin' Tornado with her! Well, I guess that's do-able for a mom, if you don't mind dropping into "the six-story funnel of fun" (as Great Wolf Lodge describes the slide). 
At first glance, the Howlin' Tornado can be a little intimidating. Ok it can actually be really intimidating. You can't really see much of the waterslide from inside of the waterpark but when you drive up to the resort, you can see it from the outside, because it's so gigantic that the main part of its structure is located outside. (although it's completely enclosed so you'd never know that when you're on it.).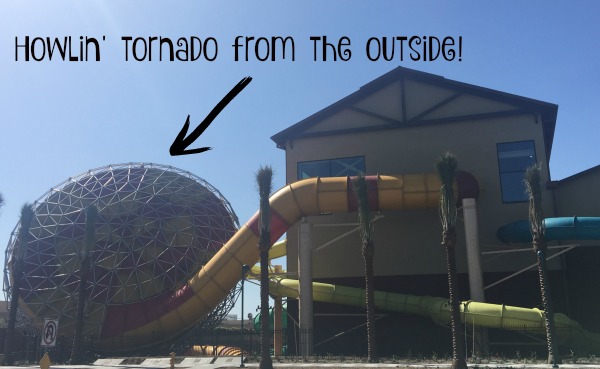 Let me just tell you a couple of things about myself as relating to water and swimming and waterslides…I actually DON'T usually do water.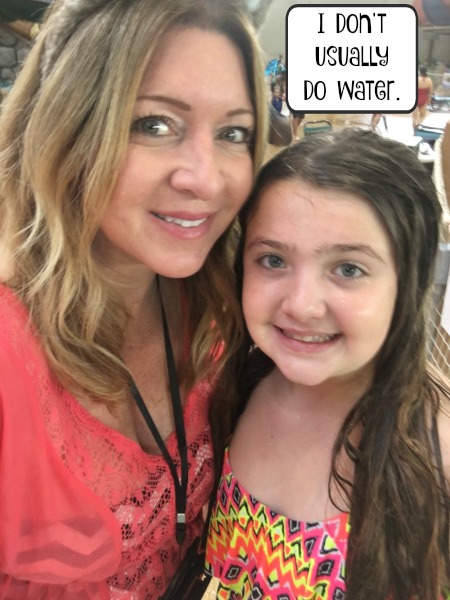 I'm like a cat! I don't like to get wet. I'm not super adventurous. Although I can swim, I just don't favor it, which is ironic because my daughter is a swimmer and on a competitive swim team. 
I knew I needed to make a point of not only honoring my daughter's wishes, but also to show everyone that I can be brave and conquer the Howlin' Tornado.
So…I did it! Yep, on the first night we were there. It's a very popular waterslide so we waited until after "Story Time" in the lobby because that's when a majority of the resort goes to bed and the waterpark becomes less crowded. It took a bit of coaxing from my own "pack" to get me ready for the fun!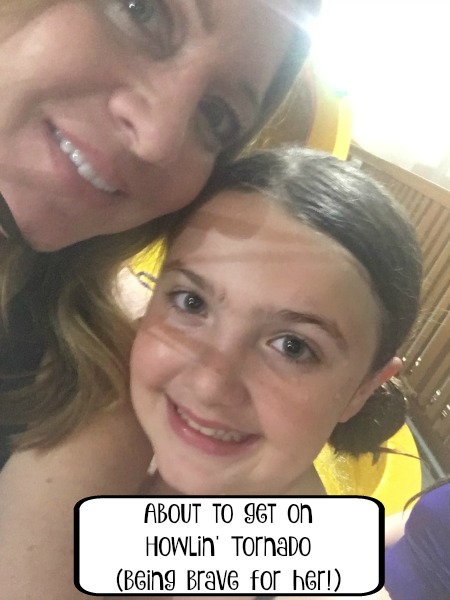 The raft seats 4 and each person actually has their own little compartment to sit in, complete with handles to hold onto. I really didn't expect what came next. Pretty much as soon as we took off, it felt like the floor just dropped out from underneath us! Your tummy feels like it would if you were riding on a rollercoaster that just took a big drop! It was crazy-amazing! It was also scary! I will say that I held onto the handles like we were about to go over Niagara Falls or something! Hehe!  I think we were up on the sides of the walls, I'm not sure! At some point, I may have closed my eyes and just held on. A combination of laughs and screams could be heard coming from our raft though.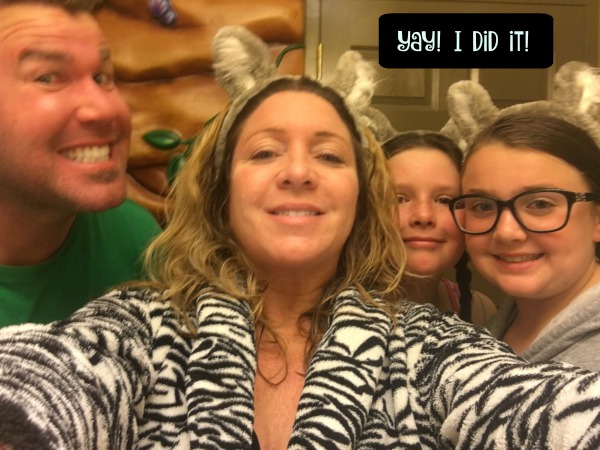 Howlin' Tornado was so much fun! I was so proud of myself and my "pack" was too! They even took me out for some ice cream afterwards at Bear Paw Sweets & Eats, which is right inside of Great Wolf Lodge! 
I think I spent the next two days bragging to my family about it because I was so proud of myself! I really just wanted to be able to share that experience with my daughter though, which was my biggest motivator.  I do think there comes a certain point in your adult life when you stop doing those types of things. I guess I haven't reached that point in my life though.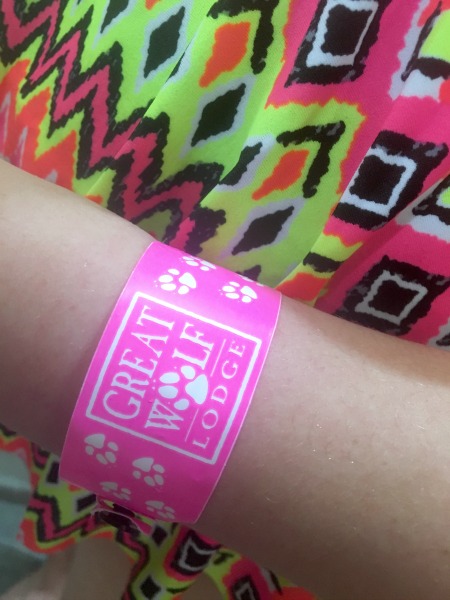 I can't wait to go back to Great Wolf Lodge and ride Howlin' Tornado again! Perhaps they should make stickers or buttons for brave moms like me who ride it! What do you think? Have you ridden it yet?
Connect with Great Wolf Lodge Southern California on Facebook..
I was invited as a guest of Great Wolf Lodge Southern Calfiornia to attend a the Grand Opening Weekend Celebration. All opinions are 100% my own.