This is a sponsored post. All opinions are my own. 
Fall is such a wonderful time of year. The leaves are so colorful, we can break out our cozy sweaters and the holiday season begins.  Unfortunately, Fall is also the start of cold & flu season, which is my least favorite part about it!
I'm a busy mom and a first grade teacher. Not only do I have worry about keeping myself healthy, I also have to make sure my family does too. My daughter carries a full academic load at school and also competes in sports after school. It seems like kids these days have a lot of stress and are faced with having to balance their schoolwork and their extra curricular activities. It's a lot to juggle which can have an impact on their immune health.
This year, I'm coming out the gate prepared for cold season! One of the the best ways to do so is to boost your immune health and I'm going to make sure both myself, my husband and my teen, have the proper nutrients we need. With the help of Rainbow Light® daily multivitamins  and Vitamin D & C gummies, I can rest assured that we'll all be getting those nutrients we might not get from foods.
Rainbow Light vitamins and gummies contain vital, immune-boosting nutrients needed by growing pre-teens and teens and since they also have formulas for women and men, our entire family can have that extra defense this cold and flu season.
One of the things I appreciate about Rainbow Light® vitamins and gummies is they are free of artificial colors, flavors, sweeteners, and preservatives. As a mom, I want to feel confident about products I give my teen, knowing they don't have a bunch of artificial ingredients in them.  I can also feel good about giving these vitamins and gummies to my daughter, because they don't contain gluten, eggs, milk, wheat, tree nuts, peanuts, fish, or shellfish. She has several food allergies and this is always a huge worry of mine.
It's so easy to make Rainbow Light multivitamins a regular part of our morning routine. I just set them in a ramekin, right next to breakfast. There's also a Rainbow Light Women's One, which is a formula created just for women, so I take mine at the same time my daughter does These vitamins include a blend of fruits, vegetables and probiotics, so as you can see, they're designed to help boost immune health.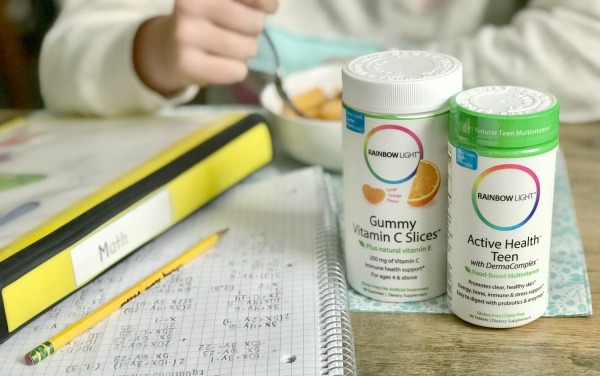 Make sure to add Rainbow Light multivitamins to your fall essentials this year including these varieties:
Active Health Teen Multivitamin
Gummy Vitamin C Slices
Sunny Gummies Vitamin D3
Women's One
Men's One
With the help of Rainbow Light daily vitamins, I know my family and I will be getting all the necessary nutrients we need and also be more energized and ready to face the cold season this year. Do you or your teens take multivitamins? Share with me in the comments down below.
Product image is property of Rainbow Light and used with permission.