This is a sponsored post written by me on behalf of Kaiser Permanente Orange County. All opinions are 100% my own.
Within the first two weeks of this school year, I already felt like I was in a lunch packing rut! I pack a lunch for myself and my daughter, 5 days a week, and It's literally one of the things I dread the most.
I just get bored with the same old lunches and I also find that if I don't pack enough food or go to work without a lunch at all, I end up grabbing not-so-healthy things. One of my personal goals when this school year started (I'm also a teacher) was to reduce, or even eliminate, "driving through" for lunch.
I feel like I'm just out of ideas and tired of the same old lunch: a sandwich, chips, and a diet soda. I got pro-active and set up an appointment with a nutritionist at Kaiser Permanente Orange County to talk about some healthier lunch packing options. During my appointment, I got some really great tips and ideas that I want to share with you. 
The first thing I leaned was that "a lunch doesn't have to look like a lunch".It's a concept that seems odd and not normal to me. When I think about packing a lunch, I visualize what my own mother used to pack for me. However, I learned that the most important part about packing what you're going to eat all day when you're away from home is actually the balance between nutritional value and adequate portions.
The nutritionist helped me think of a long list of "non-traditional" lunch items to include in my lunchbox. Here are just a few:
hummus and pita chips
cheese and crackers
peanut butter and crackers
hard-boiled eggs
egg salad
nuts
yogurt and granola
a whole-grain bagel and cream cheese
quinoa
nuts and trail mix
salads to go
Honestly, I love all of these new ideas for lunch. I've actually seen other teachers eyeing my lunch in our Teachers Lounge.
Although water isn't actually food, the nutritionist stressed the importance of drinking enough water on a daily basis. I shared my water drinking challenges with her. As a teacher, there are days when I walk around my classroom just carrying my water bottle around and still have a full water bottle at dismissal!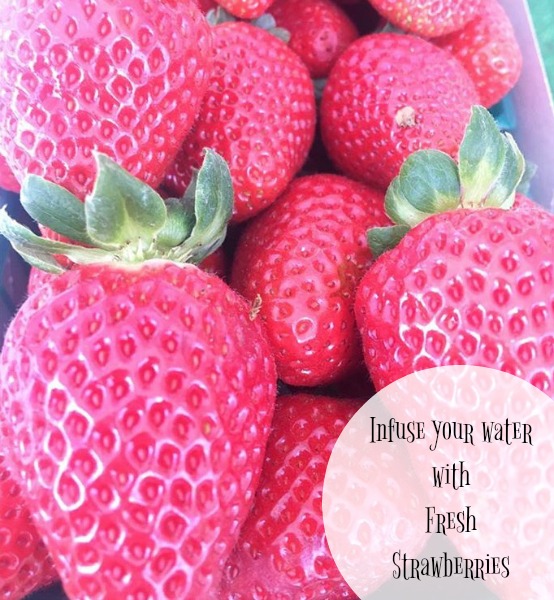 She suggested adding natural flavoring by using things like cucumber or strawberry to my water. I love the way it tastes when it's infused and it's so much easier to drink my daily requirement now. I also learned that water isn't just important for your insides, which helps regulate you, but also beneficial for your external appearance, aka your skin! Drink your water!
The nutritionist asked me right away to describe what my weekly lunch meal prep looks like. I really didn't have an answer for her because prior to meeting with her, I didn't set aside much time for meal prep. Lunch making was more of a "throw-it-in-the-lunchbox-5-minutes-before-rushing-out-the-door" sort of thing! She discussed the benefits of carving out that time each weekend to do this. On Sundays, my daughter & I team up to make the shopping list for weekly lunch packing, go to the grocery store, and package and measure out portions of foods that can be done ahead of time. (ex. nuts, cut up cheese, etc.) 
While I was at my appointment with the nutritionist at the Kaiser Permanente location in Irvine, there was a Farmers Market going on. I love shopping at a Farmers Market!
They offer the freshest fruits, vegetables, and other products that are all locally grown and made. I found a variety of local produce, honey, nuts, teas, beef jerky, breads, and specialty foods there, many of which are organic!
There is also food you can order to eat right then and there, such as gourmet tamales. All of the vendors are very friendly and there are lots of great things to sample before you buy.
I found a lot of things there to grab for my lunch packing. It's free and open to the public, every Wednesday (year-round) from 9-1. To find a Kaiser Permanente Farmers Market in Southern California near you, go here. 
Believe it or not, I actually look forward to packing lunches now. I feel like I have a new perspective and it's fun to mix it up with non-traditional lunch packing. My daughter even asks to help out more in the kitchen now, since we started doing lunch meal prep together. It's like a mother-daughter bonding time.
Do you have any tips or tricks for keeping your packed lunches exciting yet nutritional?
Open enrollment for Kaiser Permanente kicked off November 1 and goes through January 31, 2017. If you're looking for a new provider, explore plans with Kaiser Permanente Orange County and you'll have the ability to select from many services for you and your family including primary and urgent care, emergency facilities, labor and delivery, pharmacy, and lab all housed under one roof. Find out more today at: kp.org/orangecounty.
Connect with Kaiser Permanente Orange County on Facebook, Twitter & Instagram.
Always seek medical advice from a medical professional.