This is a sponsored post. All opinions are my own.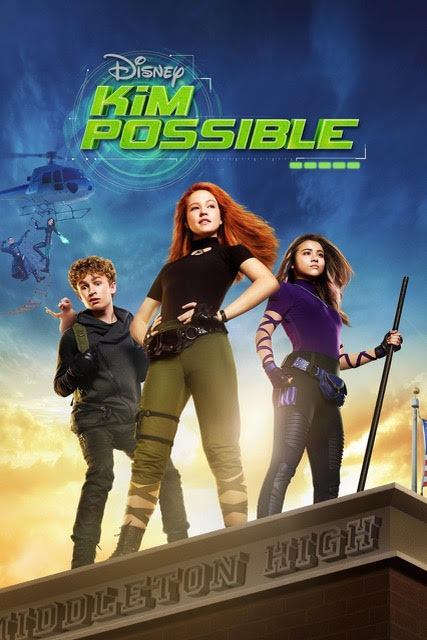 Kim Possible, a Disney Channel Original Movie, debuted on Disney Channel on February 15, 2019. The live-action film, directed by Adam Stein & Zach Lipovsky, is based on the animated series which debuted in 2002 on Disney Channel. The film looks to be one of the most action packed Disney Channel Original Movie by far!
Watch the trailer here:

Here's a synopsis of the film:
Everyday teen hero Kim Possible and best friend and sidekick Ron Stoppable embark on their freshman year of high school, all while saving the world from evil villains. By their side every step of the way is teen tech-genius Wade and new friend Athena, who also happens to be a Kim Possible super fan and is eager to join Team Possible. While Kim and Ron have always been one step ahead of their opponents, navigating the social hierarchy of high school is more challenging than the action-hero ever imagined. With Drakken and Shego lurking in the wings, Kim must rely on her family and friends more than ever. Now it's up to Team Possible—Kim, Ron, tech-genius Wade, new friend Athena and Rufus, a naked mole-rat that Ron meets along the way—to stop these super villains.
Kim Possible features the following cast:
Sean Giambrone as Ron Stoppable,
Ciara Wilson as Athena
Todd Stashwick as Drakken
Taylor Ortega as Shego
Alyson Hannigan as Dr. Ann Possible
Connie Ray as Nana Possible
Issac Ryan Brown as Wade Load
Erika Tham as Bonnie Rockwaller
Nancy Cartwright as Rufus
The film also includes special appearances by Christy Carlson Romano and Patton Oswalt.

Kim Possible will be available to bring home on Disney DVD starting March 26 and will include these great Bonus Features:
Blooper Reel (DVD exclusive)
Q&A with Sadie Stanley and Sean Giambrone (DVD exclusive)
Cast Auditions of  Sadie Stanley, Sean Giambrone and Issac Ryan Brown.(DVD exclusive)
Music Video
Trailer
Our family loved Kim Possible and couldn't wait to have a family movie night with our own copy at home. I think our ideal way to enjoy the movie together is with the proper snacks. I often whip up a batch of my favorite nachos for everyone to share. You can see my own personal recipe below. 
Do you like nachos? What are your favorite ingredients to make them with? Share with me in the comments below! Buenos nachos! 
 Some images and trailer are property of Disney and used with permission.