I was provided with media tickets in exchange for coverage. All opinions are my own.
Have you had been to Knott's Scary Farm yet this year? It's Southern California's largest and most terrifying annual Halloween event and it's not for the faint of heart!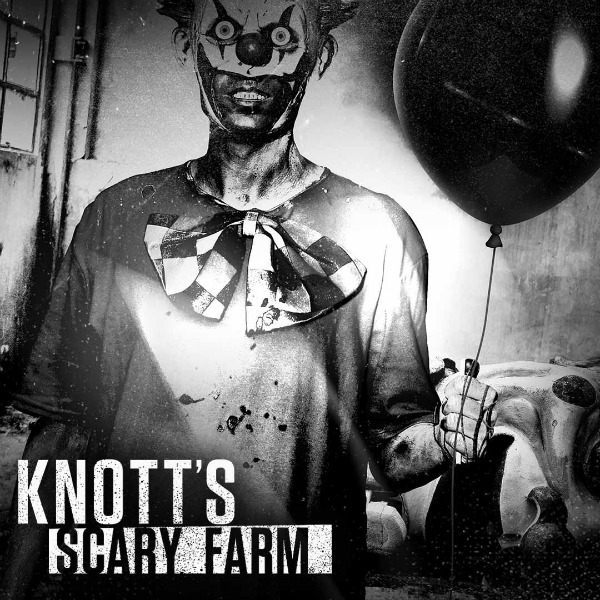 Knott's Scary Farm only happens at night after the regular Knott's Berry Farm Park is closed. The Park is fully transformed into "Scary Farm" and comes alive with more than 1,000 horrifying creatures lurking in the fog and hiding in every corner. haunted houses, mazes and attractions, sinister shows, a dozen thrill rides in the dark and more!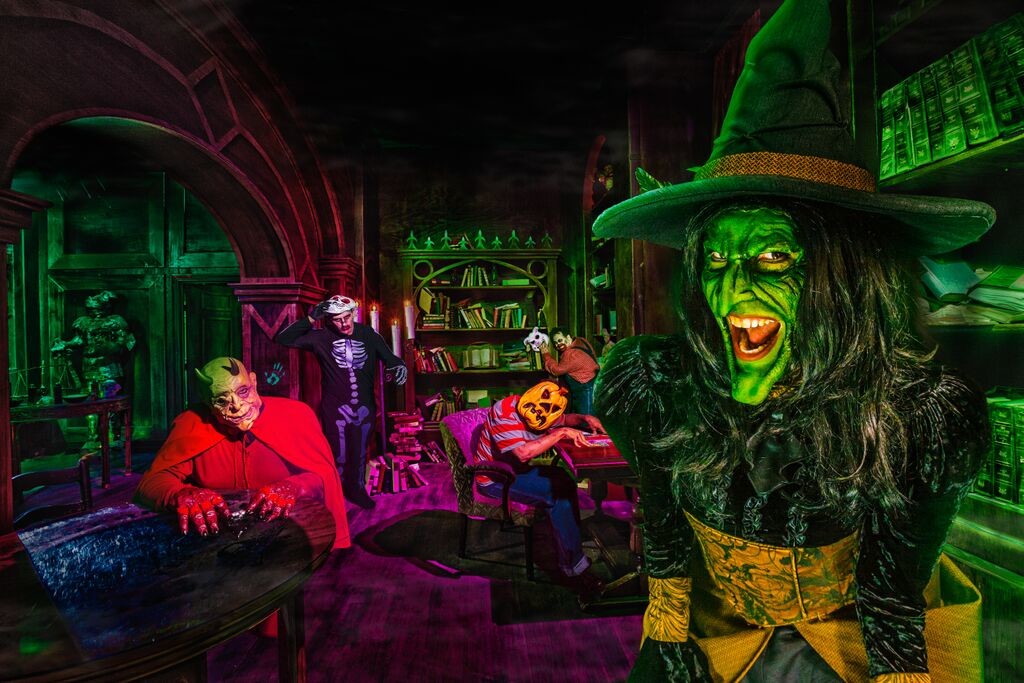 Each night at Knott's Scary Farm is unique as monsters spill out onto the streets and turn theme park midways into terrifying scare zones. From the world famous Ghost Town Streets to the Boardwalk area filled with evil clowns, there's nowhere to hide in Knott's Scary Farm. It's where nightmares never end! So, if you're curious about how exactly you can gain early access to Knott's Scary Farm, there is a way, so lean in while I spill. 
The Knott's Scary Farm BOO-fet Grants Guests Early Access to the Park 
Come early and munch with the monsters before you face your fears! Treat yourself to a Knott's Scary Farm BOO-fet dinner followed by early entrance (included with the BOO-fet) to select areas of Knott's Scary Farm. The BOO-fet features endless portions of signature Knott's entrees and desserts + receive a souvenir cup, which is a $14.99 value.)  Buy your Knott's Scary Farm BOO-fet online HERE and save $5 off the price.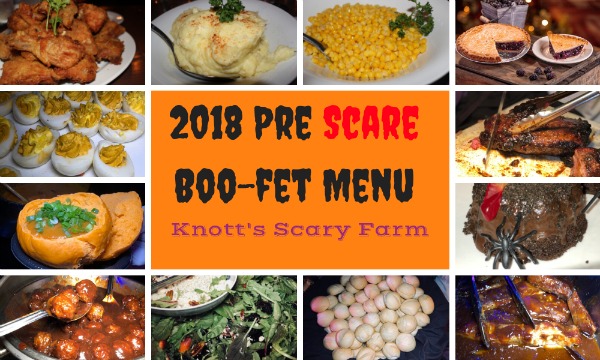 Our friends over at Family Review Guide dined at Knott's Scary Farm's BOO-fet and the food looks fabulous. You can read about their dining experience HERE.
Please note: A separate Knott's Scary Farm Admission is required for entry to the BOO-fet and is not included in the price of Boo-fet dinner itself. 
Add on Fast & Fright Lane to Your Knott's Scary Farm Ticket
If you're looking for a way to make your night out at Knott's Scary Farm even better, consider adding on Fright & Fast Lane wristband to your ticket. With this special add-on, you'll receive unlimited priority access for all mazes plus priority boarding on all Fast Lane rides. You can ride and scream as many times as you want, all night long! Fright & Fast Lane rides include:
The all-new HangTime
Ghostrider
Xcelerator
Voyage to the Iron Reef
Coast Rider
Silver Bullet
Calico Mine Ride
Sierra Sidewinder
Pony Express
Montezooma's Revenge
Jaguar!
Supreme Scream
Halloween Hootenanny (a.k.a. Timber Mountain Log Ride)
For more information about the Fast & Fright Lane add-on, please go HERE. Please note: Admission to Knott's Scary Farm is not included with Fast & Fright Lane. 


There are also hotel packages available at the Knott's Berry Farm Hotel, which is adjacent to the Park. You can "Scream and Dream" with a Knott's Scary Farm Hotel Package. Play late and stay just steps away from the park. Nightmares are guaranteed. Click HERE to learn more about package details, pricing and availability.

This year, Knott's Scary Farm runs select Thursday – Sunday nights through October 31. There are also 2 Wednesday evening dates on October 24 and October 31. The event hours are as follows:
Thursday nights – 7 p.m. to 1 a.m.
Friday/Saturday/Sunday nights – 7 p.m. to 2 a.m.
Wednesday October 24 & Wednesday October 31 – 7 p.m. to 1 a.m.
To view the Knott's Scary Farm calendar with remaining 2018 event dates, please go HERE.
Some images and logos are property of Knott's and used with permission.