I was hosted for a night at Knott's Scary Farm in exchange for this post. All opinions are my own. 
Let's talk about Knott's Scary Farm. Have you ever been before to this extremely popular & terrifying event here in Southern California? ? It's so scary and also so much fun!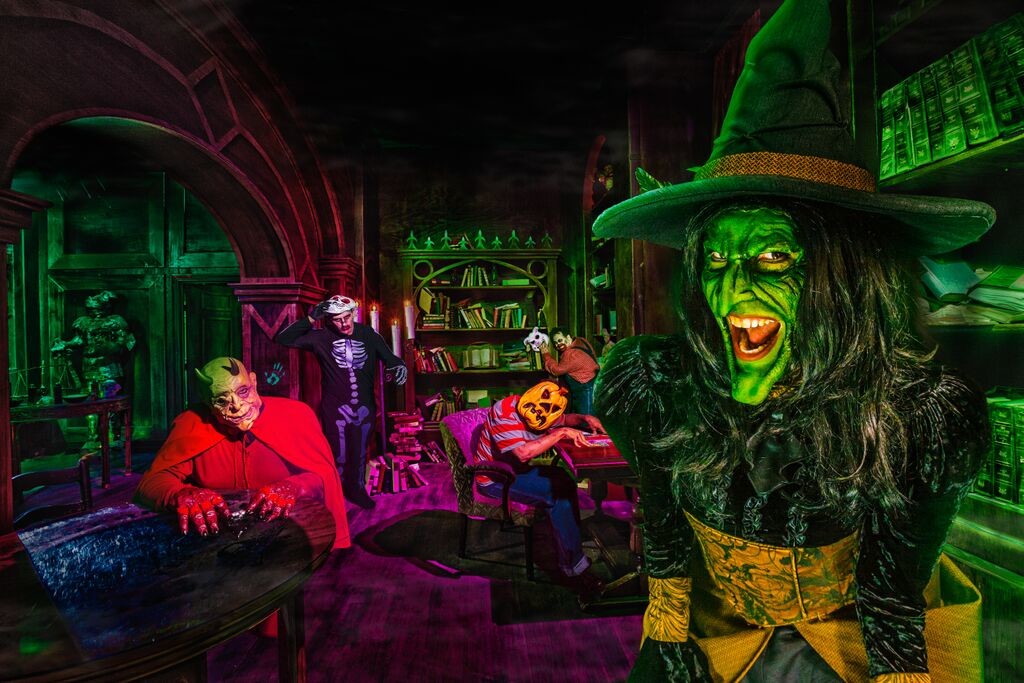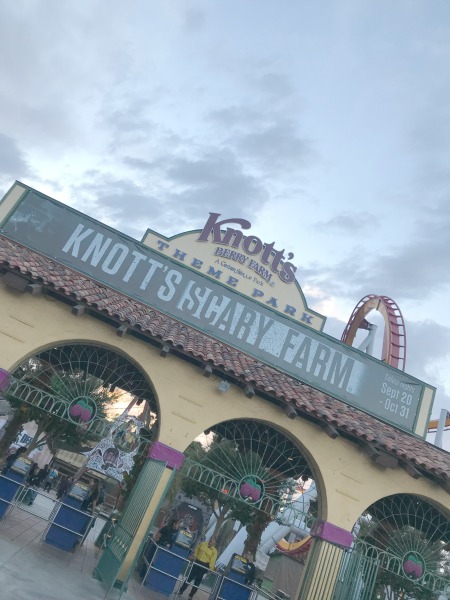 This year, Knott's Scary Farm's lineup includes 9 terrifying mazes to take on,, special shows and frightening experiences just for Knott's Scary Farm nights, 100s of roaming monsters and ghosts roaming the streets of Ghost Town and the other Scare Zones plus tons of attractions to ride. 
There's a lot to tackle between the hours of 7pm and 2am (It closes at 1am on some nights.)
We had the opportunity to experience Knott's Scary Farm in a whole new way: with a Fright & Fast Lane Pass! It was a game-changer and that's no exaggeration! Some nights at Knott's Scary Farm draw pretty large crowds, especially as it gets closer to Halloween.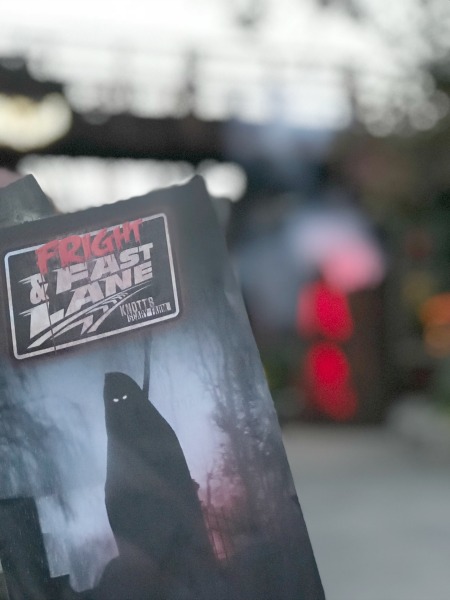 The Fast & Fright Lane add-on option is available for guests to upgrade their regular Knott's Scary Farm ticket .I would highly recommend adding on Fright & Fast Lane to your Knott's Scary Farm ticket because it definitely helps you make the most of your night.
What is a Fright & Fast Lane Pass? 
This special pass, available as an add-on to your Knott's Scary Farm ticket (see pricing HERE) grants you unlimited priority access to all 9 mazes and unlimited priority boarding to  the 13 regular Fast Lane attractions. It's good for a single night at Knott's Scary Farm and totally worth it!
Here are the 2018 Mazes included in Fright & Fast Lane :
Trick or Treat
The Depths (new for this year)
Paranormal, Inc.
Dark Entities  (new for this year)
Special Ops: Infected
The Red Barn
Dark Ride
Shadow Lands
Pumpkin Eater
These are the Fast Lane attractions you'll have unlimited, priority boarding to:
GhostRider
Voyage to the Iron Reef
Pony Express
Xcelerator
Supreme Scream
Montezuma's Revenge
Sierra Sidewinder
Halloween Hootenanny (aka Timber Mountain Log Ride)
Silver Bullet
Calico Mine Ride
Coast Rider
Jaguar!
HangTime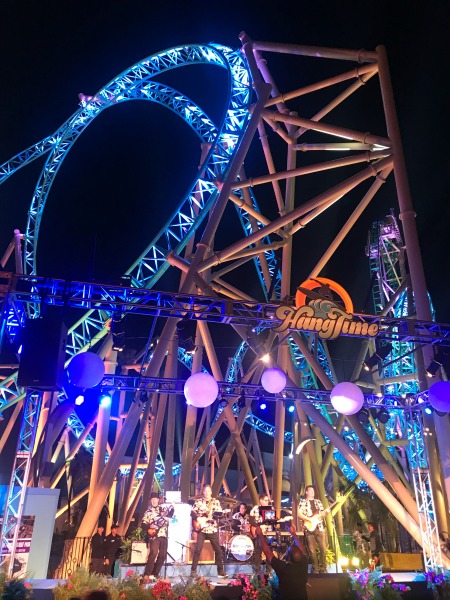 How does Fright & Fast Lane work? 
The best way to purchase a Fright & Fast Lane pass is beforehand and online. After you purchase it, you print out the confirmation and bring it with you to the Park where you'll exchange it for a wristband at Guest Relations. The wristband must be kept on the entire night and you'll be asked to show it at the entrance to each maze and/or attraction you wish priority access to. Each member in your party must purchase their own Fright & Fast lane wristband in order to gain the priority entry to mazes and attractions.
Is Fright & Fast Lane worth it? 
With the Fright & Fast Lane wristbands, our family was able to get through all nine of the mazes in a little less than 4 hours. We actually did a few of them twice! We still had plenty of time for riding attractions (Have you gone on HangTime at night yet?), exploring all of the Scare Zones and getting chased by the monsters and also time for some of our favorite Knott's treats. It's totally worth it! 
Knott's offers "Scary Farm" Packages
Did you know that Knott's offers packages that include your Knott's Scary Farm ticket and a Fright & Fast Lane wristband? For information about it, please go HERE. Also, don't forget to purchase your Knott's Scary Farm parking online (beforehand) HERE to save money on it. Guests can also book a hotel package at Knott's Berry Farm Hotel, which is adjacent to the park. More information about hotel packages can be found HERE.
We had a blast checking out Knott's Scary Farm this year and having the opportunity to take our daughter for her first experience. It's recommended for guests 13 years and older. In my opinion, there are some 13 year olds who can handle it but there also may be some who are not yet ready. Some of the stuff you see and experience is really scary so just take that into consideration when deciding if it's right for your own child.
Knott's Scary Farm Tip #1: Arrive early and they'll let you into the front of the Park before 7pm. Then you can take some photos before all of the madness starts! Look for the cute backdrops right at the entrance. FunPix photographers are also on-hand taking pics. FunPix which is something you can add-on to your experience and have access to all of your event and ride photos.  
Knott's Scary Farm Tip #2: Dress for the weather. Since this event is held at night, dress accordingly. Also, remember your feet. If you wear comfy, closed toe shoes, your feet will thank you. Knott's Scary Farm even happens in the rain so be sure to bring a sweatshirt or jacket with you in case it rains. Also, the shops sell plastic ponchos if it does start raining. 
A very special THANK YOU to Knott's for hosting our family at Knott's Scary Farm. It was such a fun night taking our daughter for her first time and we can't wait to return again! For more information about Knott's Scary Farm, go HERE.
Some images and graphics are property of Knott's and used with permission.