With the holiday season coming to a close, I can look back and smile, just thinking about some of the new Christmas memories our family made together this year. As we were putting away the ornaments and our Christmas tree, I looked at the huge pile of opened gifts near the fireplace and it realized that someone's got  quite a few thank you notes to write now. I thought it would be fun for her thank you notes to have a homemade touch and to be handwritten because I think people appreciate those kinds of things.
I was recently inspired by one of my favorite crafting Superwomen, Laura Kelly! She did a tutorial post showing how to make simple and adorable Christmas tree ornaments using paint chips.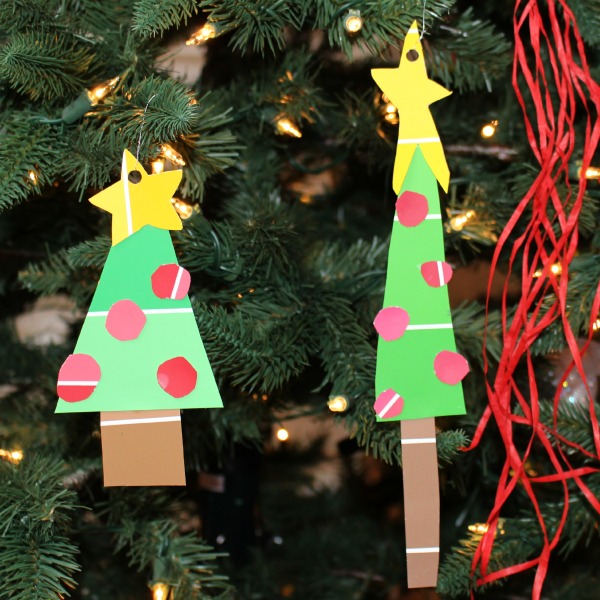 How adorable are her trees? (photo credit: Laura Kelly)
I had been wanting to make them with Emi prior to Christmas, but it just didn't happen. So, I decided to put my own twist on them and use them in this project. (Bloggers are sometimes really big copycats of other bloggers, which is actually a form of flattery)
We shuffled off to pick up some Behr paint chips to use for our project. I love Behr paint. It's what we used to paint the inside of Emi's closet and also her room. Behr just has so many beautiful palettes to choose from. It's probably a good idea to ask the people working in the store if it's OK to take some paint chips for your project. They'll most likely say "yes" and probably even ask you what you're making with them.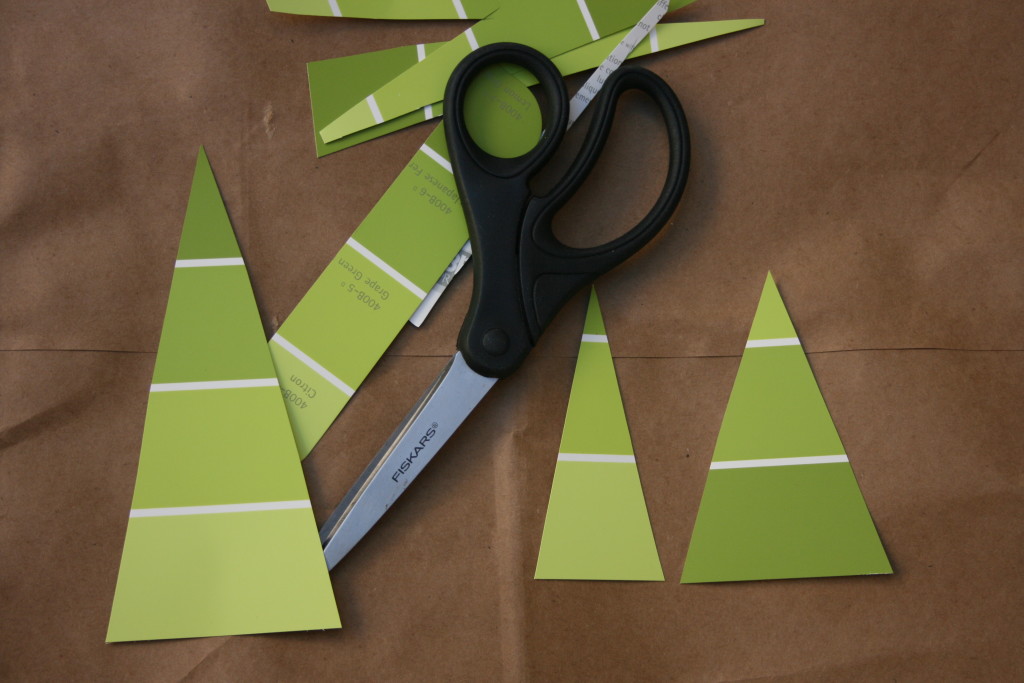 Emi and I spent the entire day, crafting in our pajamas. First we made the trees, some big and some small. It's much easier to avoid mistakes if you draw the trees on the back of the paint chip and then cut. Our tree trunks were very simple and we only used a single hue of brown.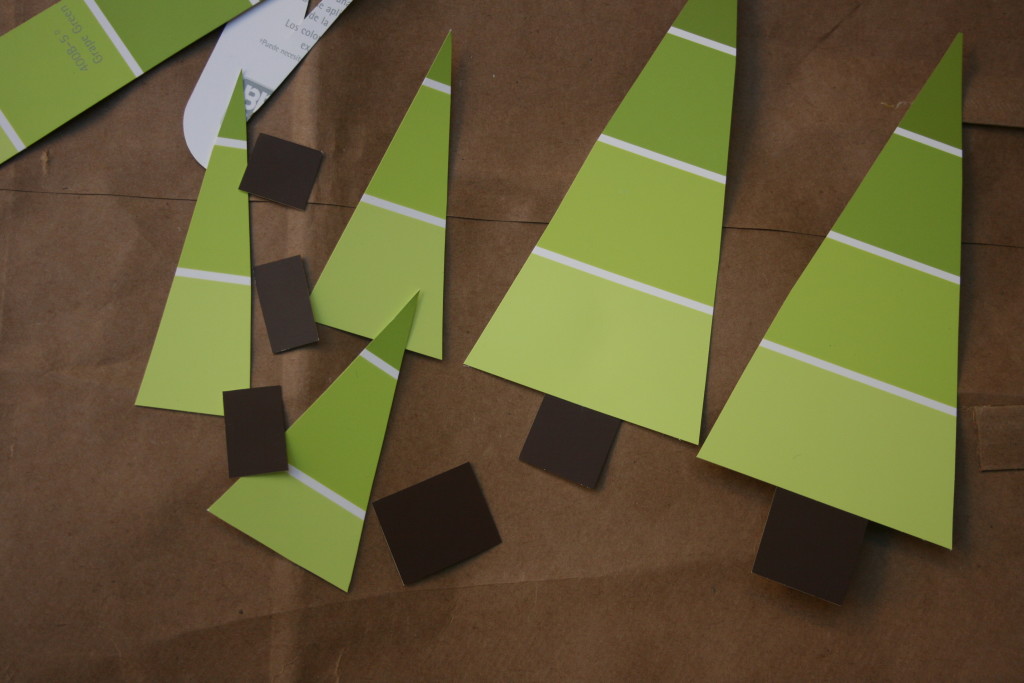 Next, it was time to make the stars for the tops of the trees. This part can be frustrating for some children (I know this from my experiences in my own first grade classroom) but for some reason, Emi loved making the stars and even "fixed" some of mine!
Finally, we made the ornaments. It was fun to use non-traditional colors for our ornaments, which is what our own Christmas tree has on it. You could also use a hole punch to make the ornaments into perfect circles and all the same size, but I think that hand-cut ornaments are cute because they are each uniquely shaped.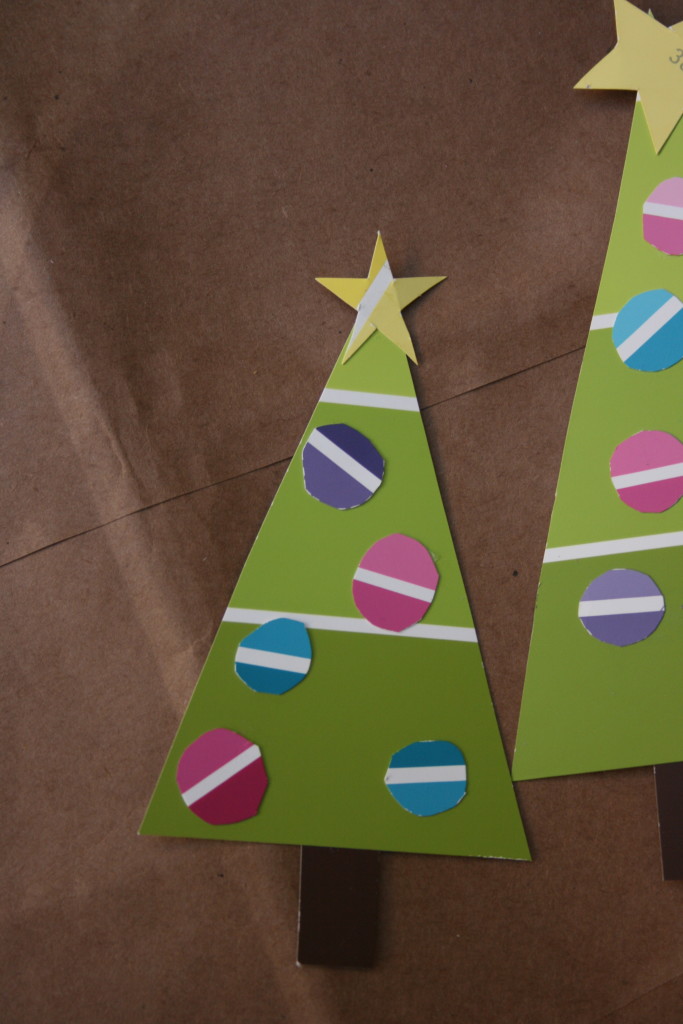 After the trees were finished, we glued each one to the front of a thank you card and used a hot glue gun to stick a little metal gift embellishment around the bottom of the tree to finish each one off.
Emily then wrote her thank yous inside and we addressed them and mailed them off to lucky recipients!
I love receiving handmade cards and handwritten notes in the mail. It's just something about that personal touch. I recipients will treasure these little works of Emi's art! Do YOU have your kids send thank you notes for gifts?
Learn more about Behr products here. Connect with Behr Paint Facebook, Twitter & Instagram!
This is not a sponsored post.