She's here and children all around the world, including my own daughter, are celebrating her arrival today! Meet Lea Clark™, American Girl's 2016 Girl of the Year™!
Lea is a talented photographer with an adventurous spirit. In her story, Lea discovers a wide world of possibilities when she embarks on a faraway adventure to Brazil. The 18" Lea doll has warm hazel eyes, medium skin, and long wavy hair. She's beautiful!
Lea arrives in a colorful dress with braided trim, underwear, and sandals with crisscrossed laces. Also included are her colorful canvas messenger bag, a pretend compass necklace, and the Lea Dives In paperback book by award-winning author, Lisa Yee.

In Lea Dives In:
Lea is ready for adventure on a family trip to Brazil, where her big brother Zac is studying the rainforest. She can't wait to see the ocean—but quickly realizes she'd rather take photos of it than swim in it. Disappointed in herself, Lea longs to show Zac that she's as bold and brave as he is. She finds inspiration in a new friend, who encourages her to embrace the excitement and beauty that Brazil offers. But when the fun turns to danger during a hike, Lea must prove to Zac—and herself—that she has what it takes to face adventure head-on.
There are three 2016 Girl of the Year books in all, written by Lisa Yee—Lea Dives In, Lea Leads the Way, and Lea and Camila, which introduce girls to a curious ten-year-old girl with an adventurous spirit. 
Lea's collection is only available for one year and includes the beautiful 18-inch Lea™ doll featuring long wavy hair and warm hazel eyes, plus several tropical-inspired outfits, accessories, and toys that reflect her Brazilian travels, including Lea's Rainforest House includes over 30 pieces!

Also, an all-new, action-adventure film will debut on DVD from Universal Studios Home Entertainment in summer 2016! We love all of the American Girl movies and can't wait for this one!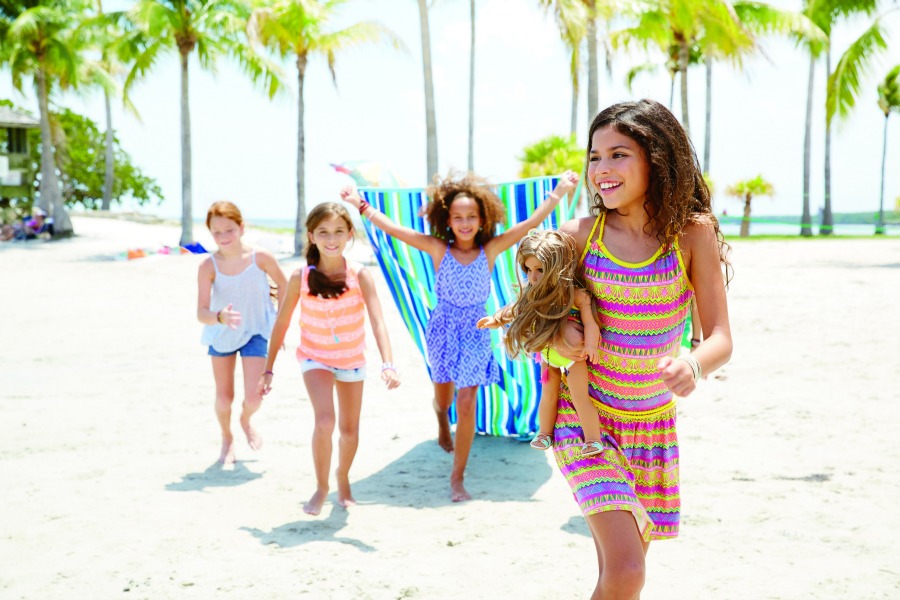 Giving Back with Lea
It's so important to teach our children about the importance of giving back. To show girls that, together, they can make a difference in helping protect animals and their habitats, American Girl has created Wild at Art, a year-long fund-raising campaign in support of World Wildlife Fund (WWF). Starting January 1, American Girl is encouraging girls to use their artistic abilities to host an art sale and donate the proceeds to WWF. To launch the campaign, American Girl has made a $50,000 donation to WWF and also invites customers to contribute at American Girl retail stores and americangirl.com. To learn more and register for Wild at Art, plus get animal-themed craft ideas, and be entered into a sweepstakes for the chance to win one of 17 Lea prize packages, visit here.
In addition, from January 1 through December 31, 2016, for every purchase of one of the three plush animals in Lea's collection—the margay, sea turtle, or sloth—American Girl will donate $1 (up to a maximum of $100,000) to WWF.
Lea™ Born for Adventure Paid App and Online Play:
Girls can join Lea in Brazil for an adventure of a lifetime with this paid app, featuring beautiful graphics, exclusive content, and endless play. The app retails for $1.99 and is available for download here. Girls can also visit the Lea-dedicated site for book excerpts, movie-related content, games and quizzes, wallpaper and e-cards, and much more. Optimized for iOS 7 or later. Compatible with iPad 2 or higher, iPhone 4S or higher, and iPod Touch 5th generation.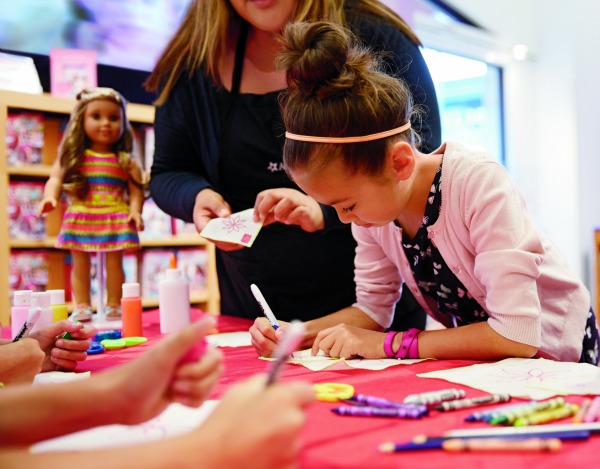 Lea In-Store Events
American Girl stores will be hosting Lea's Debut Event on January 1 and continuing throughout the weekend! Girls will get a first look at her full product collection, plus enjoy in-store activities, colorful crafts, giveaways, and a fun photo opportunity. Girls can also take part in free and paid Lea-related events throughout the year. For more details on the in-store events, visit here.


The Lea collection is available through American Girl's catalogue at americangirl.com, at all American Girl retail locations nationwide, and at American Girl specialty boutiques at select Indigo™ and Chapters™ in Canada and El Palacio de Hierro locations in Mexico City. The Lea books can also be purchased through retail and online booksellers.  To learn more about Lea and the Girl of the Year™ line, visit American Girl on Facebook , Twitter, and Instagram. To request an American Girl catalogue, call 1-800-845-0005.
This is not a sponsored post. All opinions are 100% my own. Images and logos are property of American Girl.