I was invited to a media event in order to facilitate this post. All opinions are my own. 
If you're a Disney Channel-watching family like we are, you waited for what seemed like forever, to watch the season premieres of this Fall's programming! We had the honor of attending a very special event on the Disney Studios Lot and were so excited to get an advanced peek at the Season Premiere episodes of "Andi Mack and "Raven's Home Remix" and it's obvious this season on Disney Channel is going to be the best one yet and there are all the reasons to be watching! 
Andi Mack
Do you watch Andi Mack? The series, on its 3rd season, premiered as a contemporary coming-of-age story about a relatable girl (Andi) who's trying to determine where she fits in and the many amazing ways she can live her life. On the eve of her 13th birthday, Andi learns that her older sister, Bex, is actually her mother. This revelation puts Andi on an unfamiliar path of self-discovery which she navigates with the help of her loving albeit complicated family; her two best friends, Cyrus and Buffy; and her middle school crush, Jonah Beck. Along the way, Andi learns that sometimes the unexpected is what makes life great.
Fast forward to the season finale of season 2 and that cliffhanger ending? I was dying to know all summer, what exactly was going to happen with Andi's parents! And now that the season premiere for season 3 has already happened, can we just talk about Andi and Jonah now? Personally, I'm so proud of how far Andi has come in knowing what she wants and what she deserves.
We got to meet  Lilan Bowden (aka "Bex" or Andi's mom on the show) and Sophia Wylie (aka Buffy) at the Fall Programming event we attended and they were both so nice and very sweet in person. You can catch Andi Mack, Mondays on Disney Channel at 8 PM ET/PT.
Raven's Home: Remix
The highly anticipated "Raven's Home" fall premiere, "Raven's Home: Remix," is about how Booker sets out to land the starring role in the school's musical about a boy who loves playing basketball and performing hip-hop. When Raven has a vision of Booker receiving a standing ovation, she's convinced he's perfect for the role and encourages him to go for it. However, when Nia discovers the part requires someone who is great at basketball and can rap – two things Tess excels at – she tries to convince Coach Spitz to let Tess audition for the role.
When he refuses because Tess is a girl, a determined Nia takes a stand to prove girls can do anything boys can do.The dynamic all-musical episode features eight original songs and dance numbers performed by the multi-talented cast and showcases strong themes about girl empowerment (girls being able to do anything that boys can do), following your heart, self-empowerment and self-expression. Did you catch the episode? It was so good!

Catch new "Raven's Home" episodes on Friday evenings at 8:00pm ET/PT on Disney Channel.
Coop and Cami: Ask the World
Although we only got a sneak peek at the all-new series Coop & Cami", it was so cute when we watched the full season premiere on Disney Channel.The live-action family comedy follows Cooper (Coop) and Cameron (Cami) Wrather, two middle school siblings who co-host Coop's online show "Would You Wrather." With the help of their little brother Ollie and Coop's best friend Fred, the duo fields offbeat questions and results to the show's millions of followers (aka Wratherheads) who help them solve problems – both mundane and madcap. Every day is an adventure in the Wrather's hectic household, which also includes their older sister Charlotte and mom Jenna, as Coop and Cami tackle adolescence and everyday family situations with humor and heart.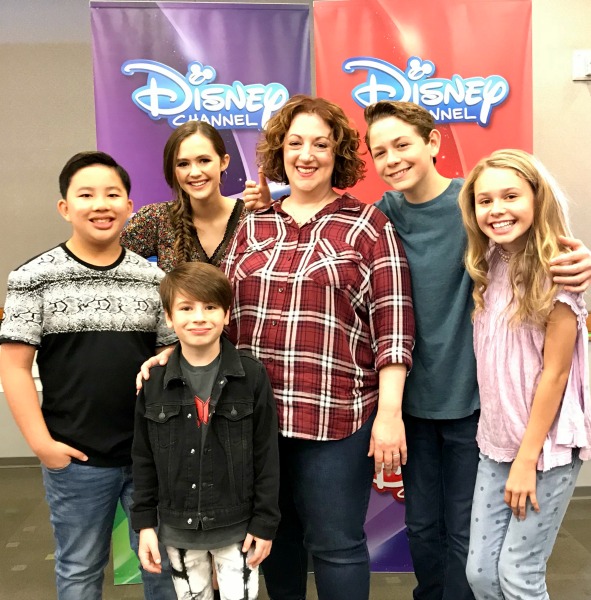 You can catch new episodes of "Coop & Cami Ask the World" Fridays at 8:30 p.m. on Disney Channel.
Disney Channel's All-New "Legendary" Music Video
I think my favorite part of the event was when we got a sneak peek at the all-new music video "Legendary" featuring Raven's Home star Navia Robinson, as well as 16 other dynamic, multi-talented and collaborative young actresses/leading ladies from the Disney Channel. "Legendary" is an affirming anthem and music video that supports girls' great potential everywhere and heralds the United Nations' International Day of the Girl Child (Oct.11). The video debuted Monday, Oct. 8 on Disney Channel. Aimed at tweens, ages 8-14, "Legendary" encompasses the spirit of camaraderie and delivers the powerful message that when girls and young women support each other and work together, nothing is out of reach. This initiative further amplifies Disney Channel's brand promises: "Express Yourself," "Believe in Yourself" and "Celebrate Your Friends and Family." The music video was directed by Hannah Lux Davis (director of Ariana Grande, Miley Cyrus and Fifth Harmony music videos) and the song was written and produced by The Heavyweights; the GRAMMY®-nominated production team composed of Jamie Jones,Jack Kugell and Matt Wong; along with songwriter Hanna Jones. Watch the "Legendary" video here:
Have you and your family watched any of these shows this Fall? If so, what's your favorite? Share with me in the comments!
Some images and logos are property of Disney Channel and used with permission.