On  Thursday, September 17, the media anxiously awaited in the theater atLEGOLAND® California Resort  for some exciting announcements revealing the latest details about the addition of a new NINJAGO™ land coming in 2016 and introducing, NINJAGO™- The Ride.
Taiko drummers, ninja warriors and a Spinjitzu Master filled the theater with energy and got the crowd  as LEGOLAND® California Resort announced  After sharing the successes of 2015, General Manager Peter Ronchetti offered details of the exciting new land and unmasked the new ride which features technology guests have never experienced at any other theme park in the world.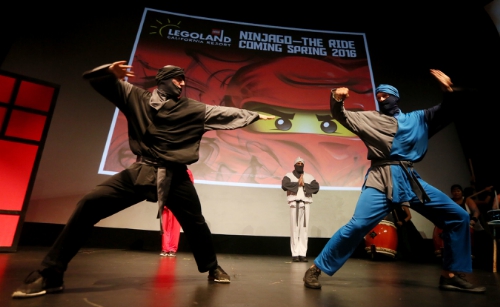 Guests will enter the new NINJAGO land through a giant archway behind Imagination Zone leading them into a courtyard where they begin their ninja training. The new land features LEGO® building stations, a game to test reflexes, spinners to test balance, Asian cuisine and a new shopping venue. Interactive experiences will test guests' physical skills, balance and agility before they can prep for their ultimate training session: NINJAGO – The Ride.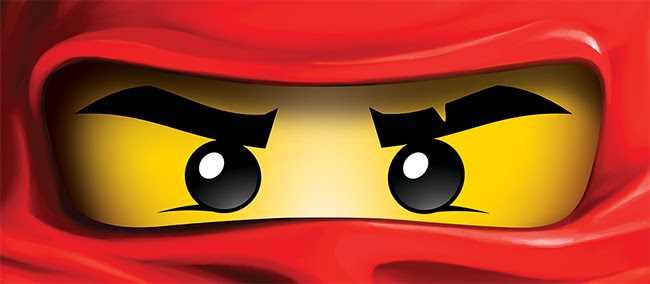 NINJAGO – The Ride is manufactured by Triotech, world leader in media based interactive attractions, and features cutting-edge technology that enables guests to control the outcome of their adventure through the power of their hand gestures. Through 3D imagery, high-tech sensors and the use of hand movements in a striking motion, up to four riders per car, representing the four main NINJAGO characters, can blast animated fireballs, lightning, shockwaves and ice as they travel through dojos to master their skills before heading into battle. Riders collect points for their training and battle efforts throughout the ride and scores are displayed when their quest is completed. 4D effects such as heat, smoke and wind are also incorporated throughout the adventure, giving guests the ultimate interactive experience.
"I am proud and thrilled to say that this is our eleventh straight year of continuous attendance growth and we attribute much of this to our winning formula of providing our guests a family environment filled with fun, interactive experiences that create lasting memories. NINJAGO –The Ride will be the ultimate experience providing interactive fun for all," said Ronchetti.
Based on the popular property LEGO® NINJAGO™, which is brought to life by The LEGO Group® through a line of construction toys and a TV series on Cartoon Network, guests will enjoy interactive elements and this new ride featuring key characters. For the first time, immersed into the NINJAGO universe, guests can train like a Spinjitzu Master, learn to harness the power of the four elements and use teamwork to battle the Great Devourer.
LEGO NINJAGO tells the story of four young ninja heroes – Kai, Jay, Cole and Zane – who train under the watchful eye of Master Wu to master an ancient martial art – Spinjitzu. LEGO NINJAGO is one of the most successful LEGO properties. This year, brand new episodes of the popular series, NINJAGO: Masters of Spinjitzu, aired on Cartoon Network and 22 new building sets loaded with features and functions were released.
NINJAGO – The Ride is being unveiled at both LEGOLAND® California Resort and LEGOLAND® Billund Resort in 2016. The new NINJAGO area will be included in the cost of admission to LEGOLAND California Resort. To find more information and tickets prices, click here.
Connect with LEGOLAND California Resort on Facebook, Twitter, and Instagram.
This is not a sponsored post. All opinions are 100% my own. Images property of LEGOLAND California Resort and LEGO®.