This is a sponsored post. All opinions are my own.
The kitchen is one of my favorite places to be when I'm home. It's somewhere our family gathers to cook and bake together and share family bonding time.
I think new kitchen appliances are my weakness, especially when there's smart technology involved. Have you seen LG's exclusive line of Matte Black Stainless Steel Appliances at Best Buy? I didn't even know there was black stainless steel! They're beautiful! LG's exclusive Matte Black stainless steel combines the timeless look of stainless steel with a luxe & low-gloss matte finish that compliments any kitchen décor.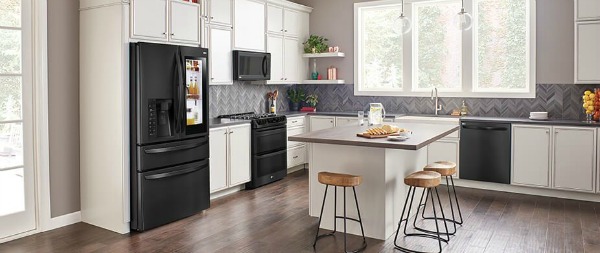 These LG smart kitchen appliances are Wi-Fi and voice-enabled which allows you to control your kitchen appliances remotely! Talk about making your life easier! From changing settings, to checking the status or even turning appliances on or off, LG appliances have such great smart technology.
Great Savings on Appliance Packages at Best Buy
All I can think about is how perfect it would be to upgrade kitchen appliances before the holidays get here, especially with the savings Best Buy is offering on these. LG Matte Black Stainless Steel appliances include a refrigerator, a range, a dishwasher and and a microwave oven. I want them all! The collection, offered exclusively at Best Buy, is available right now at extra savings!  You can *save $250 on a stainless steel package or *save $350 on select LG Matte Black kitchen appliance packages.  For more information please go HERE.
Terms and conditions apply. *Extra $250 or $350 savings applies after any instant savings on individual items.
Images are property of Best Buy and used with permission.