One of my most favorite things about living in Southern California is the fact that there is SO much to see and do here! We recently decided to take a short drive down to Long Beach. The Downtown Promenade area of Long Beach is so cool.
Along the promenade, you can find this adorable little Italian restaurant called Michael's Pizzeria. It has a charming outside patio area (as well as inside seating) and even an area to park your bike!
I had seen pictures of Michael's delicious pizzas before on their Instagram page, but we specifically made the trip on this particular day to try out some of their brunch menu.
The brunch menu is served on Saturdays and Sundays and features several wood-fired cast iron frittatas, as well as sweet items such as cinnamon rolls, french brioche french toast, and pancakes. Other items available during brunch hours include wood-fired organic eggs, fennel sausage, smoked bacon, and garlic-roasted new potatoes. I also need to mention that they have NUTELLA to put on your toast and your french toast! Wow!
So let's talk about what I got to sample that day. It's a lot, so I hope you're ready for the pictures and the descriptions. (I just hope you're not reading this while you're hungry!)
I'd already seen a picture of Michael's homemade cinnamon rolls on Instagram, so I knew I was destined to have some of my own. We started out with an order of the cinnamon rolls.
They're cast-iron baked and topped with a rosemary syrup. They were amazing and I had to fight over the last one with Emi. (we halved it)
Next, a Salsiccia E Funghi frittata arrived at the table. It's made with 2 organic eggs, fennel sausage, and mushrooms and wood-fired in the oven.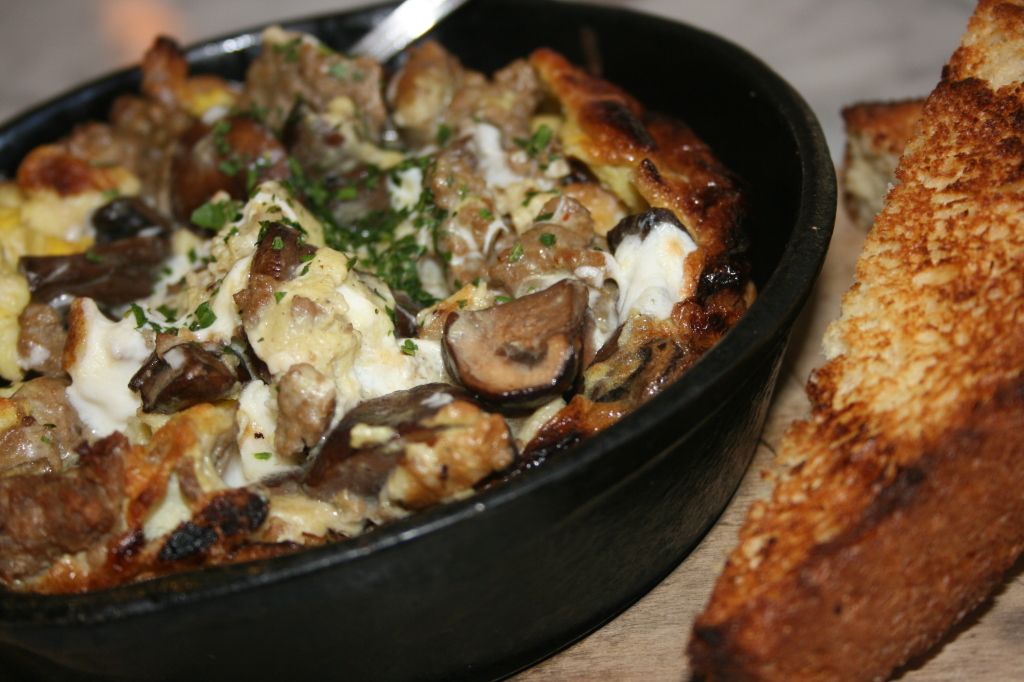 I love the presentation of the cast iron skillet. All of the frittatas are served with a side of brioche toast and house-made jam, which was strawberry. Yum!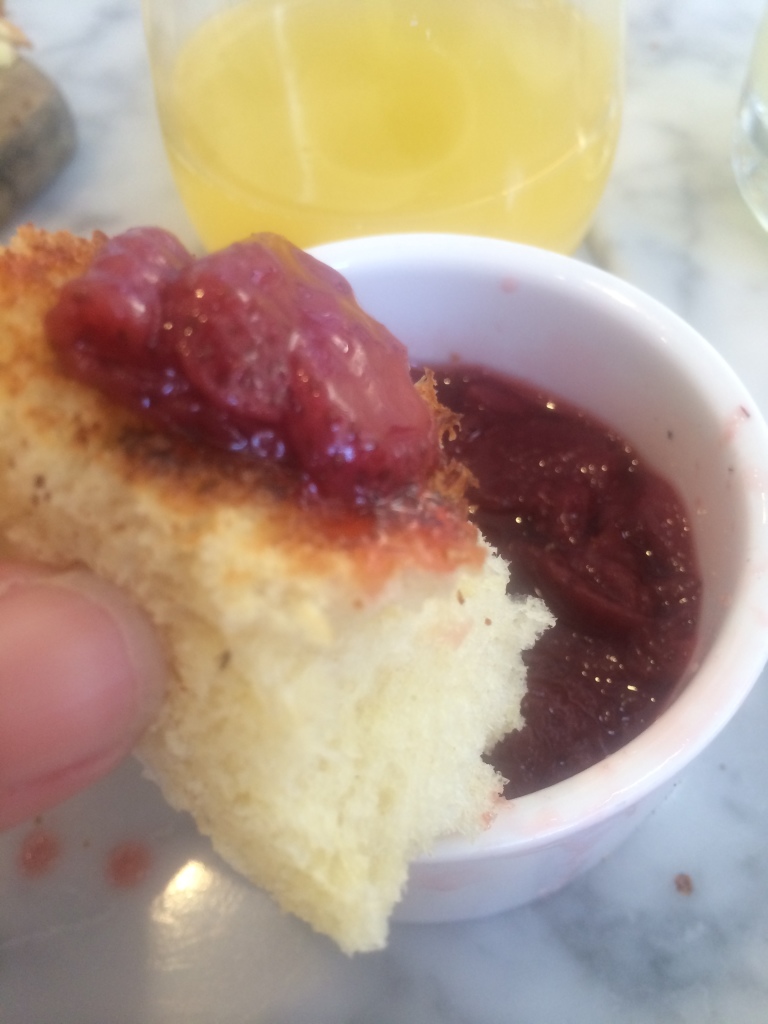 We were just getting the party started when a Carbonara Pizze Bianca showed up at the table. This pizza is like a foodie's dream. It's made with provolone, mozzarella, and pancetta….and then topped with 2 eggs!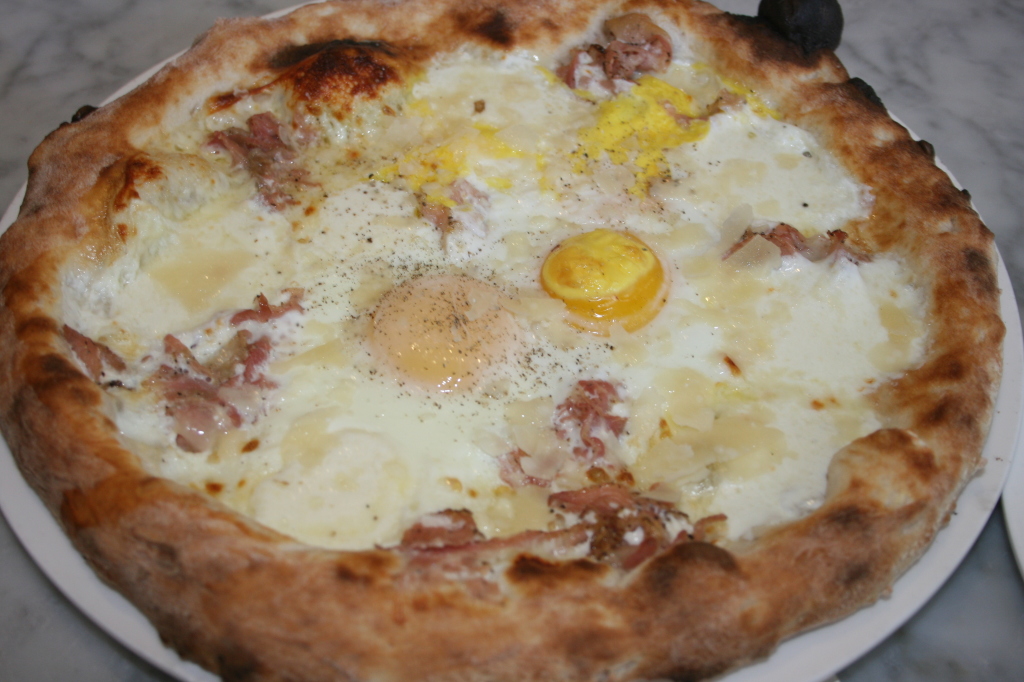 Breaking the egg yolk on top of the pizza just brought out even more flavor! This pizza is actually part of the regular menu and not specific to the brunch menu so you can order it anytime!
We slowed down a little bit with some light, refreshing Prosciutto and Melone. The cantaloupe and honeydew served with Parma ham was so pretty to look on the plate.  It was especially delicious and tasted so fresh when it was combined with the arugula and balsamic. You can tell something is great if a kid will eat it and Emi was doing just that.
We then ventured back to meet a couple more pizzas. The first one was a Margherita Pizza. Tomato, mozzarella, basil, and extra virgin olive oil.
The second one was something featured on the special chalkboard menu that sits above the wood-fire oven. It was called the Porchetta Pizza and was made with pesto, porchetta (slow-roasted pork belly), smoked mozzarella, peppadews, and garlic spinach. It was loaded up with so much flavor!
Even though we were getting pretty full from all of the delicious food, we knew we still HAD TO have dessert! From the start, Emi had been eyeing the gelato she'd seen on the menu. There are about 8 different flavors of gelato to choose from each day at Michael's. We finally decided to try the Salted Caramel and the Mint Chocolate gelatos. They were so light and flavorful and were just enough to top off our great brunch!
I especially enjoyed getting to chat with the manager, that day. He is so passionate about what they're doing over there and talked extensively about the way the foods are all prepared fresh daily and how they only use the freshest ingredients. They really pride themselves on bringing the best foods to the table for their customers. He explained each and every detail about the items we were sampling that day.
I learned something about pizza slicing too. The pizzas arrive at your table unsliced. Michael's Pizzeria follows what the natives in Naples do, by serving pizzas unsliced because they believe that slicing a pie immediately after it comes out of the oven, causes moisture to form beneath it.  They want to make sure your pizza does not end up soggy and suggest cutting it with a knife and fork as you enjoy it, but will slice it for you upon request. I love this!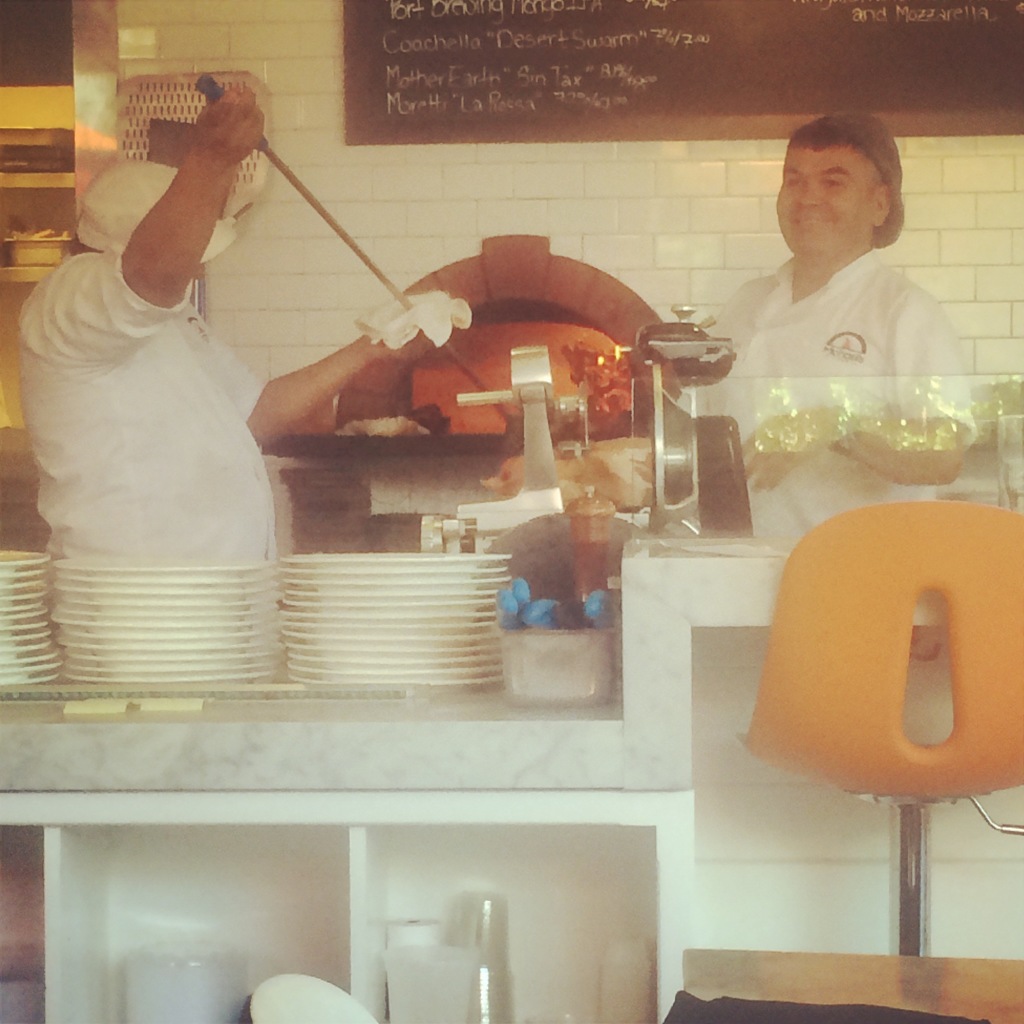 Michael's Pizzeria is definitely somewhere I'd recommend to others. They have 2 locations in Long Beach, on 2nd street and on the Downtown Promenade, as well as a location in Rancho Mirage. (I know where we're going the next time we visit Palm Desert). The restaurant is family friendly and has something for everyone on it. Kids will love hearing the kitchen staff shout "Pizza!" every time they take another pizza out of the wood-fire oven. (Ok I'll admit I loved that part too and may have joined in too) I cannot wait to go back and try more items from their  menu. I know you'll love it too!