It's hard to really complain about winter here in Southern California because most days are beautiful and sunny. When the chilly weather does finally roll around, I get to bundle up in warm sweaters, jeans, and boots. However, I'm going to be honest though…I  just pretend that I love dressing for winter! It's fun to bundle up like that for about 5 whole minutes!  As soon as I start to see spring fashions pop up in the months of December and January, I get crazy excited and I think it makes me instantly ready to fast forward to spring already!
This spring I plan on spending a lot of time with Eliza J dresses! Not only with them but wearing them! Have you seen their line of dresses? Just take one look at their Instagram and you'll be as enamored as I was! I swear Eliza J dresses speak my Love Language!
The Eliza J Instagram page is too cute for words! 
Eliza J dresses are made with such beautiful prints and fabrics, each developed by talented artists and are feminine and unique. I love all of the different styles of dresses. They have every ingredient for being labeled as "that perfect dress" in your closet! From day to evening, they are the perfect fit for today's modern form. They're available in regular, petite & plus-sizes, and each one is designed to make a woman look fabulous and "feel pretty"!
After combing through Pinterest, Instagram, and the Eliza J site, I think I've come up with some of my favorite Eliza J dresses for this spring! One of the fun parts about living in sunny SoCal is that I can get away with wearing any one of these dresses in the day or night. It's so easy to change their look a little by just swapping out accessories and shoes!
I love the combo of black and white with stripes & dots on this dress with the overlay!
I also love the combination of black, floral & dots on this dress! It, too, has that pretty overlay!
How fun are these springy florals? This picture makes me want to dress up with of my girlfriends in Eliza J!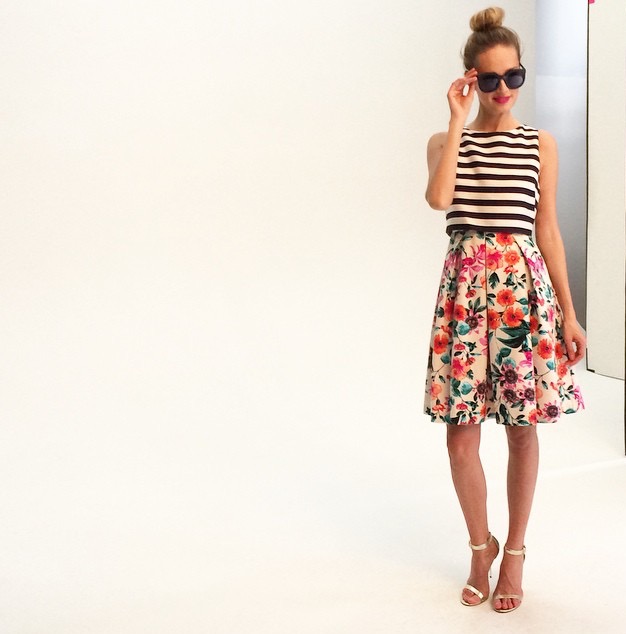 Since I am usually a very "matchy-matchy" person, I LOVE LOVE the stripes with floral on this one! 
How adorable is this gown? Guess what? It has pockets, too! 
I think you can probably see a recurring theme here with my picks? I'm always a fan of black but am also loving the combination stripes and dots. Of course florals are always traditional for spring, too. I love dresses that fall just above the knee but am also fond of the long gown length. I could go on for hours about my favorite Eliza J dresses! In case you wanted to see some of my other picks, I also put together an Eliza J Pinterest board! It's no wonder this line is a favorite of fashion bloggers everywhere!
So have YOU picked out a favorite Eliza J dress for spring yet? Was it one of the ones I picked out?
Eliza J is available at Nordstrom, Lord and Taylor, Dillard's, House of Fraser, Von Maur and specialty stores. Connect with Eliza J on Facebook, Twitter, & Instagram!
This is a sponsored post. All opinions are 100% my own. (photo credits: Eliza J)