Disclosure: My family & I were invited by GigaSavvy to attend a Media Day at Knott's Merry Farm in order to write this review of our experience.  No other compensation was received. All opinions are 100% my own.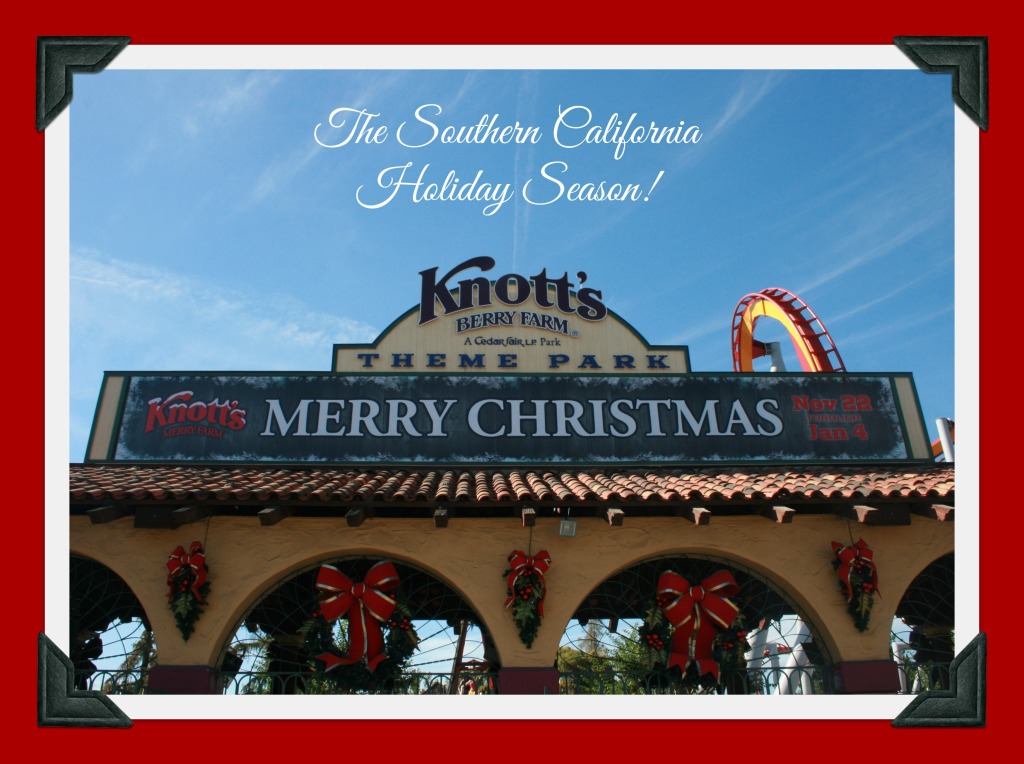 The holiday season has just began and our family had so much fun kicking it off with a visit to Knott's Merry Farm this year. We live locally and love going to Knott's Berry Farm but this was actually our first time getting a chance to visit during "Merry Farm", which runs this year from November 22nd to January 4th! The park is adorned with holiday decorations and the Peanuts characters are dressed in holiday attire! The sunny Southern California weather justified us wearing summer attire that day.
Our first stop of the day was at Camp Snoopy! Emily loves the kid-friendly rides and all of the little areas to explore in Camp Snoopy. During Knott's Merry Farm you can catch one of several performances of "Lucy's Wish List" show, each day, over the Camp Snoopy Theatre.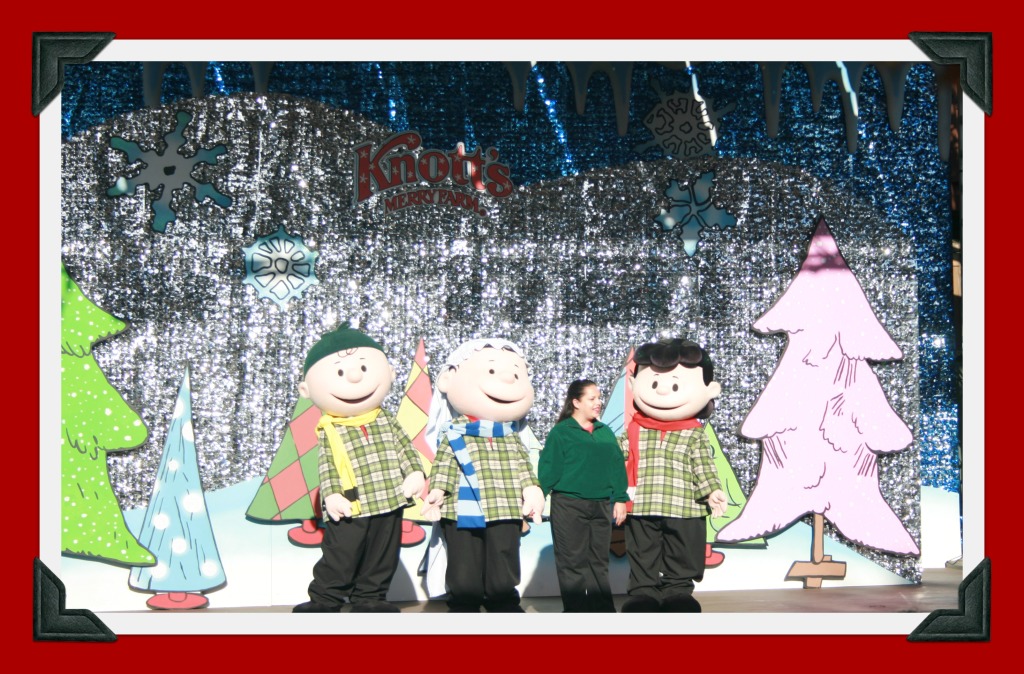 Some of Emi's favorite rides in Camp Snoopy include The Balloon Race, The Grand Sierra Railroad, and the Linus Launcher . While we were there, we decided to stop by and show Woodstock his other house. Emi also got to take a picture with Charlie Brown and sought some helpful (psychiatric) advice from Lucy. We love Camp Snoopy!
It was fun to walk through Ghost Town, which has been transformed into the Christmas Crafts Village for Knott's Merry Farm. It's a shopping wonderland filled with dozens of local artisans selling their unique gifts. Some of the highlights of the Village include artist demonstrations of chainsaw wood carving, pottery sculpting, and elegant glass blowing. We found a lot of photo opportunities in the Christmas Crafts Village. We also enjoyed listening to carolers sing.
As you continue to walk deeper into Ghost Town, you'll find Santa's Christmas Cabin, located inside Wilderness Dance Hall.  Santa is right inside, sitting up on the stage, and waiting for you to bring your little ones to chat with him about what they'd like for Christmas this year. He also reminds them to be good for their parents, which was my favorite part! There are photographers on hand to capture the perfect moment with your little one(s) and Santa in photos available for purchase afterwards.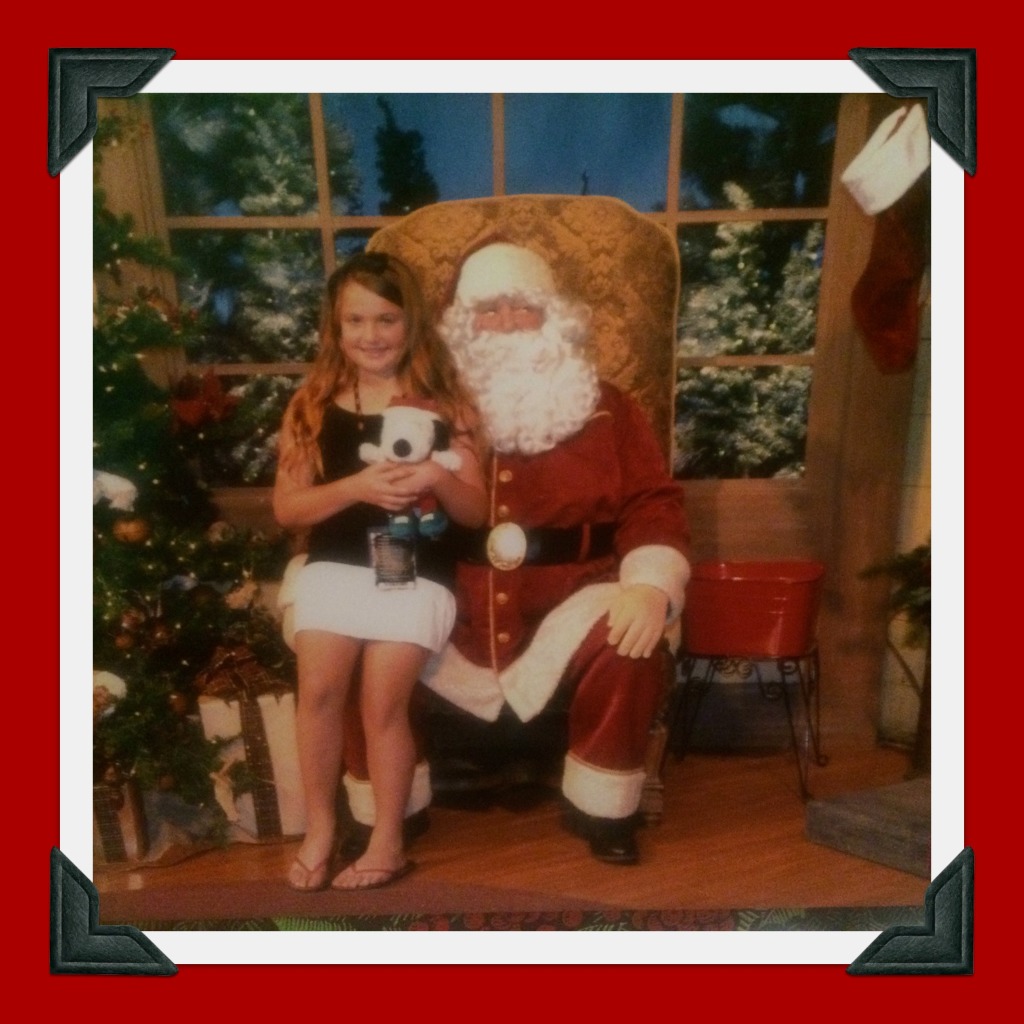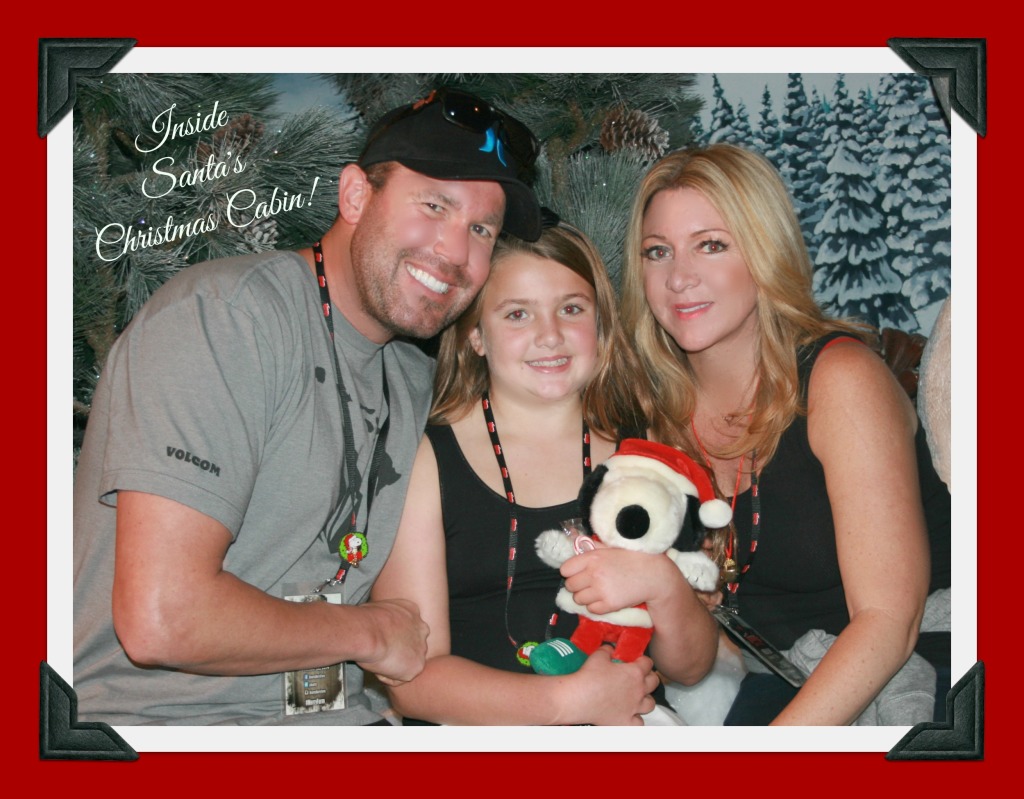 Inside Santa's Christmas Cabin, there are plenty of treats  to choose from including homemade cookies & milk, hot chocolate, gourmet coffee and hot chocolate, s'mores on a stick, roasted nuts, winter wines and beer. It's a nice place to sit down and take a break for a snack. Emi loved sitting at one of the little wooden tables to share some milk and cookies with Snoopy!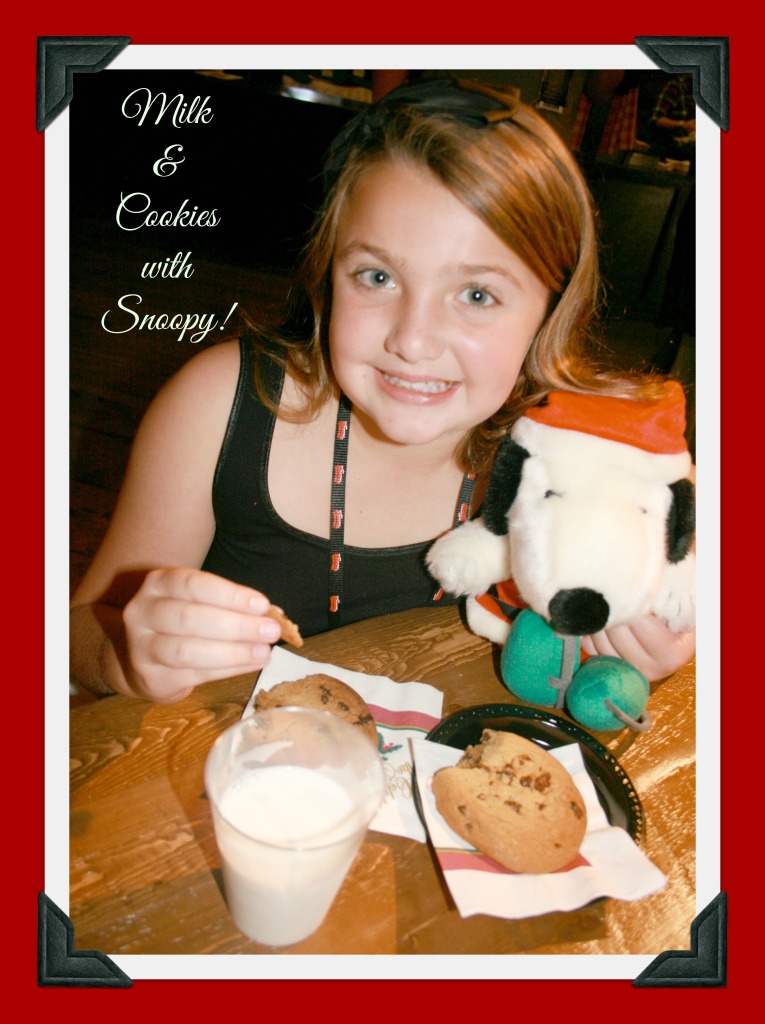 During Knott's Merry Farm, the Calico Railroad is converted into a special Christmas on Engine 41 train ride experience. After you climb aboard the vintage railcar, you get to interact with a whole cast of characters who are ready to brighten your holidays with songs and chats about their traveling adventures. It's a Christmas train ride filled with holiday cheer.
Just past the Calico Railroad, standing in front of the Calico Square Stage, stands the Knott's Christmas tree, adorned with hundreds of ornaments. It's so beautiful standing tall against the sunny blue sky! Emi and Snoopy liked checking themselves out in the giant ornaments!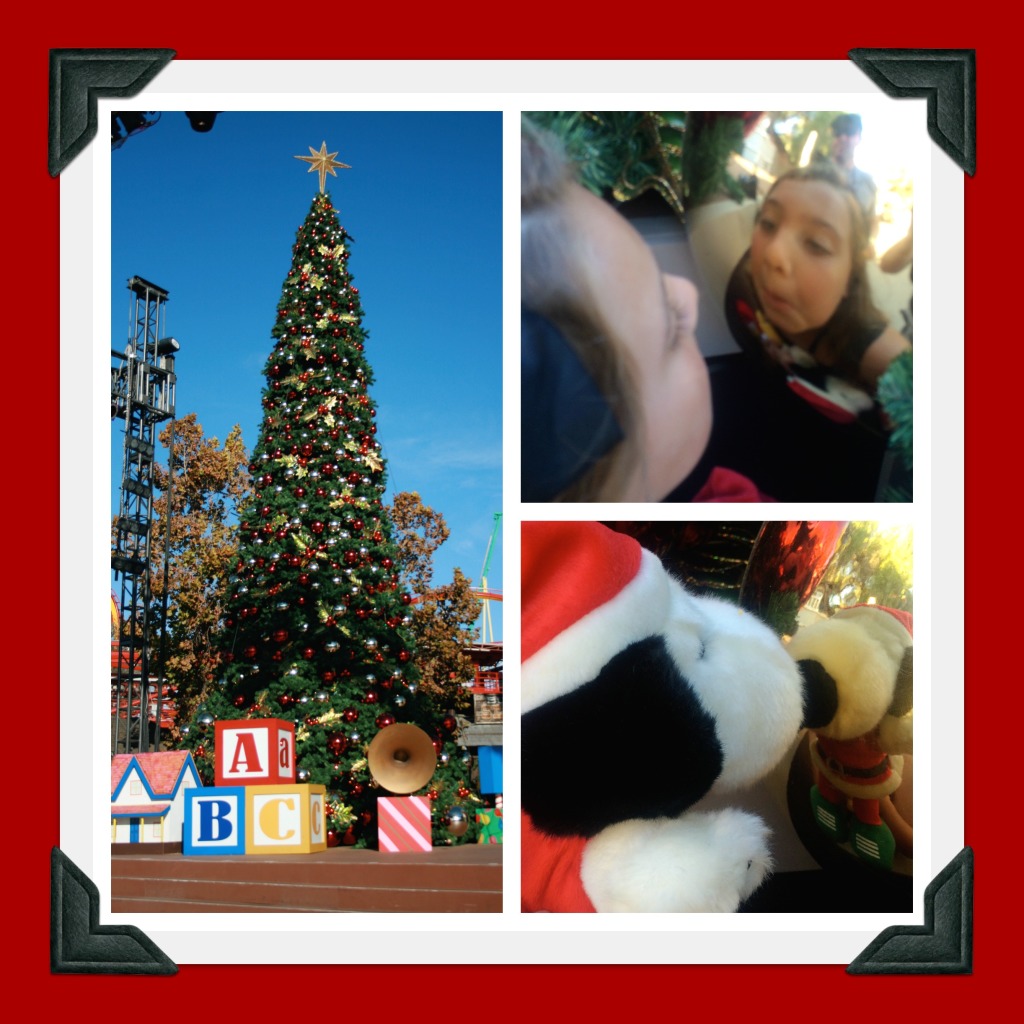 After the sun goes down, you can enjoy watching Snoopy's Merriest Tree Lighting on the Calico Square Stage as it lights up with the celebration of the season. It's a musical, whimsical tree lighting featuring a cast of Toy Soldiers, Snowmen, Elves and the world's most famous beagle, Snoopy!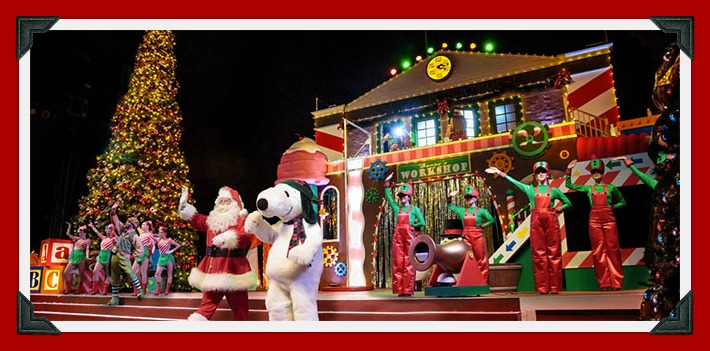 (photo credit: Knott's)  
After dark, there's also snowy fun each night during Knott's Merry Farm along the buildings and paths in Ghost Town's Main Street, as they are filled with glow and snow! Thousands of sparkling lights dance to the beat of "Let It Snow" while snow gently falls in this spectacular one-of-a-kind moment you can enjoy with your family in the Ghost Town.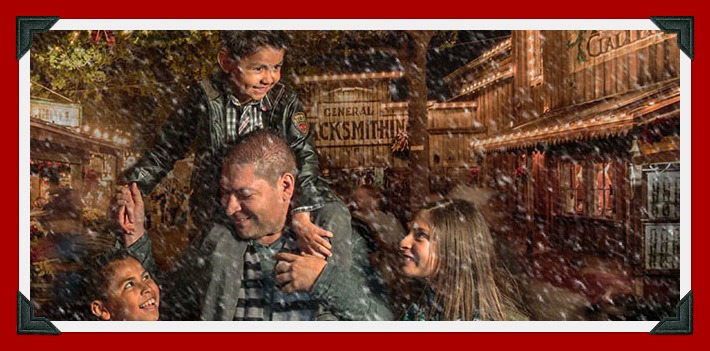 (photo credit: Knott's)
Emi, Snoopy, and Woodstock really wanted to eat dinner at Grizzly Creek Lodge, located inside of Camp Snoopy! They loved having a cheeseburger, fries and some Knott's Berry Punch together. It's one of our family's favorites that we HAVE TO  have on each visit to the park. Emi loved the keepsake lunchbox that her kids meal was served in. She truly adores the Peanuts gang.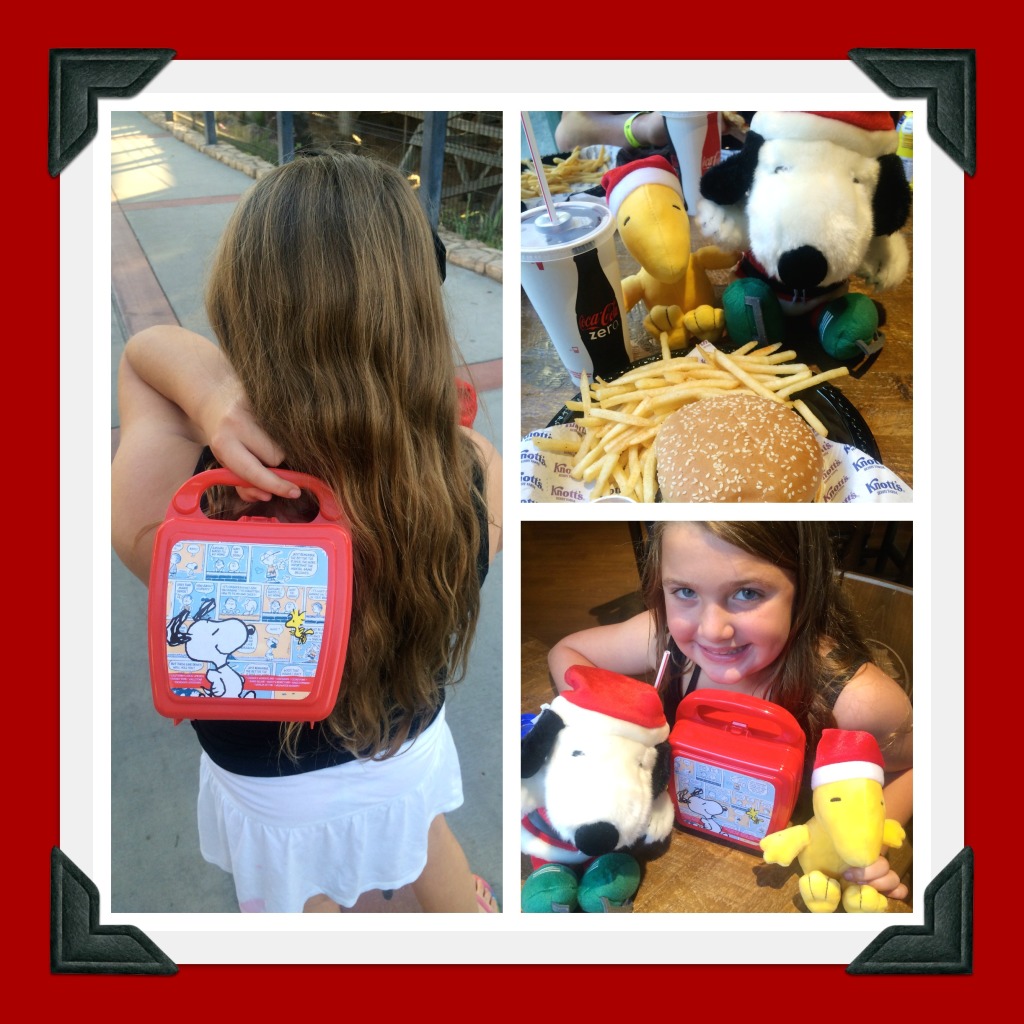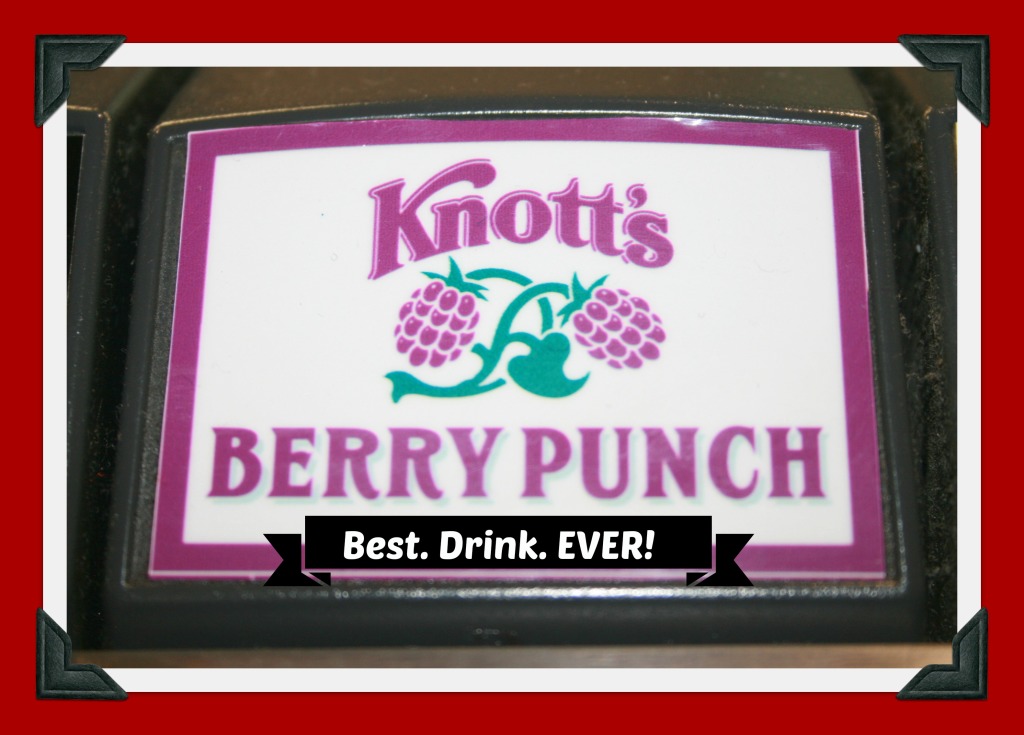 I think our most favorite show at Knott's Merry Farm was the "Merry Christmas, Snoopy" Ice show, which is in the Charles M. Schultz Theatre. I grew up watching Peanuts on TV and now Emi loves them too. Watching her face light up as all of the characters came out to skate during the show was priceless. Skating Snoopy was precious, the costumes were beautiful, I loved the songs they chose and the story lines, and the skating was amazing! What true talent!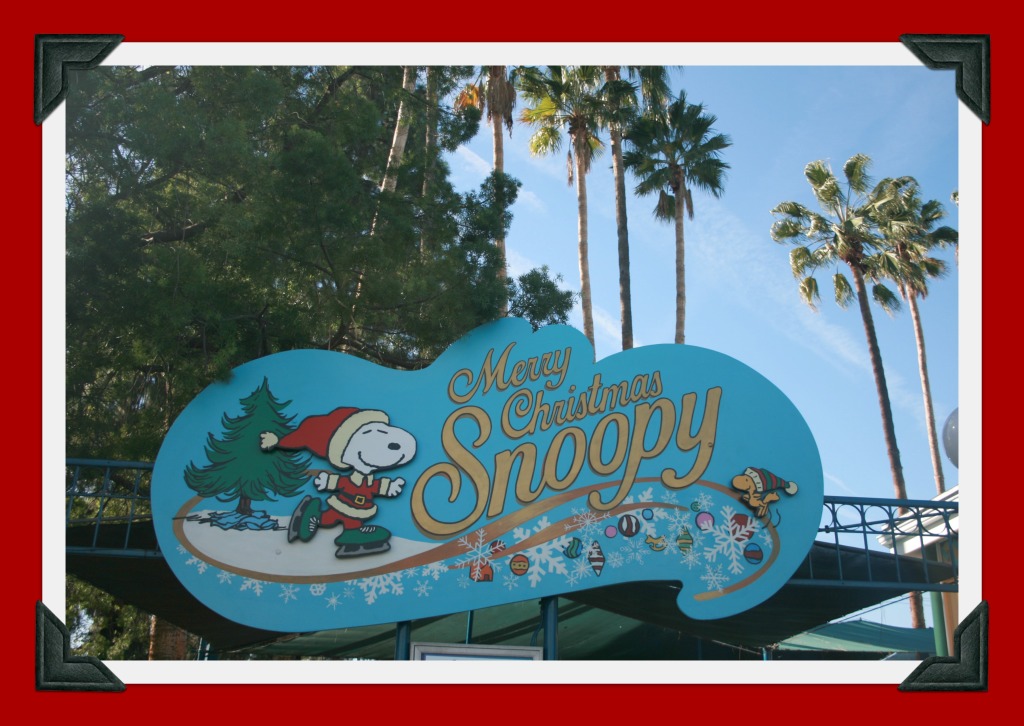 It was a great day at Knott's Merry Farm and we're already planning our next visit. Have you checked out all of the benefits that come with a 2015 Knott's Season Pass? They're very affordable and make great holiday gifts! We're considering grabbing 3 of them for our own family! If you purchase a pass now,  you get one 2014 visit to Knott's Merry Farm for free! For more information, click here!
Thank you again, Knott's! As you can tell by the smile on her face, she LOVED Merry Farm and our family is so grateful for the opportunity to have spent the day creating more memories together!  Happy holidays!