This is not a sponsored post. all opinions are my own. 
Hollywood's legendary El Capitan Theatre will present a special engagement of Disney's MARY POPPINS RETURNS from December 19 to January 13, shown in brilliant Dolby VisionTM Laser Projection & Dolby Atmos® Sound Technology. El Capitan Guests will step into Cherry Tree Lane as they enter the theatre.  A holiday experience for the whole family featuring costumes from the movie, interactive Cherry Tree Lane photo ops & the debut of the all-new El Capitan Theatre curtain show with a dazzling crystal curtain!

Disney's MARY POPPINS RETURNS is an all-new sequel with a fresh sensibility that celebrates the spirit of the original. Mary Poppins is back to help the next generation of the Banks family find the joy and wonder missing in their lives.
Emily Blunt ("The Girl on the Train," "Into the Woods") stars as the practically-perfect nanny with unique magical skills who can turn any task into an unforgettable, fantastic adventure and Lin-Manuel Miranda ("Hamilton," "Moana") plays her friend Jack, an optimistic street lamplighter who helps bring light—and life—to the streets of London. Check out the official trailer:

"We are thrilled to offer an unforgettable holiday experience for the whole family with our special engagement of Disney's MARY POPPINS RETURNS. Guests will be transported to the magical world of Cherry Tree Lane the moment they step into The El Capitan Theatre – it will be a you are there experience – and Guests can also view and admire costumes from the film before and after every screening." – Ed Collins, General Manager of The El Capitan Theatre
Be among the first to see MARY POPPINS RETURNS at El Capitan on Tuesday, December 18 at 7:00pm (Doors will open at 6:00PM).  Tickets to The Special Opening Night at $35 include a Reserved Seat, Collectible Umbrella Popcorn Container with one refill, 20 oz Bottled Drink, Kite, and limited edition exclusive artwork poster, collectible gold heart Variety Charity pin, & movie soundtrack download, and can be purchased HERE.
Regular showtimes at El Capitan for Disney's MARY POPPINS RETURNS will take place from December 19 to January 13 daily 9:30AM, 12:55PM, 4:20PM, 7:45PM & 10:55PM (10:55PM on Opening Weekend and Fridays and Saturdays following). Showtimes and dates are subject to change.  Tickets are now on sale at http://www.elcapitantickets.com, by calling 1-800-DISNEY6 and at The El Capitan Theatre box office.
Special group rates for Disney's MARY POPPINS RETURNS of $12 for parties of 20 or more are available by calling 1-818-845-3110.
HARD ROCK CAFÉ MOVIE & MEAL PACKAGE: $40.00 per person.  Each ticket package includes: reserved seat (no concessions) to see the movie at The El Capitan Theatre, and a meal at Hard Rock Café.  Reservations are required in advance (tickets must be booked no later than 24 hrs business days).  This offering is available for all showtimes December 19, 2018 – January 13, 2019.  Guests will choose one entrée from special Hard Rock Cafe menu at the time of their seating.  Tax & gratuity included.  Does not include alcohol – guests can purchase and pay on their own.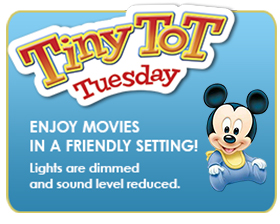 Join El Capitan Theatre for Tiny Tot Tuesday: The El Capitan Theatre will also host a very special Tiny Tot Tuesday for the first show every Tuesday during the run of Disney's MARY POPPINS RETURNS. During these special screenings, parents and small children may enjoy the movie in a tot-friendly way—with lights dimmed rather than out and reduced sound levels. It's such a great option to have for going to a movie.
For more information about El Capitan Theatre please visit their site HERE, Join in on social by using and following along with #ElCapitanTheatre.
Images and logos are property of El Capitan Theatre and used with permission. Poster and trailer are property of Walt Disney Studios and used with permission.