When I heard that not one but TWO of the McDonald's locations near my home in South Orange County were offering "Create Your Taste", I hurried over to try it! If you aren't familiar with Create Your Taste, it may be because it's one of the company's newest options and is currently only offered at select locations. Consider yourself lucky if any of those locations are near you!
The Create Your Taste option lets foodies create the flavors and meal they want using an innovative, touch screen kiosk to order. With 29 ingredient options, it's about using flavors to create a meal as unique as you.
For obvious reasons, my daughter insisted on ordering for BOTH of us! It looks so fun! I guess I'll get to try it next time we go! Check her out on the kiosk!
The Create Your Taste option allows a guest to first choose between a 1/4 lb 100% pure beef patty or 100% chicken breast filet for their sandwich. From there they choose a bun, decide if they'd like to add Applewood Smoke Bacon to their sandwich, then cheese, and finally toppings and sauces! There's also the option to "make it a meal" and add french fries or even new sweet potato fries, and a drink!
There are so many different combinations to create, that it was kind of difficult to choose just one. I know we'll be going back soon to try different ones. Look how delicious our burgers turned out!
We were dying to try McDonald's sweet potato fries as soon as we saw the sign hanging. They were so yummy!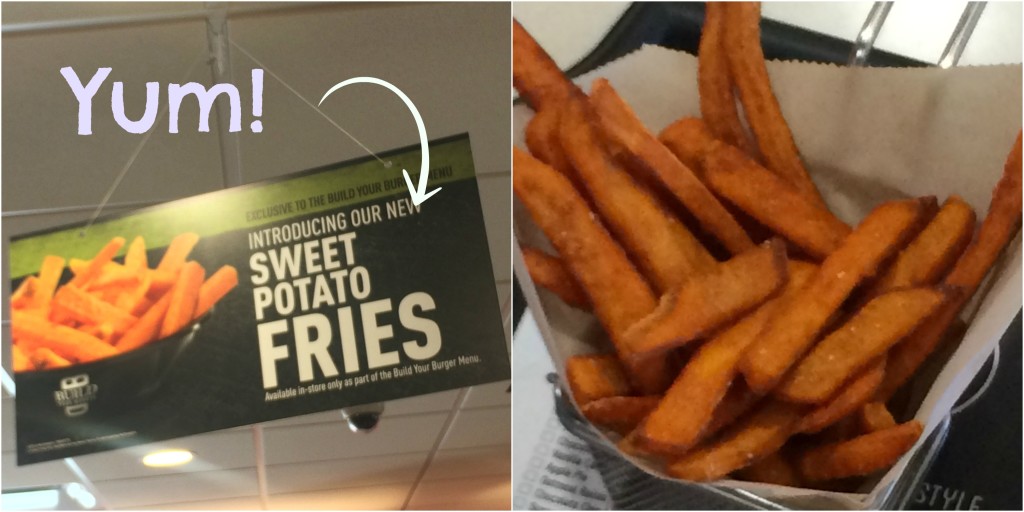 There is also a Create Your Taste Option for desserts! Again, my daughter insisted on ordering for the both of us. She worked hard to create the perfect sundaes for each of us!
As you can see, McDonald's has really nailed it with their Create Your Taste concept! If you haven't had the opportunity to try it yet, it's something I think you should look into doing soon. For a list of locations offering this option, click here.
Disclosure: I was invited by McDonald's to a media tasting event in order to write my review. No othe compensation was received. All opinions are 100% my own.