I received promotional products in order to write this post. All opinions are my own. 
Mother's Day is almost here and it's the perfect opportunity to do something nice for all of the mothers and mother figures in our lives. Mothers, stepmothers, grandmothers, aunts, mother-in-laws,  best friends, etc.
There are so many special women to honor and remember on this holiday that's just for them. This year, I'm planning ahead and remembering the moms in my life with something meaningful and personalized. Centime sent me a couple of Mother Daughter Necklace sets and they are beautiful. Their personalized mother's necklaces are beautiful quality, can arrive in a gift box if you choose, and are great gifting options for Mother's Day. 
Personalized Mother Necklaces
Not only will a personalized necklace for mom will be a great gift for every mother but it'll also become a great family keepsake. Centime has a large selection of mother necklaces which include new mom necklaces, mother daughter necklaces and necklaces with kids' names.

The necklaces are sterling silver with 18K gold plate options and are engraved with children's names. ,
Handwriting Jewelry
Capture those beautiful, meaningful handwritten words and keep them close to your heart with a handwritten necklace, handwriting bracelet or one of Centime's handwriting ring gifts.These memorial handwriting jewelry pieces make the best keepsake gifts.

If you have an old card with your parents or grandparents' signature or loving words on it,  you can have it made into one of these memorable pieces. This handwritten jewelry pieces are available in sterling silver with 18K gold plate options.
Mother Daughter Necklaces
Celebrate mother and child love with this selection of mother daughter matching necklaces, such as the mother daughter heart necklace set and the mother and child necklace. These mother and daughter necklaces are 100% sterling silver with 18K gold plate options.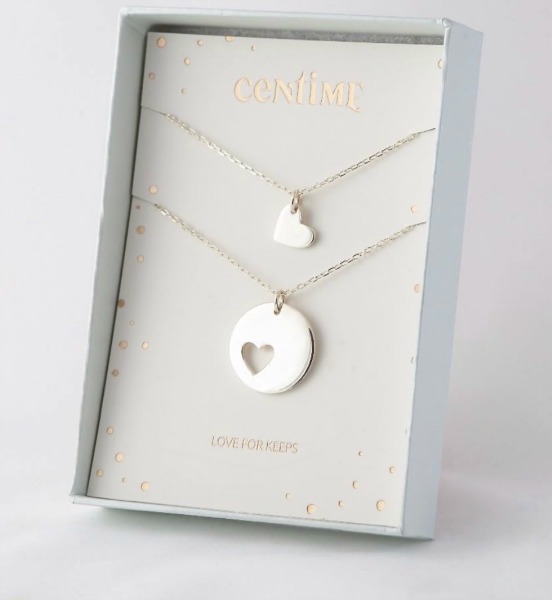 Stackable Mothers Ring
A set of stackable mother rings with kids' names are the ultimate expression of family pride and motherly love. Perfect both as gifts for new moms and as keepsake jewelry for yourself, these beautiful rings are 100% sterling silver with 18K yellow and rose gold plate.
Grandma and Mom Necklaces
You can't forget to order something special for Grandma, too. Centime has a collection of personalized grandmother necklace with names, which are available in sterling silver and 18K gold plated silver.

Their grandmother's necklace is handstamped or engraved with grandchildren's names or family names. Choose from grandmother and granddaughter necklace or even a great grandma necklace. The special grandmother(s) in your life will be touched to receive this special gift full of love from the whole family.
To view Centime's entire collection of personalized jewelry and gifting options, perfect for Mother's Day, please visit their site here. You can also check out their Instagram feed here.
Images are property of Centime and used with permission.