I love Fall! I love so many things about it, but mostly the fact that it's the beginning of the October-December holiday season which means time to bake!
This year I decided to start hand writing the recipes as I make them. With so much technology available, I find that I rarely hand write anything. I want Emi to have things that I've actually written, which I can only hope will become some of her most cherished keepsakes of me. I want her to have a recipe book full of things I've made for her. What this also means is that I need to start expanding my recipe repertoire because she probably thinks I can't cook anything unless it has batter!
Today I am making chocolate chip banana nut bread. The great thing about this recipe, aside from the fact that it's easy to make, is that you can alter it. If you don't want it too sweet, omit the chocolate chips. If you don't like or can't eat nuts, leave them out, and if you aren't a big banana lover, you can still just make this with the chocolate chips and nuts. I am in LOVE with using Nestle mini chocolate chips for this recipe. I've made it with regular size chocolate chips too, but the minis are WAY better.
 These are a few of my favorite things (for baking):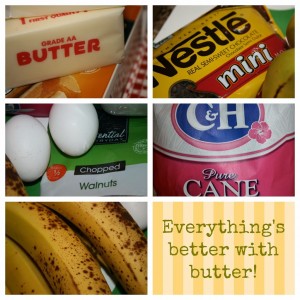 Ok so here comes the recipe:
The Ingredients:
*2 1/2 c. All-Purpose Flour
*2 c. sugar
*1 1/2 tsp. baking soda
*1/2 tsp. salt
*3/4 c. (1 1/2 sticks) salted butter, softened
*2 large eggs
*1 tsp. vanilla extract
*3 c. (about 7 medium) ripe bananas, mashed (I only use about 3)
*12 oz. mini (or regular) chocolate chips
*4 oz. walnuts, chopped
The Instructions:
*Preheat the oven to 325 degrees.
*Grease two 9X5 inch loaf pans.
*In a medium bowl, combine flour, baking soda, and salt with a wire whisk; set aside.
*In a large bowl, beat butter and sugar with mixer on high speed. Add eggs, bananas, and vanilla, and      beat at a medium speed until thick. Scrape sides of bowl.
*Add the flour mixture, chocolate chips, and nuts, and then blend at low speed just until combined.      DON'T over mix.
*Pour batter into prepared pans.
*Bake on center rack of oven for 60-70 minutes or until a toothpick inserted in center comes out clean.
*Cool in pan for 10 minutes. turn pans on sides; cool to room temperature before removing and slicing.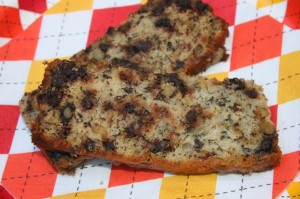 I hope you get as addicted to this chocolate chip banana nut bread as I am! Happy Fall!