When I see the Easter Bunny makes his debut each year at the mall, it truly makes me happy because it signifies that spring has sprung and we're well on our way to summer, which is my most favorite time of year! Our yearly tradition is to visit the bunny at The Shops at Mission Viejo, a Simon Mall, which is very close to our home. 
Their Bunny Photo Experience is run by Noerr Programs and is decorated so beautifully. I must admit that the fact that their Easter Bunny is a very friendly and welcoming one, unlike some other mechanical bunnies we've encountered in past years, brings me relief because there's nothing worse than a scary bunny that sends your kid running for the hills!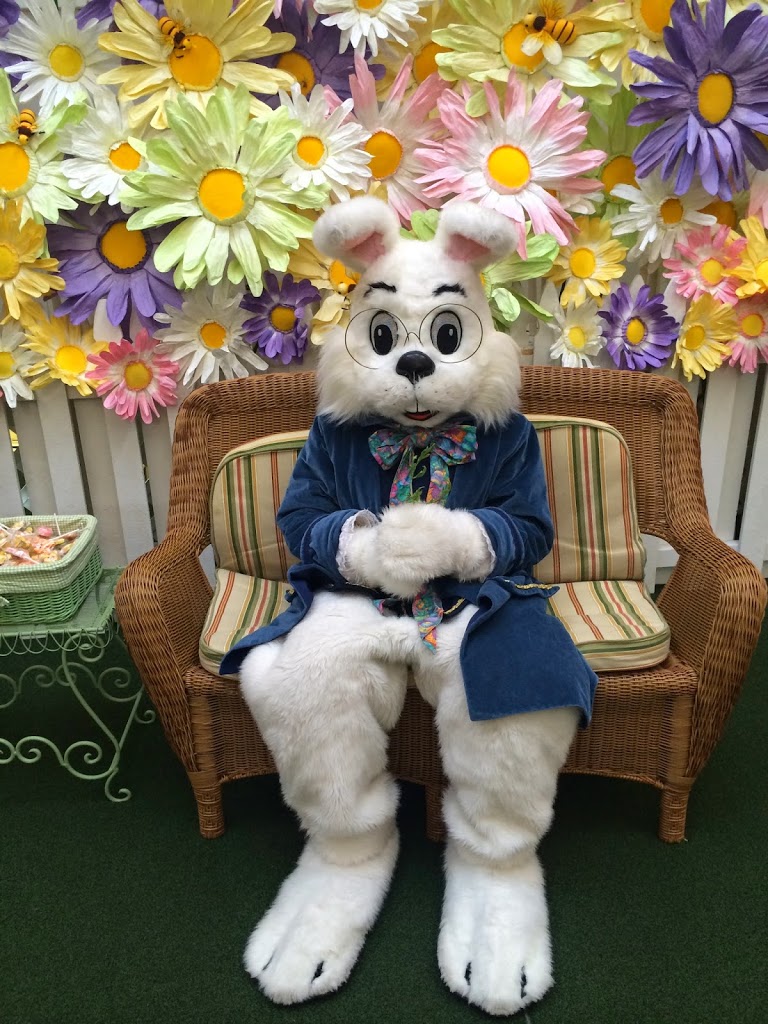 Every year, Emily gets excited to go shopping to for a new spring dress for her bunny pics. It's very important to her that she coordinate with his setup. 
Perfectly coordinated with the bunny's setting, she's ready to go pay him a visit….camera bag and all!
This year the Bunny Photo Experience is offering something new….RESERVATIONS! Yes, you read that correctly! I was ecstatic when I walked up to see the sign!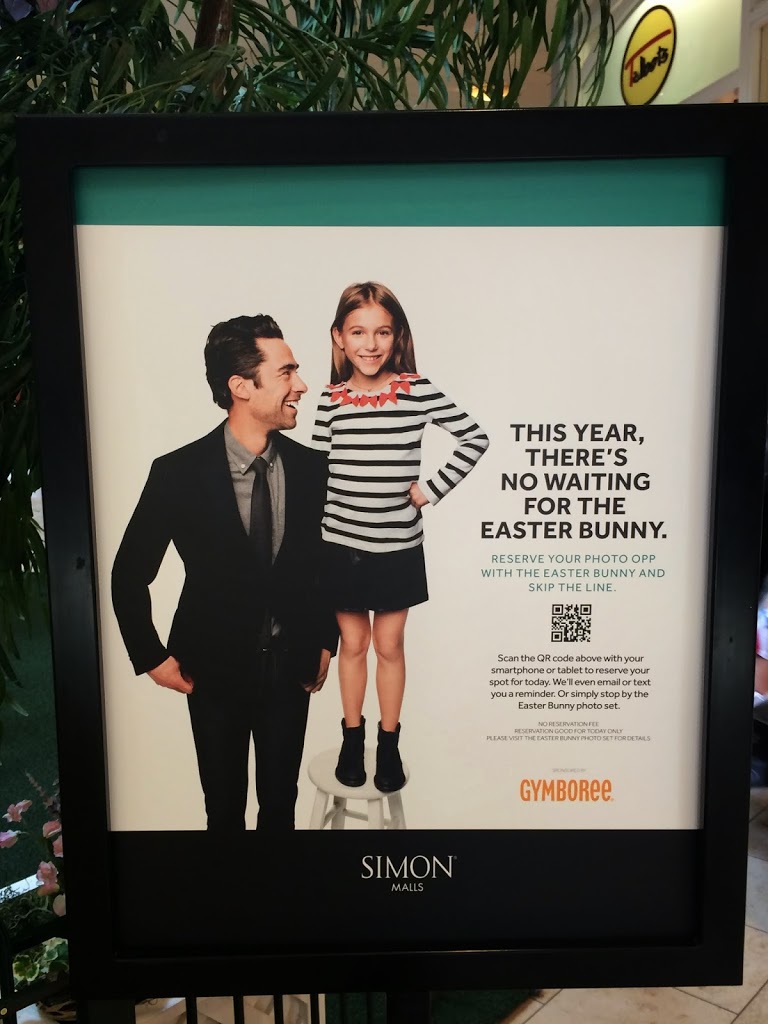 It basically means that I could check in with my phone, go online and choose a preferred time, and then we could spend some time shopping instead of standing in a long line. What an amazing offering! When it was our turn, or appointment, to visit the bunny and take photos, we simply entered in the return line and we were next.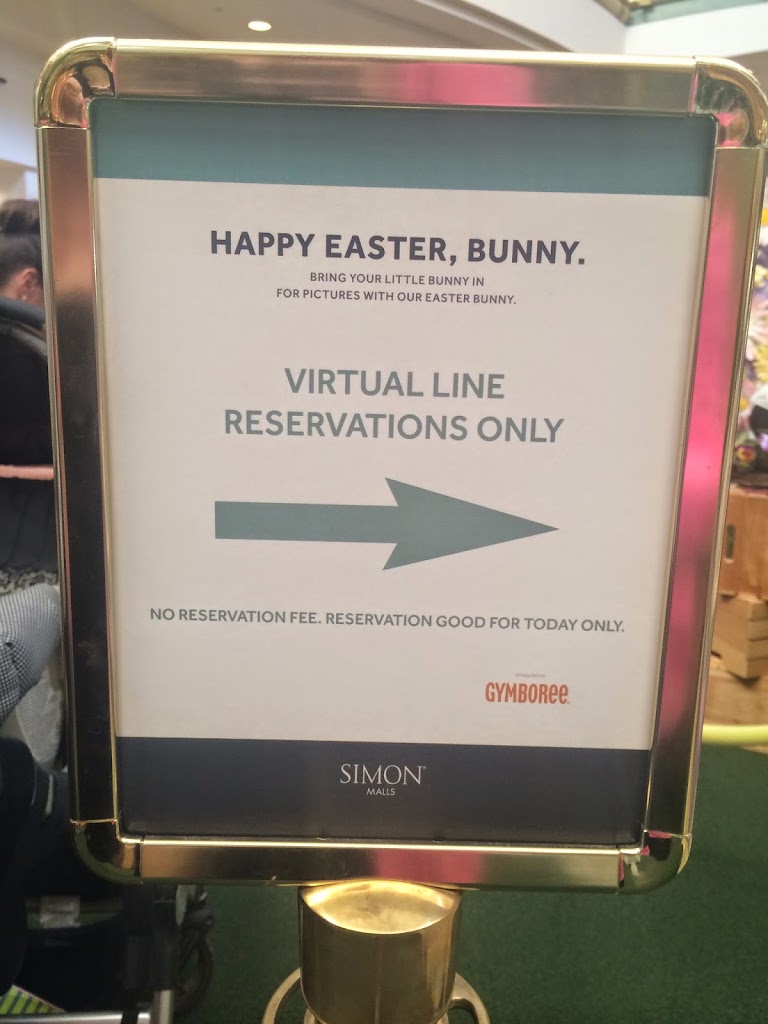 Even though I was skeptical about this new system when I first saw the sign,  I found this process to run smoothly. I am excited for Santa photos next year because they'll also be offering the same reservation program! This is going to be a game changer for so many, especially families with small children who have a difficult time waiting an hour to see Santa or the Easter Bunny!
The bunny greeted Emily with a hug, a few high fives, and even did a little bit of a dance with her, before he sat down for photos. I think this type of interaction helps alleviate any hesitation a child may have about taking pictures with the bunny. I loved the bunny's costume and the background that they had and I especially LOVED the way Emi's pictures turned out, don't you? 
Having these keepsake photos to look back at year after year is something that's important to me, as a mother. I know Emily will appreciate having them to show her own children, one day too.
Noerr Programs offers a variety of affordable packages which are priced to fit a family's budget. We purchased keychains in addition to our package, which were an inexpensive add-on. 
With the purchase of a photo package, they'll also allow you to snap a picture with your own camera, so we took the opportunity to go where most have never gone before….we took a selfie with the bunny! I'm pretty sure Emi thinks I'm nuts for making her do this!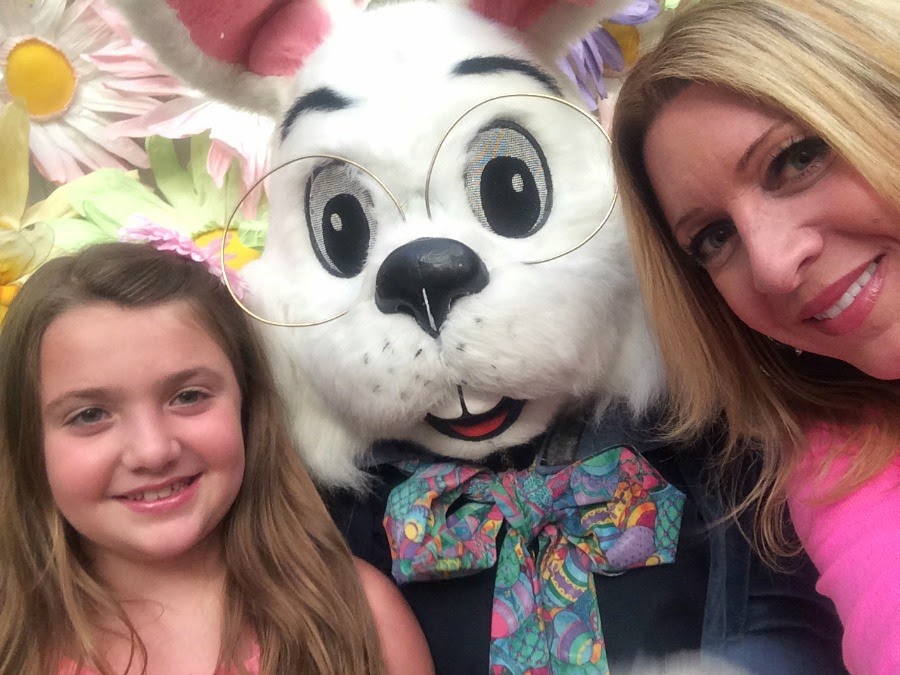 I guess we can cross THIS off our Bucket List!
They also send you home with a link for online sharing of your pictures, which makes it easier to share with friends and family on Facebook and Twitter. They also send you home with some coupons for Gymboree and Crazy 8! 
We LOVE these 2 stores AND The Shops at Mission Viejo has them BOTH!
for the Bunny Photo Experience.
If you haven't made your way over to a Simon Mall to visit their Bunny Photo Experience, then hop on over before Easter! For a list of Simon Malls click here.