This post was sponsored by Gigasavvy. All opinions are 100% my own
A brand-new Northgate Market opened in Anaheim on July 20th and it's beautiful! I don't often use that word to describe a grocery store but in this case, it's completely appropriate!
Northgate decided to throw a giant community party in the parking lot, in honor of the Grand Opening and generously offered to provide the first 300 customers in line with a free bag of groceries.
There must have been about 1000 people in that line and it turns out that 100 more free bags of groceries were handed out additional guests, making 400 recipients total. That is so generous!
Several sponsors were also on hand at the event, greeting shoppers in the line outside, as well as pass out goodies to them. Inside the store, there was mariachi music and folklórico dancers continuing the celebration.
Have YOU Heard of Northgate Markets? 
If you aren't familiar with Northgate Markets yet, they are successful group of grocery stores run by the Gonzalez Reynoso Family.
Their stores are known for offering a sizable section of domestic and imported Latin American grocery goods to customers, however, they also offer so much more than that. (Keep reading to learn more.) Personally, I love to give my business to establishments that are not only family run, but run based on family values.
Northgate Markets Have Evolved
If you saw any of the pictures I posted on my Instagram during the Grand Opening celebration, you got a peek inside how wonderful all of the store's offerings are. I had more than one person bring up the topic of speaking Spanish or needing to speak Spanish to go into this market. I'm bilingual, and speak fluent Spanish,but  I can assure you that you don't need to Speak Spanish to shop at Northgate. Also, you'll notice that the labels, signs, and even store advertisements are also printed in both Spanish and English.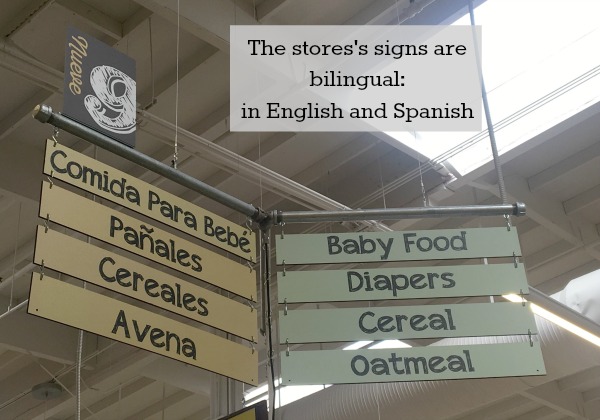 After touring and shopping at this store, I could see how considerate they were in planning what to offer customers. I was pleasantly surprised to see an extensive variety of organic fruits and vegetables, in addition to other sought-after organic foods.
I was amazed when I passed several different sections of Grab-n-Go items, including family meals. There were salads, cut up fruit, sandwiches, tamales, sopas, so many choices! I wish I worked next door so I could come over at lunch and "Grab n' Go" every day!
5 Things That Wow-ed Me About Northgate Market!
I don't even know where to start with this. The entire store is amazing! In addition to regular and Latin American groceries, the store also has several specialty food areas. Here are just 5 of my favorite areas in the store:
The amazing produce section which features a variety of fresh fruits and vegetables, including organics, and offering some exotic and hard-to-find items. I should also mention how great the produce prices are. Just look at the prices on the signs in my pictures!
 The seafood selection and ceviche bar is the place for seafood lovers to come.There's a huge selection of all kinds of fish, ceviche, and even sushi! 
Guacamole made to order (that you can sample) and a salsa bar 
The in-store working tortilleria was where I spent a good amount of time. It's so much fun to see exactly how the tortillas are made from masa to where they're packaged. You can even sample fresh, hot tortillas out of the oven. It's the place many shoppers come when they're looking for the freshest ingredients for their authentic meals. 
The coffee bar is located at the front of the store and offers a variety of coffees and drinks. It's the perfect place to grab "cafe para llevar" or "coffee to go" at the beginning of your shopping trip! By the way, they also sell Pan Dulce here, in case you can't make it to the other side of the store where the panderia is! 
I think my most favorite part of the store was the panaderia/bakery area! I have a big sweet tooth and a weekness for pan dulce. Between the smells of freshly baked break, the case of freshly baked cookies, and all of the other goodies, this was the place I spent the most time in the store!
So, if I haven't made it clear yet, you need to stop by the newest Northgate Market in Anaheim. I know you're going to love it as much as I did! The new Northgate Market is located at 2030 E. Lincoln Ave. Anaheim, CA 92086. 
Here are just a few of the other Orange County Northgate Market locations:
W La Palma Ave / Anaheim: 720 W La Palma Ave, Anaheim, CA 92801
W 17th St. / Santa Ana: 1623 W 17th St., Santa Ana, CA 92706
Lincoln Ave / Buena Park: 6991 Lincoln Ave, Buena Park, CA 90620
To locate a Northgate Market in LA, Orange County, or San Diego nearest you, go here.
Connect with Northgate Markets on Facebook, Twitter, and Instagram.