We were invited as guests of Knott's Soak City to attend a media event in order to facilitate this post. All opinions are 100% my own. 
How is it that I go to Knott's Berry Farm quite often and had never been to Knott's Soak City until last weekend? I don't know how it is that I'd never been there but I had so much fun that I'm already planning our family's next visit to Knott's Soak City!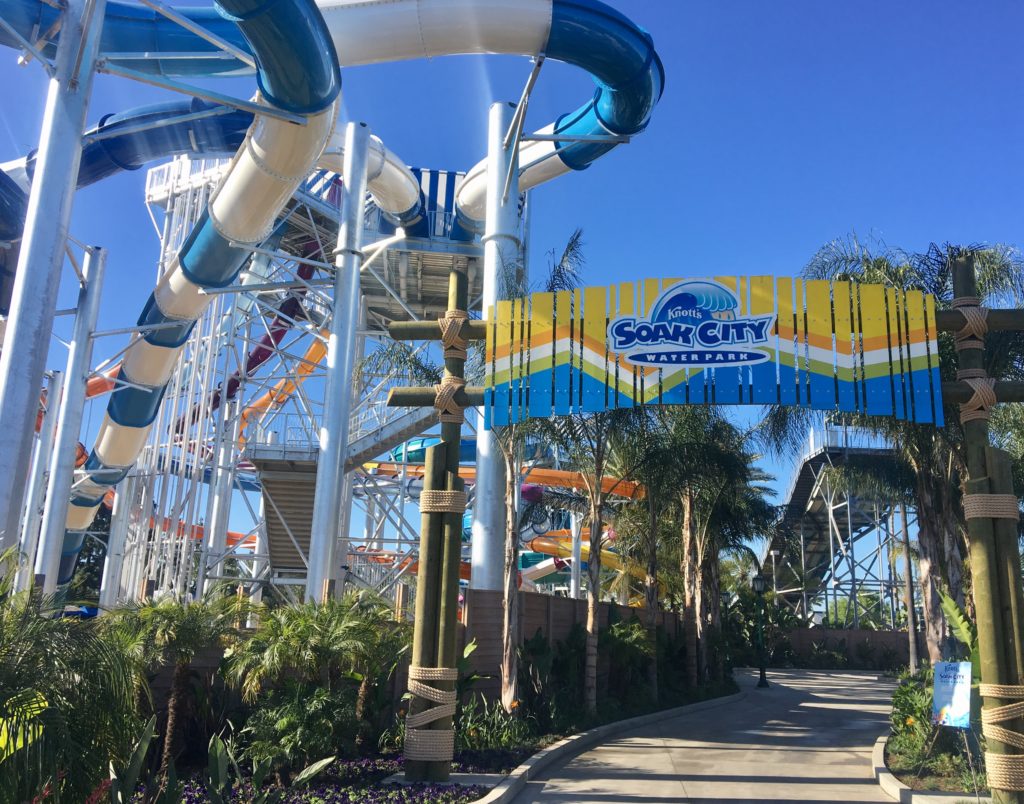 If you aren't familiar with Knott's Soak City, it's Orange County's largest family water park, located adjacent to Knott's Berry Farm Park, in the heart of Buena Park. The park just finished going through an extensive 2-acre expansion and renovation, which included the addition of 7 new slides and 2 slide towers, Shore Break and The Wedge.  Along with the renovation came an upgrade to the landscaping of the park, which now looks like somewhat of a tropical oasis. More cabanas, available for rental) have also been added to the park, as well as additional shady areas and expanded seating.  
Grand Re-Opening Ribbon Cutting Ceremony
We were so honored to be present for the grand re-opening event, where guests in attendance heard from Knott's General Manager John Storbeck, who was joined by Buena Park Mayor, Beth Swift. Snoopy was also on hand for the grand occasion and ribbon cutting to welcome the new area to the park.
Below is a rendering of the two new areas in Knott's Soak City. You can see both The Wedge and the set of slides at Shore Break. (artwork is property of Knott's.)
Immediately following the ribbon cutting, we headed directly over to try out the first of the new rides: The Wedge. This thrilling ride takes families with up to 6 riders, on an open-raft ride as they descend down navigating hair-raising twists, turns, and unexpected dips.
My girls rode in the inaugural raft of The Wedge that morning and absolutely loved it! They loved it so much that they immediately went back on, dragging me on with them. I loved it too!
Next, we hit up Shore Break, which is the other new group of slides that were part of the expansion. Shore Break includes 6 new slides. First, there are 4 slides that will take single riders on an adrenaline-filled water adventure as thrill-seekers board one of four Aqua Launch chambers to await the chamber's floor dropping from beneath their feet sending them on a high speed free fall down a 60-foot tall slide and through a series of exhilarating drops and daring loops. Also part of Shore Break are two dueling tube slides which will have riders zipping through adventurous drops and turns as they soak up the warm summer sun.
Menu Expansion at Longboard's Grill
After going through a menu expansion and remodel, Longboard's Grill opened this season boasting a newly redesigned sleek restaurant layout and a menu which features delicious items such as hand-breaded chicken tenders, fish & chips and assorted wraps. The menu also includes classic favorites such as grilled burgers and hot dogs. I appreciate that Longboard's Grill also offer options like meatless hot dogs and vegetarian pizza for guests, upon request. Just outside of the eatery, by the restaurant's entrance, there's a new, shaded seating area that's been added, allowing guests to take a break from the sun while they eat.
In addition to the newest areas at Soak City, we also had tons of fun relaxing on the Lazy River, playing in Tidal Wave Bay wave pool, and hanging out at Beach House, waiting for the big red bucket to dump on us!
If you have small children, you'll want to be sure to visit the Gremmie Lagoon area too.
With all of the new things to check out at Knott's Soak City, in addition to this summer's Ghost Town Alive! At Knott's Park, there's never been a better time to grab a Knott's Gold Pass! A Gold Pass includes unlimited 2017 admission to both Knott's Berry Farm and Knott's Soak City Waterpark. Gold Season Passes can be purchased online starting at $117.00 or 6 easy payments of $19.50. Applicable taxes and fees apply. Please note: the Season Pass payment plan is only available online at knotts.com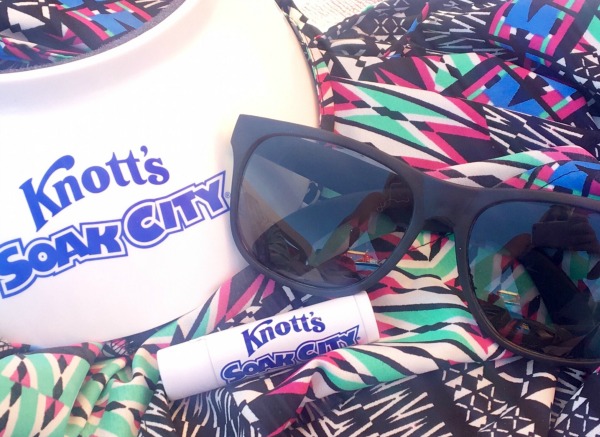 The sun is always shining in Southern California, so what are you waiting for? Grab your swimsuit, sunscreen, and sunglasses, and plan your day at Knott's Soak City Water park soon! For more information about Knott's Soak City and to begin planning your visit there, go here.
 Logos and artwork are property of Knott's.